In an effort to cut down on posts and burnout, my Review Roundups will feature 2-4 books I've read or listened to recently. Sometimes they're newer releases and sometimes they're all backlist titles. My ARC reviews usually get the solo treatment. Enjoy the mini reviews!
---
I received this book for free (hey, thanks!) in exchange for an honest review. I promise that this does NOT affect my opinion of the book or the content of my review. For real.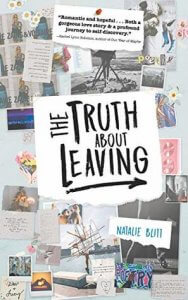 The Truth About Leaving
by
Natalie Blitt
Genres:
Young Adult
,
Contemporary
Published by
Amberjack
on March 5, 2019
Also by this author:
The Distance from A to Z
Format:
eARC
(260 pages) •
Source:
Publisher
Goodreads
•
Amazon
•
Barnes & Noble

Lucy Green thought she had her senior year in the bag. Cute boyfriend? Check. College plan? Check.

But when her boyfriend dumps her the week before school starts and she literally stumbles into Dov, the new Israeli transfer student, on her first day of school, Lucy's carefully mapped-out future crumbles.

Determined to have a good senior year, and too busy trying to hold her family together while her mom is across the country working, Lucy ignores the attraction she feels to Dov. But soon, Lucy and Dov's connection is undeniable. Lucy begins to realize that sometimes, you have to open yourself up to chance. Even if the wrong person at the wrong time is a boy whose bravery you admire and who helps you find your way back to yourself.
I sincerely loved Blitt's debut and have been eagerly awaiting her next YA release! THE TRUTH ABOUT LEAVING intrigued me, as I haven't read many books involving Jewish characters (especially ones straight from Israel, now living in the United States). I actually read this book in one sitting without planning for it; it was easy to fall into and get lost in. Blitt's writing is easy in that way, which is a great thing.
The story centers around Lucy, who is in her final year of high school and trying to balance everything – helping with her brothers while her mom is away, figuring out what she wants to do about college, getting back into her old hobbies, and that new boy in town. Dov is the aforementioned character who comes to the US from Israel for a year, transferring into her senior class. Despite the very different futures they have planned, they quickly fall for each other.
While the plot itself is pretty straightforward and simple (meaning not much actually happens – just a lot of character development and "finding yourself" moments), the bigger issues are definitely covered well. They have different lives, different plans, and different family situations. I thought they had pretty good chemistry but nothing overly swoonworthy. Dov was a nice, complex character, and Lucy was fine? The parents were super frustrating (for both of the MCs) but I could see how everyone was struggling. I got it, for sure.
The ending was appropriate and cute. I loved seeing Lucy remember her passions and find herself after giving everything to a boy (before the book started). Dov grew a lot too, but I wish we got to see more.
It sucks that I don't have more to say about this book. I think there were some powerful moments and messages, but somehow I don't feel that it will have a lot of staying power for me.

I received this book for free (hey, thanks!) in exchange for an honest review. I promise that this does NOT affect my opinion of the book or the content of my review. For real.
The Dating Game
by
Kiley Roache
Genres:
Young Adult
,
Contemporary
Published by
Harlequin
on April 1, 2019
Also by this author:
Frat Girl
Format:
eARC
(304 pages) •
Source:
Publisher
Goodreads
•
Amazon
•
Barnes & Noble
The Social Network gets a romantic twist in this fresh and engaging new read from the author of Frat Girl, Kiley Roache. Experience the whirlwind ups and downs of college life in this authentic and entertaining new novel!

When a notoriously difficult class for future entrepreneurs leads to three freshmen developing the next "it" app for dating on college campuses, all hell breaks loose…

Type A control freak Sara lives by her color-coordinated Post-it notes.

Rich boy Braden wants out from under his billionaire father's thumb.

Scholarship student Roberto can't afford for his grades to drop.

When the three are forced to work together in one of the university's most difficult classes, tension rises to the breaking point…until, shockingly, the silly dating app they create proves to be the most viable project in class. Late nights of app development, interest from investors and unexpected romance are woven into a true-to-life college drama that explores what it means to really connect online and IRL.
I enjoyed FRAT GIRL a lot and was therefore pretty excited to see what college-centered contemporary Kiley Roache might write next. Despite the tepid reviews from blogging friends (I don't think anyone gave it over 3ish stars), I was optimistic about this one, and decided to read it casually throughout my workdays as my "work book" in April.
This story moves between a few points of view. Robbie is the smart kid who comes from a "bad neighborhood" (his words) and focuses on social justice. Braden is the spoiled rich kid who gets whatever he wants. Sara is the super smart girl who knows it will take a lot to make an impact in the male-dominated tech world. They each followed the usual stereotypes, to be honest, and I thought they might get more fleshed out over time. It didn't really happen. Braden stayed an asshole, Sara was fairly flat, and Robbie stayed in his stereotype too.
The romance was… not great. I don't want to get too spoilery in the open but let's just say the diversion boy/relationship was not fun to read and I just generally didn't like the direction the story went at that point. Maybe it was a good growth opportunity for Sara, which I can see, but I didn't feel like it was actually necessary? It threw me off and out of the story a lot. The app elements were also not great and frustrating that they saw so many bad reactions for SO long, sort of acknowledged it was problematic, but didn't do anything with urgency earlier? I know they're just college students but come on.
The ending had a few twists that I really didn't enjoy at first, but it got much better soonafter. Sometimes books with a solid ending ("it's how you leave em") can make up for a lot. It didn't help move it up too much in my eyes but it was a good way to finish up. So yes, overall, this book fell flat for me. I'm still highly interested in anything else Roache writes, especially if they're set in college still, but this was too bland. I won't remember it for any real reason.

I received this book for free (hey, thanks!) in exchange for an honest review. I promise that this does NOT affect my opinion of the book or the content of my review. For real.
You Owe Me a Murder
by
Eileen Cook
Genres:
Young Adult
,
Mystery/Thriller
Published by
Houghton Mifflin Harcourt
on March 5, 2019
Also by this author:
With Malice
Format:
eARC
(368 pages) •
Source:
Publisher
Goodreads
•
Amazon
•
Barnes & Noble
Seventeen-year-old Kim gets more than she bargained for when she is set up for murder. Perfect for fans of One of Us is Lying, E. Lockhart, and Gillian Flynn.

17-year-old Kim never expected to plot a murder. But that was before her boyfriend dumped her for another girl. Now, Kim's stuck on a class trip to London with him and his new soulmate and she can't help wishing he was a little bit dead, even if she'd never really do that. But when Kim meets Nicki, a stranger on the plane who's more than willing to listen to Kim's woes, things start to look up. Nicki's got a great sense of humor, and when she jokes about swapping murders, Kim plays along—that is, until Kim's ex-boyfriend mysteriously dies. Blackmailed by Nicki to fulfill her end of the deal, Kim will have to commit a murder or take the fall for one.
I've owned WITH MALICE for way too long and still hadn't read it, so I decided to motivate myself to read Eileen Cook's books by requesting YOU OWE ME A MURDER. It worked, because I read it finally! *pats self on back*  I was really curious about the setup for this one, as it didn't sound like a typical mystery/thriller plot. When Kim flies to England for a school trip, she is immediately drawn in to Nicki, a compelling stranger that pushes her out of her comfort zone. The two bond in the airport restaurant, steal a bottle of alcohol, and get drunk on the plane, discussing the two people in their lives that are making them crazy. Kim ends up wishing her ex-boyfriend dead (except she doesn't MEAN it) and Nicki shares the same sentiment about her mom, "joking" that they should perform the murders for each other so they can easily get away with them both. Kim loses Nicki after the flight lands and continues with her trip, never thinking that Nicki was serious about the bargain.
I've realized that I almost never like romance in mystery/thriller books. I don't like that it takes me away from the mystery elements and distracts me from the task at hand. It's nice that books like this can be well-rounded instead of being singularly focused on the twisty stuff, but romance in these books just never works for ME. My brain will never allow me to ship the couple. That was very much the case in this one. Despite how nice Alex was, I could not get myself to care. I was constantly wondering when the murdery stuff would happen again and ignore the ship.
The setup for this one was so interesting and unique. The book was pretty quick and easy to read (because not much happens throughout, in terms of twists?) too. Overall, I enjoyed the different premise and situation for the "mystery" but I didn't care about the romance (which was a huge part). The ending was pretty great though.
Related Posts