I received this book for free (hey, thanks!) in exchange for an honest review. I promise that this does NOT affect my opinion of the book or the content of my review. For real.
Frat Girl
by
Kiley Roache
Genres:
Young Adult
,
Contemporary
Published by
Harlequin
on March 27th 2018
Also by this author:
The Dating Game
Format:
eARC
(384 pages) •
Source:
Publisher
Goodreads
•
Amazon
•
Barnes & Noble

Sometimes the F-word can have more than one meaning….

For Cassandra Davis, the F-word is fraternity—specifically Delta Tau Chi, a house on probation and on the verge of being banned from campus. Accused of offensive, sexist behavior, they have one year to clean up their act. For the DTC brothers, the F-word is feminist—the type of person who writes articles in the school paper about why they should lose their home.

With one shot at a scholarship to attend the university of her dreams, Cassie pitches a research project: to pledge Delta Tau Chi and provide proof of their misogynistic behavior. They're frat boys. She knows exactly what to expect once she gets there. Exposing them should be a piece of cake.

But the boys of Delta Tau Chi have their own agenda, and fellow pledge Jordan Louis is certainly more than the tank top wearing "bro" Cassie expected to find. With her heart and her future tangled in the web of her own making, Cassie is forced to realize that the F-word might not be as simple as she thought after all.
This is the kind of book I'd recommend to feminists and non-feminists alike. A lot of it was heavy-handed in the messages and would have maybe made more sense in the journal entries instead of internal dialogue, but the content itself was good. (More on that later.)
I definitely figured that her study wasn't going to be all black and white, and the really positive moments were so heartwarming. I loved the relationships that were developed between her and the guys, and one particular night where a few boys really stepped up to help. I didn't do the Greek thing in college but this was a fairly accurate portrayal of a lot of the college experience in general; it felt real, which was refreshing.
Bambi, Duncan, and Jordan were so great. The characters made me laugh and smile so much more than expected for "just dumb frat boys" (what the MC seems to think heading into the book). I think I would have liked more depth to Cassie's character (and even a few other side characters, including her family). She came across as very preachy at times and it was hard to connect with her. I liked how she started to learn from her mistakes, and tried to grow from her existing biases as well. Some people calling her out made her realize she was working from a very "white feminist" angle instead of thinking of the bigger picture (her mentor talks about this early in the book and I liked the points she made though). I feel like there are so many things to unpack and I wish I was back in my Women Studies class to keep going with the analysis!
Overall, the romance was so wonderful, the writing was great (the author is in college right now!!), and I couldn't stop reading. I sat down and read it in one sitting because I was so determined to see everything come together (or fall apart, I'd say) at the end.
More thoughts because other people wrote better reviews: Twirling Pages and Girl in the Pages
---
I received this book for free (hey, thanks!) in exchange for an honest review. I promise that this does NOT affect my opinion of the book or the content of my review. For real.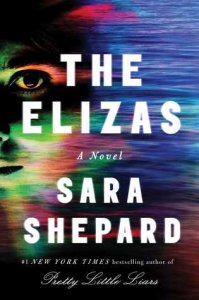 The Elizas
by
Sara Shepard
Genres:
Adult
,
Mystery/Thriller
Published by
Simon and Schuster
on April 17th 2018
Also by this author:
The Heiresses
,
Pretty Little Liars
,
The Perfectionists
,
Vicious
,
The Good Girls
,
The Lying Game
,
Never Have I Ever
,
Two Truths and a Lie
,
The First Lie
,
Hide and Seek
,
Cross My Heart, Hope to Die
,
Seven Minutes in Heaven
,
True Lies
,
The Amateurs
,
Follow Me
,
Meet Cute: Some People Are Destined to Meet
Format:
eARC
(352 pages) •
Source:
Publisher
Goodreads
•
Amazon
•
Barnes & Noble

When debut novelist Eliza Fontaine is found at the bottom of a hotel pool, her family at first assumes that it's just another failed suicide attempt. But Eliza swears she was pushed, and her rescuer is the only witness.

Desperate to find out who attacked her, Eliza takes it upon herself to investigate. But as the publication date for her novel draws closer, Eliza finds more questions than answers. Like why are her editor, agent, and family mixing up events from her novel with events from her life? Her novel is completely fictional, isn't it?

The deeper Eliza goes into her investigation while struggling with memory loss, the closer her life starts to resemble her novel until the line between reality and fiction starts to blur and she can no longer tell where her protagonist's life ends and hers begins.
As you can see from the millions of books listed under Shepard's name up there, I'm a huge fan of her. I've read almost every book she's written (except for a few of her older releases) and enjoyed all of them. Her writing style is quick and addicting to read, even though some stories are too similar and/or formulaic. However, THE ELIZAS appeared to be a departure from her norm… so I was excited and a little nervous to dive in!
I ended up not liking this one nearly as much as I hoped. The first half really kept me guessing and wondering what was going on with Eliza. I was trying to piece everything together for so long, until things finally clicked into place… and the answer was so obvious. I kept hoping and thinking there would be another twist I didn't expect, but it just ended up being very predictable. There was a slight twist at the end of something I didn't consider, but it was otherwise too obvious.
Eliza was an interesting character and it was purposely hard to connect with her, which was good. I couldn't really connect with any character, actually, because she was so suspicious of everyone and confused about what was going on. I liked that aspect. I loved Shepard's writing style as always and it was a somewhat quick read once I got going, but definitely not my favorite of hers.
Related Posts