In an effort to cut down on posts and burnout, my Review Roundups will feature 2-4 books I've read or listened to recently. Sometimes they're newer releases and sometimes they're all backlist titles. My ARC reviews usually get the solo treatment. Enjoy the mini reviews!
---
Last Seen
by
Sara Shepard
Series:
The Amateurs #3
Genres:
Young Adult
,
Mystery/Thriller
Published by
Disney-Hyperion
on November 6, 2018
Also by this author:
The Heiresses
,
Pretty Little Liars
,
The Perfectionists
,
Vicious
,
The Good Girls
,
The Lying Game
,
Never Have I Ever
,
Two Truths and a Lie
,
The First Lie
,
Hide and Seek
,
Cross My Heart, Hope to Die
,
Seven Minutes in Heaven
,
True Lies
,
The Amateurs
,
Follow Me
,
Meet Cute: Some People Are Destined to Meet
Format:
eBook
(304 pages) •
Source:
Hoopla
Goodreads
•
Amazon
•
Barnes & Noble

The stakes are higher than ever in this third installment of The Amatuers, as Aerin finds herself kidnapped by the killer she knows all too well, and her friends must work to solve a puzzle laid out by the villain in order to save her.At first, the mystery they're tasked with seems to have nothing to do with Aerin or her kidnapper. But as Seneca, Maddox, and Madison hit the Jersey Shore to gather clues, they begin to uncover the true background of the killer and the horrors that shaped him into who he is. The scavenger hunt leads them to the family of a recently kidnapped boy, a serial child-snatcher, and dark secrets they could never have seen coming. As Aerin struggles to play nice with the person who killed her sister in order to buy herself time, her friends work feverishly against the ticking clock that could mean her life, and every clue they uncover leads Seneca to suspect she's more connected to the killer's history than she ever realized.With nail-biting suspense, twisted secrets, and non-stop action, this final installment in #1 New York Times best-selling author Sara Shepard's The Amateurs series will shock even the savviest of readers with its big reveal.
I can't believe this series is over… hopefully! The ending wasn't exactly ambiguous but I suppose there's always a chance Shepard continues the series multiple times a la Pretty Little Liars. Jokes aside, this was a REALLY strong end to this trilogy!
The main issue I had throughout all of the books was that I was disconnected from the characters. I never warmed up to them or felt anything for them – didn't care about the ships, was uninterested in any of their personal lives, etc. I'm not sure if, again, it's because it was a mystery and I was on edge or not trusting anyone? But I just could never get on board with them.
I think it's an interesting twist when you know who the murderer/culprit is AND get to read from their point of view. Sometimes it can take a little bit of the fun out, but that was certainly not the case here. There were SO MANY twists and connections that were built throughout the whole trilogy that I never would have picked up on. Just because you knew the killer and what he was doing, definitely did not mean that you knew why he was doing it or how he picked his victims. That's all I'll say!
Overall, this was definitely a classic Sara Shepard mystery series, but I have to say – it may be higher up the list for me. It felt a bit different than her others (less formulaic, especially by this book) but still had a lot of the same bones. I love her writing and was so happy to read this in about two sittings!

I received this book for free (hey, thanks!) in exchange for an honest review. I promise that this does NOT affect my opinion of the book or the content of my review. For real.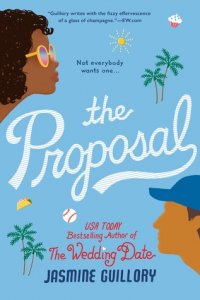 The Proposal
by
Jasmine Guillory
Series:
The Wedding Date #2
Genres:
Adult
,
Contemporary
Published by
Penguin
on October 30, 2018
Also by this author:
The Wedding Party
,
Royal Holiday
Format:
eARC
(336 pages) •
Source:
Publisher
Goodreads
•
Amazon
•
Barnes & Noble

The author of The Wedding Date serves up a novel about what happens when a public proposal doesn't turn into a happy ending, thanks to a woman who knows exactly how to make one on her own...

When someone asks you to spend your life with him, it shouldn't come as a surprise--or happen in front of 45,000 people.

When freelance writer Nikole Paterson goes to a Dodgers game with her actor boyfriend, his man bun, and his bros, the last thing she expects is a scoreboard proposal. Saying no isn't the hard part--they've only been dating for five months, and he can't even spell her name correctly. The hard part is having to face a stadium full of disappointed fans...

At the game with his sister, Carlos Ibarra comes to Nik's rescue and rushes her away from a camera crew. He's even there for her when the video goes viral and Nik's social media blows up--in a bad way. Nik knows that in the wilds of LA, a handsome doctor like Carlos can't be looking for anything serious, so she embarks on an epic rebound with him, filled with food, fun, and fantastic sex. But when their glorified hookups start breaking the rules, one of them has to be smart enough to put on the brakes...
I really don't know if I've ever done this before, but I read the second book in a companion series before/instead of the first. I heard extremely mixed reviews on THE WEDDING DATE and decided to skip it. When I requested THE PROPOSAL from Netgalley (wanting to give the author a try anyways), I didn't realize it was a companion sequel to the aforementioned book. I still wasn't compelled to read it, so I just skipped over it in favor of the one that sounded better to me… and had less mixed reviews. It looks like there will be a third companion in this series so hopefully this one works enough for me that I'll read that too. I DIGRESS. I randomly started this one in early December because I was holding off on starting a holiday book until a read-a-thon started a few days later.
Overall, this book was adorable and the characters were wonderful. I can't emphasize that enough. Carlos and Nik had such a fun relationship with each other and were honest about what they wanted from each other throughout most of the story. I loved both of their AHA! realization moments about how they felt (so funny), even if one of them felt a littttle late in the book. (The ending was moderately abrupt IMO but not a big deal.)
Their dialogue was a little too witty and contrived sometimes for me, which made it slightly cheesy? This wasn't a huge issue because I'd rather have fun conversations than dry and boring ones. Some of them just didn't 100% feel like real conversations or comebacks that people would actually have IRL.
The side characters in Nik's friend group and Carlos's family were great too – please provide me with spin-offs or companion books about any number of them (especially Courtney, Dana, or Angie). I'm genuinely excited to read the next story in the series so I MIGHT go back to read the first book at some point. I'm on the fence. Highly recommend this fun romance!

I received this book for free (hey, thanks!) in exchange for an honest review. I promise that this does NOT affect my opinion of the book or the content of my review. For real.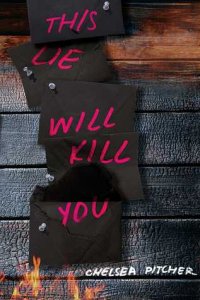 This Lie Will Kill You
by
Chelsea Pitcher
Genres:
Young Adult
,
Mystery/Thriller
Published by
Simon and Schuster
on December 11, 2018
Format:
Audio/eARC
(320 pages) •
Source:
Publisher, Scribd
Goodreads
•
Amazon
•
Barnes & Noble

Tell the truth. Or face the consequences.

Clue meets Riverdale in this page-turning thriller that exposes the lies five teens tell about a deadly night one year ago.

One year ago, there was a party. At the party, someone died. Five teens each played a part and up until now, no one has told the truth.

But tonight, the five survivors arrive at an isolated mansion in the hills, expecting to compete in a contest with a $50,000 grand prize. Of course…some things are too good to be true. They were each so desperate for the prize, they didn't question the odd, rather exclusive invitation until it was too late.

Now, they realize they've been lured together by a person bent on revenge, a person who will stop at nothing to uncover what actually happened on that deadly night, one year ago.

Five arrived, but not all can leave. Will the truth set them free? Or will their lies destroy them all?
Clue meets Riverdale? I was sold right away. I definitely got the Clue vibes at the beginning, since they were all mysteriously invited to a murder mystery party at a mansion, given identities/clothes/weapons for the night, and had distinct, related backgrounds to each other. This book was a much less fun version of Clue and then quickly became something entirely different. It's one of those situations where it sounds SO great but the execution was all wrong. I wish I could hand the synopsis of the book and the first few chapters to someone else and ask them to have their way with it to see what they could do with the idea.
I felt like there were too many reveals too early in the book? I think I had everything figured out practically halfway through and kept wondering what else was going to happen as the book chugged along. There were a lot of creepy elements that I (somehow) didn't expect and there were some more horror-ish parts to it… which I usually avoid. I can barely read regular mysteries and thrillers without being nervous.
I should also mention there are some really sad scenes (flashbacks mostly) that essentially involve bullying, which is my Achilles heal. I really can't and don't read books where there's heavily bullying because it makes me too upset. I didn't like reading those parts AT ALL.
I'm not sure what to say about this one beside how disappointed I am? I had really high expectations but this one just felt soooo lame. It got worse as the book went on.
Related Posts