As usual, a new year brings new planners and spreadsheets! It's my favorite thing to organize and get settled. I've talked in the past QUITE a bit about my planners and spreadsheets (bookish and otherwise) because they change every year AND whenever I'm in the mood to try something new. Here are all the ways I plan to organize my 2019, now that we're about a month in!
Happy Planner
As you've seen before, I use a physical planner for most of my life and work-related planning. I've tried mannnny types over the years and am still continuing to try new ones! This year I'm using a Happy Planner again. The "socialite" one I picked offers many of the things I'm looking for in a planner.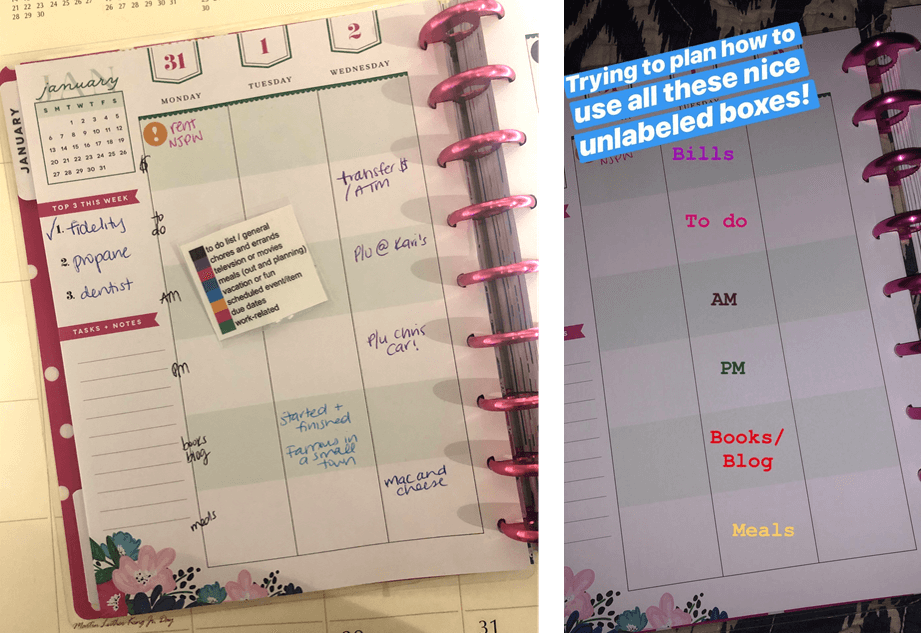 I was really looking for something where boxes were customizable in some way. I prefer to label things on my own because my life has a few different elements to incorporate. I don't have a bookish planner this year, so I knew I'd need a box to track books or blog things. Otherwise, you can see how I organize above. The top box is about bills or things due that day. Box two is a mini to-do list and errands I'll run during lunch. There are two boxes for AM and PM, in case I have time-specific things to do before, during, and after work. Next is the book box and last is a meal planning box. The top left picture also shows the pen color codes I use:
Black: to-do list items
Purple: chores/errands to run
Red: television shows or movies
Dark blue: meal planning/dinners out
Light blue: vacation stuff or "fun" things planned (also been using this for bookish stuff)
Orange: scheduled events or plans
Pink: due dates, including bill/money things due
Green: work-related
Here are some things I organized in my first week just to show a little bit more of the planner! I'll probably do a planning-related update later in the year depending on how things go. I've also been thinking of getting another work planner and reorganizing my color coding (so books can have a different color, like pink, and bills could be logically labeled with green…etc.)
2019 Reading Spreadsheet
I am, as usual, using Crini's new spreadsheet for 2019. I experimented with a couple of others and even initially just duplicated her 2018 spreadsheet for the year… but I'm liking the new one this year! I hid the audiobook narrator stuff because it's not something I personally care about tracking, but I like other new features for ARCs.[You can click on the spreadsheet pictures below to see them full-sized!]
I always add in two more sheets – one for tracking my yearly book challenges and one for tracking short-term TBRs (seasonal bingo, library books and other required reading due dates, and book club's monthly picks). Here's what those look like:
Short-term TBRs/tracking (bingo, required reading dates, book club)
Yearly challenge tracking
Review Copy Database
I showed a bunch of screenshots of this in my ARC wrap-up/analysis late last year. The spreadsheet is the same for 2019, with the exception of moving things over to the right spot! I have three tabs: backlist, current year, and next year. I obviously don't have any 2020 review copies quite yet so that sheet won't be filled for a while. (The SS below is from 2018 because I'm too lazy to make more.)
The 2019 spreadsheet I use for regular tracking also moves review copies to another sheet, which is nice to see there too. I only open the ARC database when I get a new review copy and need to keep track of it somewhere.
Physical: TBR Cart
The other way I've started to organize my bookish life is through the TBR cart on the side of my bed. You can read ALL about it and how it's organized in this post. This has really helped my organization overall because it keeps upcoming review copies (and general physical books I hope to read soon) in one place. It also offers a spot for my library books… since those tend to get strewn about everywhere if I don't have a spot for them! And, of course, I keep the books I'm currently reading in there. And my planner stuff on top. OKAY go read that post if you want to know more!
---
I'd love to know what you're using to organize this year…
If you have a post, link me up!
Related Posts