I talk a lot on my blog about recipes, Weight Watchers/calorie counting, and meal planning/prepping. It's something that makes me really happy – I have an addiction to grocery shopping and planning my meals according to new recipes or cookbooks. I will tell you that in 2020 excessive grocery buying is both a privilege and unfortunately necessary at times. People have been stockpiling toilet paper since March. I'm not that bad, but I find myself buying a new can of something every time I use it even if I have four more in the pantry. Anyways, I wanted to put all that on the table and give you a glimpse into some of my tips, planning, and recipes lately.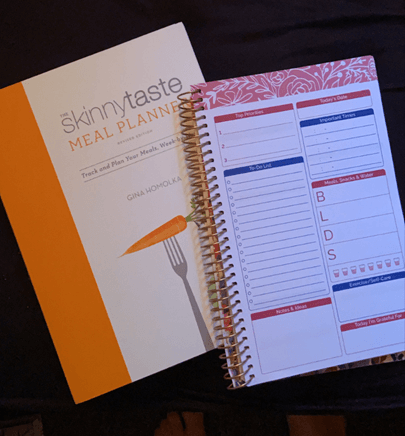 Meal Planning
Cookbooks
I love buying cookbooks and flipping through them multiple times, planning meals and jotting down ideas. When I first got the Cravings cookbooks, I made A TON of meals in a row from them. I tried to do something similar when I got the Skinnytaste One and Done book (and I just got Skinnytaste Fast and Slow). In my opinion, you can never have too many of them. There's a ton of variety out there. If I'm in the mood for a Crockpot recipe during busy weeks, I can pull multiple books and check what recipes are easy for dump and go. It's nice to not rely on Pinterest all the time too.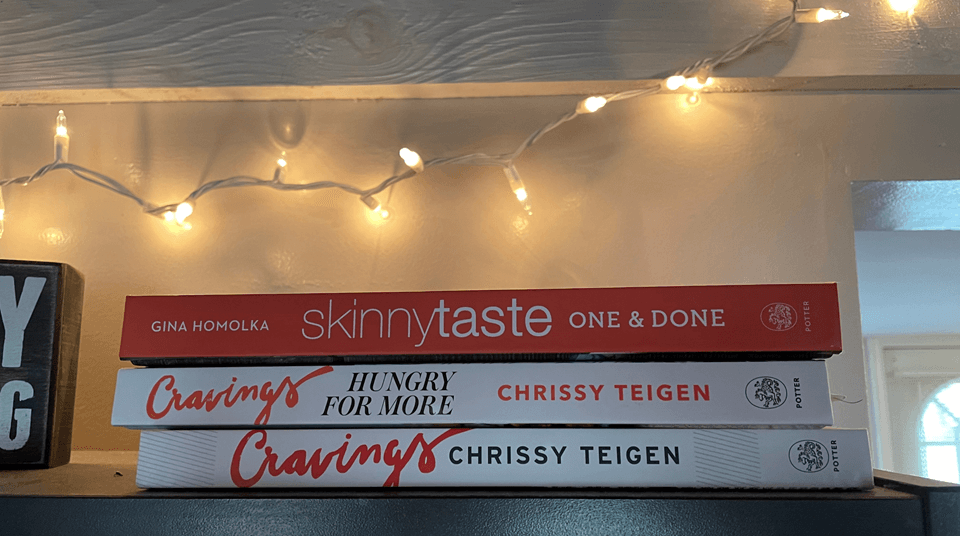 Meal Planner Book and Fridge Pad
I've been using the Skinnytaste Meal Planner notebook for a little while now and it's okay, but a lot more than I personally need. It has pages for calculating points and calories, which is generally helpful to me as someone who is typically following WW or CICO, but I use my apps on my phone for that. It's a lot of wasted pages.
I recently ordered a weekly meal plan pad (that magnetizes for your fridge) from Louise Lane. She was originally a WW YouTuber but has been reverse dieting lately and trying to just eat healthier overall. She now has a cute shop with notepads for meal planning and other mugs/cups/etc. I'm excited to pop this on the fridge instead of having the notebook planner on my desk! I'll probably use them in conjunction with each other if I get fancy, but we'll see.
Instacart
I originally started using this to avoid grocery stores during the pandemic and maybe I'll continue afterwards! I'm not sure. I really love grocery shopping but there's something nice about scheduling an order and being able to add to it as you go through the week. It's okay for grocery budgeting, if that's something you're keeping an eye on (I need to do that ASAP in 2021), because you can see the total go up as you shop.
Recent Recipes
I thought I would share some recent recipe successes as well! Some are from cookbooks, some are from Pinterest and Instagram.
Nashville Hot Chicken Sandwiches with Delicata Squash | My new obsession is delicata squash. It's a cross between a sweet potato and a butternut squash. Amazing. We had this on the side of a crockpot shredded chicken version of a Nashville hot sandwich. Pickles and ranch required.
Chicken Street Tacos | I found these on the Skinnyish Dish. They were good! The filling was actually wonderful and delicious but the tortillas we chose were probably the wrong move – a little yucky from a texture perspective once we baked them. Will definitely try again with better tortillas!
Roast Beef Sandwich with Blue Cheese and Fig Jam | I follow a ton of Trader Joe's insta accounts and one of them made this sandwich with TJ's new seasonal fig jam. We ended up getting another one elsewhere and didn't use any TJ's products, believe it or not. The combo of the jam and blue cheese crumbles toasted and melted with the roast beef was so delicious. Shown here with my favorite Instant Pot mac and cheese recipe!
Homemade Shrimp Bowls | I wanted to make homemade poke bowls but didn't track down sushi-grade fish. I ended up using all of the same things we'd put in poke bowls (wasabi peas, seaweed salad, yum yum sauce, veggies, and rice) and just having shrimp instead.
Molly Baz Crunchwrap Extreme | All of the things that went on with Bon Appetit have been disappointing, to say the least, so I'm trying to support some of the good folks who moved on. Molly has been doing recipes on her insta and recipe club on Patreon. This was an AMAZING breakfast wrap.
Easy Chicken OR Leftover Turkey Pot Pie | Sweet Savory and Steph on Instagram shared a pot pie recipe she previously posted that uses crescent roll dough on top and no pie crust underneath. We made it with chicken a week ago and then made it again with some leftover Thanksgiving turkey! Highly recommend all version of this one.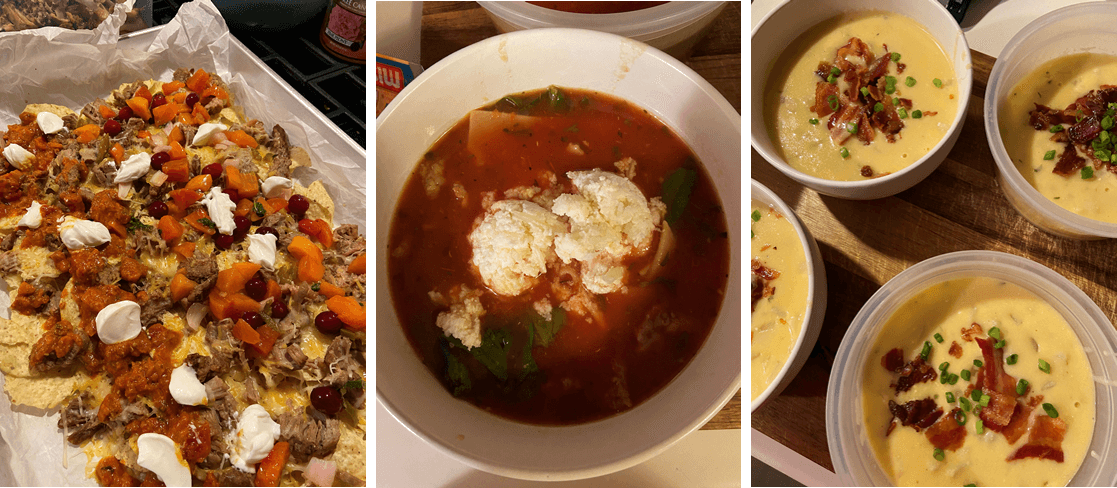 Nachos with Carnitas and Half Pepita Salsa, Half Persimmon Cranberry Salsa | We made homemade cranberry persimmon salsa and decided to finish it off on some nachos. It wasn't enough to cover the whole tray, so we used the remainder of TJ's Pepita Salsa on the bottom third!
Lasagna Soup | I believe this recipe and the next are Skinnytaste ones. This Lasagna soup was amazing from the Crockpot – definitely need to make again as soon as possible. It's super easy and so tasty.
Loaded Baked Potato Soup | Another winner for us too! There are tons of these recipes online and I think I used a Skinnytaste one, but not sure.
Related Posts