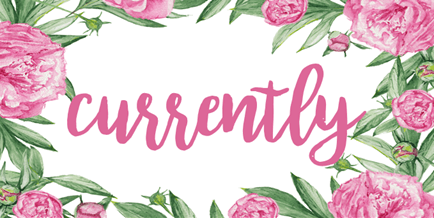 A-Z Edition
You guys know I love a good Currently post – something that talks about what I'm currently doing or am into at the moment. I've done various flavors of this post, from the standard to the iPhone-related, and I found another one. Journey of Doing posted a Currently edition based around the alphabet. Self-explanatory, I'm sure, but it basically means that there are 26 little updated based around each letter of the alphabet. Since I've been back in Connecticut living for a full month now, I thought it would be nice to highlight what ya girl is up to these days. [Most of the words associated with each letter are the same as hers, but I made a few changes!]
---
Accomplishing a lot of my goals for this half of the year, plus my local bucket list! Chris and I just started to have time to explore our area and we've taken a couple of road trips around CT lately. I'm excited to keep crossing items of my lists. I've been paying down some things thanks to more commission, which is excellent. We have all of August and parts of September to check everything out in the nice weather, then foliage in the fall, and skiing/snowboarding starts up again! EEEEK.
Buying produce and fun things from the Farmers Market (haul picture below)! We have one of the best Farmers Markets in the state right in the town we live in now. We got some great veggies, kettle corn, and a vegetable samosa from various vendors there last Sunday. It was a beautiful day to roam! We plan to go back this weekend, weather permitting, to get a hanging plant and a few more things.
Celebrating some accomplishments at work and loooots of upcoming things to do! We have a lot going on right now, including a new project that my boss is asking me to take on. It aligns directly with some areas of interest for me and I'll likely be able to take a class or two, which is excellent.
Drinking my blueberry iced coffees – tis the season! I love a good Dunkin Donuts blueberry iced coffee when the weather is nice, so I try to get them all in before September and my pumpkin spice months.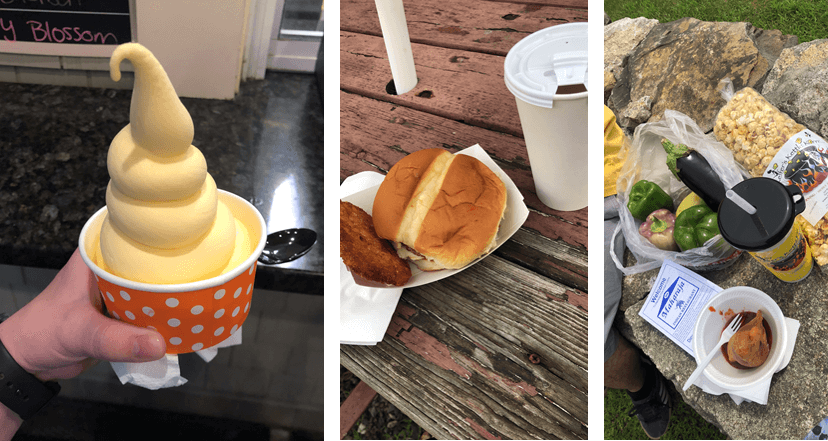 Eating out and exploring the new area quite a bit. Even though we're out in the country, there are a lot of great restaurants within 15-30 minutes from us! We tried Harry Place, which is a famous burgers and hot dog place, this past weekend and loved it. It's awesome to sit outside while we eat – seriously my favorite thing to do. I also stopped at this delicious breakfast stop on my way to work, where I got a breakfast sandwich, hash brown, and coffee for less than $5. An ice cream place in my hometown HAS DOLE WHIP, which was the most pleasant surprise of all time… especially when I didn't even want to go there and Chris convinced me. Imagine if I never knew?!
Feeling like time is passing so quickly! I can't believe how much of summer is gone already. I know we kind of split it up because moved on June 30th, but it just doesn't feel like a real summer. I definitely need more outdoor dining experiences and maybe even a beach day at some point.
Growing our garden/plant situation. Chris has always been interested in gardening and we've been trying to find the best way to go about it with our new house. We are going to get a planter from his mom to grow some herbs and veggies, but we're also looking to get more plants and flowers for inside/outside the house. We saw a hanging basket with the ugliest plant in it at the farmers market and we've regretted not buying it LOL. I think we're going to have to try to get it this weekend if it's still there!
Helping Chris's sister with wedding planning. Despite my wedding-related rants everywhere in this post, it's actually been a little fun to use my expertise (at this point LOL) to help his sister. She was definitely a newbie and younger, so it's nice to help where I can. She's asked for a lot of my opinions, which I appreciate, and she will hopefully have a great wedding next year thanks to ya girl here. 😉
Interested in reading so many recent book announcements! I can't wait for everything from some of my go-to authors. Here are a few highlights with Goodreads links below:
Field Notes on Love by Jennifer E. Smith: "a meet-cute romance about two teens who are thrown together on a cross-country train trip that will teach them about love, each other, and the futures they can build for themselves."
Four Days in May by Miranda Kenneally: "the book takes place on the same day in four consecutive years, tracing the on-again-off-again relationship of two classmates who get off to a rocky start in freshman year when he beats her in the election for class president, but whose lives change as their paths crisscross over the course of high school."
Hope and Other Punchlines by Julie Buxbaum: "posing questions about identity and the extent to which we can control our own narratives."
Jamming to a few new songs, for once in my life… Luckily being away for the bachelorette party and other housewarmings has brought some new/popular/current music into my life. You guys know I don't go out of my way to find anything new. I'm starting to listen to some Post Malone – he has good beats, which is always my favorite thing about music, but I really don't love his messages or content? Same with Freaky Friday by Lil Dicky and Chris Brown. I'm addicted to that song and I hate myself for it kinda.
Keeping up with my favorites on YouTube. I know I've mentioned this before but I have not watched a lot of shows because of YT! I love so many creators on there (highlighted some here) and always end up with a few videos to watch each day. I have like 50 waiting in my queue from when I was away for the weekend bachelorette.
Loving my new makeup routine. I've been on a big skincare kick recently and buying way too much makeup. Let's talk about how great these things are though?? I'll definitely do an updated post or two about my go-to products that I'm using now (yesterday you learned of some favorite brands). This look is primarily from Too Faced (concealer, powder, and lipstick).
Making plans to take some time off work before the end of the year. We have some days off for our friends' wedding over Labor Day weekend, but I think I have a few other vacation days just hanging around! I would love to take a day or two for a couple of long weekends in the fall, since we keep trying to plan a trip to Vermont. I'd love to see the foliage in Acadia as well, but that may be harder to plan due to distance.
Needing to get back on track with calorie counting. I took a break when we were moving because I knew we'd be going out to eat too much, but my break lasted a little too long once we settled into the house too. I also didn't input anything from the bachelorette weekend either. I've done better in the last couple of weeks, but I just don't have as much motivation. I know exercising will do the trick but man do I hate it.
Organizing our new little house! We still need to get our big couch in and then everything else will fall into place. We have things still in boxes because we can't set up bookshelves until the couch officially fits where we want it to. I hate having things all over and boxed up but I can't figure out the best time to get my parents' help with the trailer and moving it in. I want to get settled!!
Pinning so many crockpot recipes. I settled for using our rice cooker as a crockpot (it's possible and made for that, but cooks things way too quickly) while we were away. It's amazing to have my real, big crockpot back! I've been adding all kinds of recipes. We went to a housewarming party and our friend made the Mississippi Chicken linked above and it was amazing, so I had to make some myself.
Queuing up episodes of Very Cavallari, The Bold Type, Younger, and more. I have been utterly terrible about watching my shows this season! I've been consistent with Total Bellas and wrestling shows, but that's because Chris watches them too. He hasn't started his new job yet since moving home, so I haven't had my usual ~alone time~ when we have different schedules. I'm hoarding them for a time when I'm by myself or he's otherwise occupied but I've been too addicted to YouTube lately.
Reading… very little. I'm not doing so great with reading, mostly because of the aforementioned YouTube (and podcasts sometimes). I have been better about listening to audiobooks now and ended my Scribd break to catch up on some titles. I have ARC August happening, which is great motivation for me usually, so I'm happy there. I'm going to reread the Summer series by Jenny Han via audio starting this week too.
Saving money for more upcoming expenses and trips. I'll talk more about this below (and probably elsewhere in this post) but I am definitely looking to pay off some things, save up more money, and get my butt in gear. Being settled at home and away from our "year-long vacation" essentially is giving me a great kick in the pants. We have hotels, weddings, and so many other events going on that I would like to have money stashed away for.
Testing new products around the house. I mentioned before that there were all kinds of new things we needed for organizing the house, so I've gotten a bunch of random stuff from Amazon to test out. I'm talking super random: wedges to make my bookshelf flush against the wall, a brown sugar bear to keep brown sugar fresh instead of rock hard, and yet another set of makeup brushes.
Underestimating just how little closet space I actually have. I haven't even hung up my sweaters and winter clothes (yes I'm usually one of those people who likes everything available to me all year, even if the season is wrong), but my closet is packed. I don't want to break the rod lol. Storage is an issue in some areas of the house, so I hope to keep finding creative places to store things.
Visiting Charlotte in September for my birthday! This is more of a future state than a "currently" one, but it's 100% worth mentioning. My team plays my mom's team in Charlotte, on opening day, on my birthday. It literally could not be more perfect! We're flying in the day before the game and flying out the day after, but there should be plenty of time to enjoy the city and the game together. Chris and I are actually flying out of Providence instead, so we get a bonus night out in my old college stomping grounds too.
Wearing dresses all the time! Literally… Since we moved and my clothes are kind of everywhere still (whoops), it's the easiest and cutest option to wear a dress. I want to get back into some of my other work clothes (aka pants with nicer shirts) and just switch over to shorts when I leave at the end of the day. I just get so hot outside.
X-amining (what else could I put here?) my finances a bit. I've been SO GOOD with my spending lately; it's only been on necessities. Unfortunately, much of those necessities ends up being bullshit for other people's weddings or paying people back for bachelorette parties. It's just so much money all the time and it's stressful.
Yearning for some nice weather! Oh my god, it's been raining constantly over here! I looked at the calendar a few weeks ago and noticed two weeks straight of thunderstorms. I kept telling myself it would change as time got closer but noooope it's been raining and storming on and off for two and a half weeks.
Zipping my lips about people's weddings. Even though I just complained two seconds ago. It's VERY challenging to balance everything right now, especially when some expectations are so high. It's a lot of money to be in multiple weddings over the course of a few years and I probably just have more on the horizon. I went to two weddings last year, have/had a total of four weddings this year (I'm in two of them), and have two next year (in both of them but maid of honor in one).
Related Posts