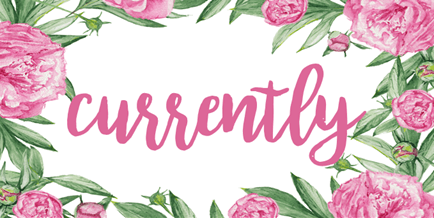 On My iPhone
I really enjoy writing "Currently" posts, where you share the things you're loving, watching, wearing, etc. in a very straightforward format. Plenty of bloggers do them and they're some of my favorite posts to read too! I thought it might be fun to share an iPhone-oriented version of this, where I screenshot various things on my iPhone to show what I'm currently seeing on there, favorite apps I'm using, things I'm listening to, etc.
On my Lock & Home Screens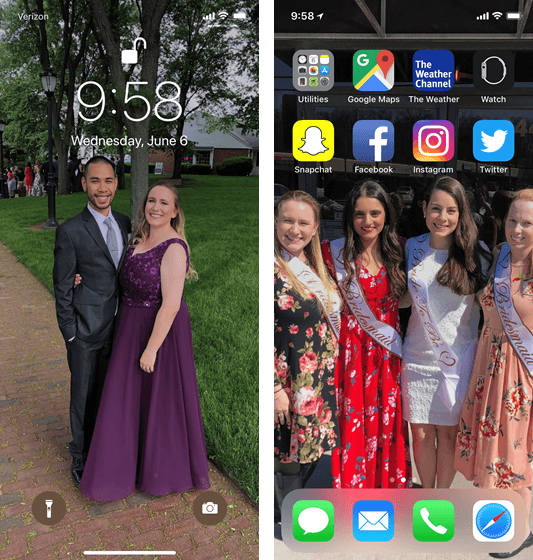 Lock screen: We attended one of my best friends' weddings this past weekend and I couldn't resist updating my lock screen to this picture of us. I love it so much! The more I look at the bridesmaids dress, the more I fall in love with it (the color especially!).
Home screen: This is my main group of best friends from college. The one in the white dress is the girl who just got married, but the other two in the photo are engaged too! I just love this photo of us even though I'm squinting – it was way too bright that day.
On my Podcast List
Currently listening: I started listening to the New Age Insiders wrestling podcast a little bit, whenever they talk about something good or I'm in the mood. I like them for the most part. I was listening an older episode where they discussed if it was "time to panic" about certain wrestlers and their current positioning in the company.
Up next: As you can see, I basically listen to wrestling and true crime podcasts! There is one on there (The Nine Club) that interviews skateboarders, but I haven't started it yet. I just downloaded episodes from my favorite skaters to listen to someday. I was in the middle of a John Cena interview but got too sad about the breakup (it looks like they're back together now, I hope) and paused. Otherwise, Unresolved has new episodes, I'm behind on In the Dark, and Accused has a new podcast I need to listen to the trailer for. You can also see there are six more shows but I didn't click on that part. Wrestletalk's WrestleRamble and RambleClub podcasts will probably be up next for me.
On my Spotify App
Currently playing: I was listening to this in the car when I was driving around at home for the wedding. The last song I heard was What's Left of Me by Nick Lachey because my music taste is always stuck in the past.
Up next: Speaking of being stuck in the past… notice how every single song on there is from a long time ago? Yeah. I like music from the 60s, 70s, 90s, and early 2000s… but that's about it. I think my whole "top songs from 2017" playlist has maybe three songs that came out in the last year or two?
On my Goodreads App and Camera Roll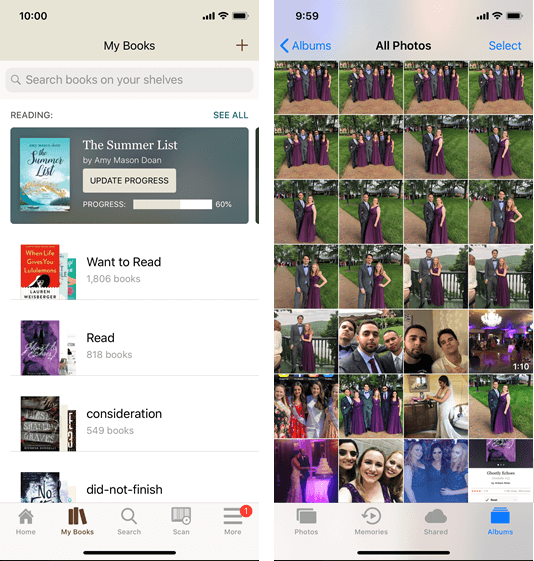 Goodreads app: I'm currently reading THE SUMMER LIST for a blog tour and really enjoying it! I'm guessing by the time this posts, I will have finished. I wish this showed my "up next" shelf because that would be the most logical thing to showcase here too.
Recent photos: As you can probably tell, all of the pictures in my app are from the wedding weekend. There are a lot of us taking pictures after the ceremony and some from our boys hanging out in between everything. The ones toward the bottom are ones I put on my personal instagram the next day, so that's why you might see repeats or filters haha!
---
Feel free to post your own "Currently" screenshots and link me up!
Related Posts