As we're all going through the same global pandemic with various levels of "stay the F home," I thought it would be fun to highlight the good things in each week, instead of dwelling on the negatives, the unknowns, and the uncertain future. I tend to do some kind of wrap-up or rundown of my week/month/etc. on Fridays each week (often linking up with Friday Favorites/Currently) so this isn't too much of a diversion from that.
---
✨ Juneteenth
Today is Juneteenth, the celebration of the official end of slavery in the US! There are plenty of infographics on Instagram and articles about it. This should be a national holiday. It's important to continue to learn about things that were absolutely missed in school.
---
 ✨ Chris Morocco Recipes
There has been a lot of drama within the BA Test Kitchen lately, and it really sucks to hear that people of color are not paid equally for their work. Long story short, most of the hosts/chefs are not filming videos until there is concrete evidence that the company has improved compensation for ALL. I hate that something I love so much has a garbage culture within it but it seems like people are fighting for real changes, which is wonderful. Before all of this went down, I had three recipes from Chris Morocco lined up (one of the hosts/editors) for this week and we made them all.
Bulgogi Meatloaf Sandwich: Honestly this was pretty damn delicious. Chris's mom made us kimchi a few weeks ago and thought this would be a fun way to eat it. We made the meatloaf and put a slice on toasted bread, topped with kimchi and gochujang sauce. We ate it as a sandwich the first day but used just the meatloaf for lunches the next couple of days.
Boxed Brownies Improved with a Tahini Swirl: We watched the video where everyone was tasked with improving boxed brownies and thought there were a lot of fun ideas. Chris's idea to add a simple tahini swirl (mixed with an equal part of maple syrup) was really easy and delicious.
Salad Ramen: This was good too! I can see why some reviews thought it was a little too acidic, but the key is making sure you're definitely using seasoned rice vinegar instead of unseasoned. Seasoned = sweet. Anyways, we enjoyed this for dinner and topped it with some shrimp!
---
✨ Heart from a Neighbor
I've seen all of these little wooden painted hearts around town lately to help show support for essential workers (I'm assuming lol) and was so pleased to see someone had given one to us! This person is clearly making them and dropping them at people's houses to spread cheer. Chris noticed it by our mailbox  and the next day our landlord moved it up onto the rock so it can be displayed better. So sweet!
---
✨ Wrestling (New Japan!)
New Japan is back!! We watch a number of wrestling promotions regularly, but NJPW has been on hiatus since coronavirus got serious around Japan/China. They announced this past week that they'd be returning with a special, followed by the New Japan Cup (a favorite tournament!). We made our predictions for WWE Backlash (which was not a good show) and also filled out a bracket for the Cup. So excited!
---
✨ The King of Staten Island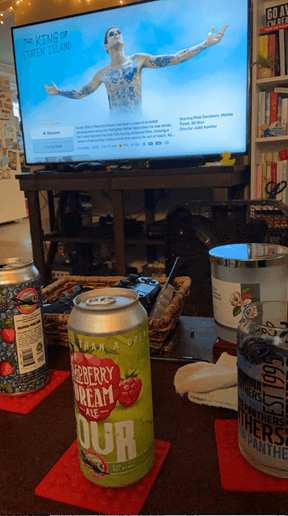 I keep telling people: if you saw the preview for The King of Staten Island (a kind of alternate reality based on what Pete Davidson thinks his life would be like if he had gone down a different path) and were intrigued by it, you will enjoy this movie. I think it completely delivered on everything the trailer promised! I was hoping for something funny but also sweet and meaningful – this totally delivered. It was worth the $20 home premiere price to rent, IMO.
---
✨ More Planting!
Chris has really been on a gardening kick lately and we went to two greenhouses last weekend. He got another lemon tree (different type) and a blueberry bush, as well as some planters and pots from Ocean State. I help with it when he needs me but usually I let him handle it 🙂
---
✨ Great Weather, Social Distant Friends, and Sushi Takeout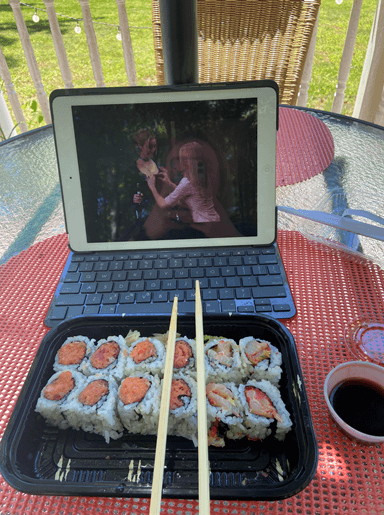 The weather has been pretty gorgeous recently, which has been great! We went to our friends' house over the weekend to sit on the lawn and meet their adorable new dog. I'm glad we're heading into warmer weather so we can keep seeing people and hang outside from a distance. I got some sushi for lunch takeout last week and enjoyed the break on the patio too 🙂
---
✨ Bart's Drive-In
Back when I lived in a different town, I'd always go to Bart's to get some classic drive-in food. My mom and I would go for a walk or rollerblade on the nearby river walk/trail and the head to Bart's for shakes, hot dogs, and curly fries. I ended up with the most random craving for Bart's curly fries last weekend and luckily Chris was on board to make the journey there for lunch. It totally hit the spot!
---
✨ Skinnytaste One and Done
Apparently my new thing for quarantine is buying cookbooks and then buying double the amount of groceries I normally would in order to make new recipes. I'm excited about this one! I don't love the idea of EVERY SINGLE recipe like I did with both Cravings cookbooks, but there are some really excellent/healthy ones in here to balance out the Cravings ones 😉 I love that this is "one and done," meaning the recipes inside are for your pressure cooker, air fryer, sheet pan, grill pan or grill, dutch oven, and skillet. Just a little bit of prep work and put everything in one pan or pot!
Related Posts