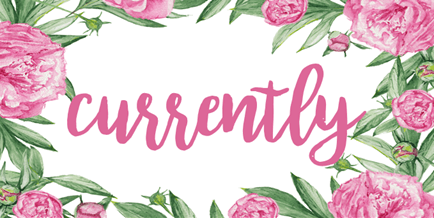 On My iPhone | March 25, 2019
I really enjoy writing "Currently" posts, where you share the things you're loving, watching, wearing, etc. in a very straightforward format. Plenty of bloggers do them and they're some of my favorite posts to read too! I thought it might be fun to share an iPhone-oriented version of this, where I screenshot various things on my iPhone to show what I'm currently seeing on there, favorite apps I'm using, things I'm listening to, etc.
On my Lock & Home Screens
Lock screen: Even though we're out of football season, this has remained on my lock screen! Chris and I haven't taken a lot of great photos lately (lol) and I really enjoy having him on my front screen. This is when we went to Charlotte for my birthday and got to meet Sir Purr, the mascot!
Home screen: This is my main group of best friends from college. I always have them on my home screen too. This photo is also from September, from Natasha's wedding. This is one of the pictures from the professional photographer and we all look so good.
On my Podcast List
Currently listening (bottom bar): I usually listen to podcasts on Tuesday and Wednesday (sometimes Saturday/Monday depending on what I get to), so I only have a quick one from this morning. I listened to the preview/intro to the Bellas new podcast! By the time this posts, it will have had its first episode already.
Up next: I have a weird mix of things happening right now. I've subscribed to some new shows lately that I have yet to listen to (anything with the download icon next to it) and there are so many episodes of other shows to catch up on! I feel like I never will at this point. Highlights: my jaunt back into My Favorite Murder, a few episodes of the JVN podcast (I only listen to episodes featuring the other guys from the show), Josh Peck's podcast (another one I listen to based on the guest!), some true crime, and the Degrassi watch-along podcast I REALLY want to get to this year.
On my Spotify App and Audiobook Player
Currently playing: I don't have the paid version of Spotfiy currently (my mood changes on this a lot), so you can see what I'm shuffling through at the moment. I'm listening to A LOT of classical music on my laptop while working, so the most recent playlist and current song are from there. Otherwise, I have a playlist with 2019 songs and some wrestling music playlists (for fun, to hear some songs sometimes haha).
On Hoopla for audiobooks: I'm currently listening to THE COTTINGLEY SECRET on Hoopla, about halfway through. I have podcasts on deck for tomorrow and Wednesday, so I'll be switching to the ebook version of this one tonight before bed. I've got a post coming up sometime in the next month about how I balance and schedule all of the forms of media/entertainment in my life, so look for that soon!
On my Goodreads App
Currently reading: I'm starting the hardcover of EVERYTHING MUST GO tonight so I added it to my shelf at work today. I also have the audiobook to pick up with later in the week, when I'm in the mood to switch away from my mid-week podcast listening. You also saw THE COTTINGLEY SECRET in the previous section, which is obviously the second book I'm currently reading!
Up next shelf: I have a good mix of books coming up. From top to bottom: ALWAYS NEVER YOURS (hardcover from the library, to hit the Shakespeare category on my Retellings Challenge bingo), LAST GIRL LIED TO (egalley for next month's blog tour post), DON'T DATE ROSA SANTOS (borrowed ARC that I want to read and send back to Andi next month), THE DATING GAME (another egalley coming due this week that I will read soon), and THE RISK (this is probably not going to be read until May, but oh well).
On my TV tracker and WW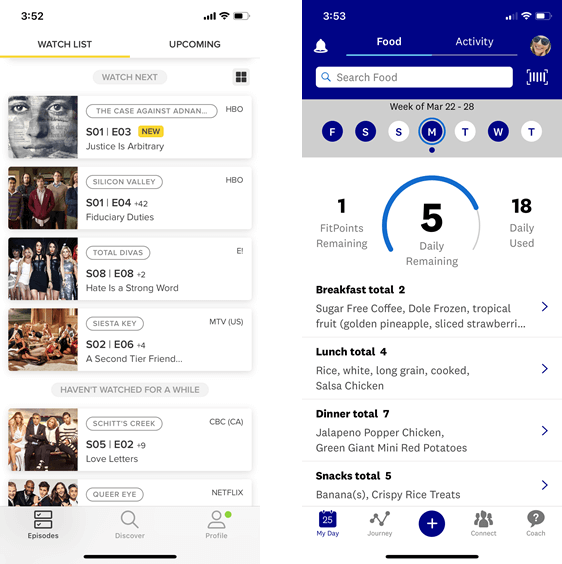 TV tracker: I use the TV Time app to track shows. It's better than using the web version of Sidereel, since they rudely discontinued their app. Anyways, I recently started watching Silicon Valley with Chris and we need to get going on that again soon. I have the latest episode of the HBO series on Adnan/the Serial case to watch, maybe tonight? I also have Total Divas, which I'm trying to catch up on, and Siesta Key, which I somehow got behind on.
Weight Watchers – My Day: I get 23 WW points a day, plus a bunch of weeklies. (I have my meals all planned out for later this week and in the tracker already, which is why the weeklies are currently almost gone.) I had my usual coffee and overnight oats this morning for breakfast, followed by a homemade burrito bowl for lunch. We're having a Jalapeno Popper Chicken recipe for dinner with some potatoes on the side. We made Rice Krispie treats over the weekend we need to finish up for snacks later, plus a banana that I ate during work. This leaves me with five points and four of those (the max) will roll over into the weeklies so I can use them later in the week as needed!
---
Feel free to post your own "Currently" screenshots and link me up!
Related Posts