I usually don't mind including more than ten books in a TTT but there are just SO many good summertime releases to highlight on my TBR (like… more than 20)! I thought it would be more fun to spread the love between two posts this week to share the books from June/July yesterday and August/September today. I'm going through the technical end of summer (September 22nd).
August
They Wish They Were Us by Jessica Goodman | Umm, Gossip Girl meets One of Us is Lying? Sold. Super duper sold on this one. It's a murder mystery set at a prep school on Long Island. I am SO excited for this – cannot wait.
More Than Just a Pretty Face by Syed M. Masood | I'm intrigued by this one – I don't usually read books from a male POV but this one sounds good. The main character tries to become a "renaissance man" to prove to his longtime crush (and her family) that he's worth her attention, but he ends up falling for his "tutor."
The Love Scam by Maryjanice Davidson | I have to admit that I love the cover more than the synopsis, but it does seem interesting! I think the gist is that a guy starts getting scammed by someone and then people fall in love… lol.
Vanessa Yu's Magical Paris Tea Shop by Roselle Lim | Okay I'm nervous about this one. I was obsessed with the cover and premise for her debut but I ended up not really loving it as much as I hoped. Unfortunately it was the writing style that didn't jive with me, so I don't know if that'll improve with her second book. I'm still intrigued enough to read it! Fingers crossed.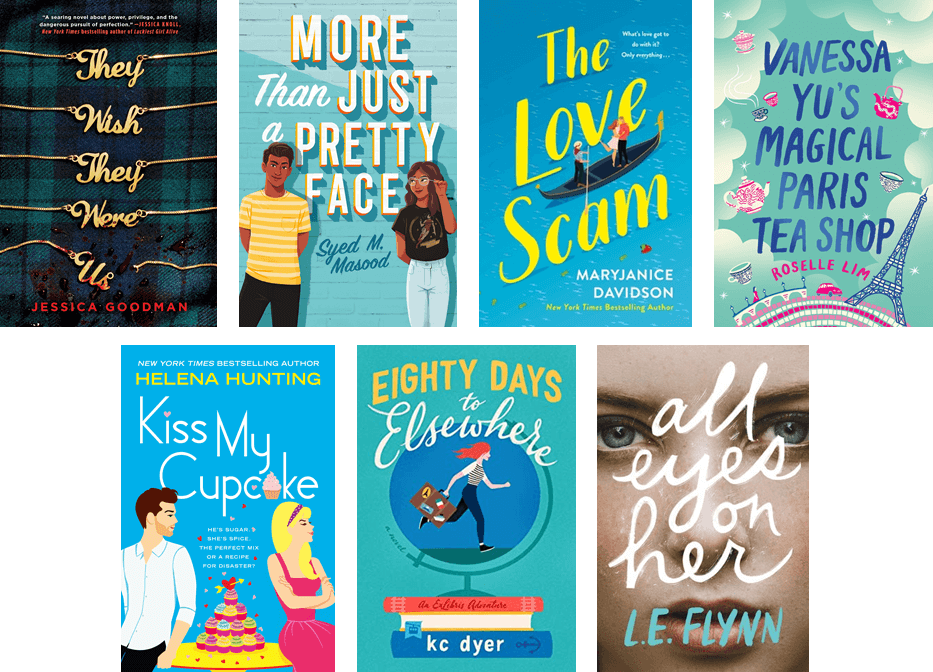 Kiss My Cupcake by Helena Hunting | I've come to love Hunting's books with Forever so I'm pumped for this one! I love the idea of rival business owners having to come together… and obviously fall in love!
Eighty Days to Elsewhere by KC Dyer | This plot sounds awesome – a girl tries to save her family bookstore by getting a job with a company that recreates literary journeys.
All Eyes on Her by L.E. Flynn | I thought this was coming out earlier but I think the pandemic pushed it to August. I've said it a million times, but I loved her debut contemporary book and really enjoyed her first mystery. This one looks just as great!
September
Recommended For You by Laura Silverman | Obviously any book set in a bookstore will make it onto my TBR. TATBILB and You've Got Mail is a great comparison to get me interested too.
The Tea Dragon Tapestry by Katie O'Neill | The illustrations in this series are so cute – I have to read all of them right away. I'm really enjoying the tea dragon concept and wish this wasn't the last book. I'll have to track down some of her other books too.
Majesty by Katharine McGee | I finally read the first book in this series later last year and after that ending, I'm really excited to read more. I've loved all of McGee's books so far.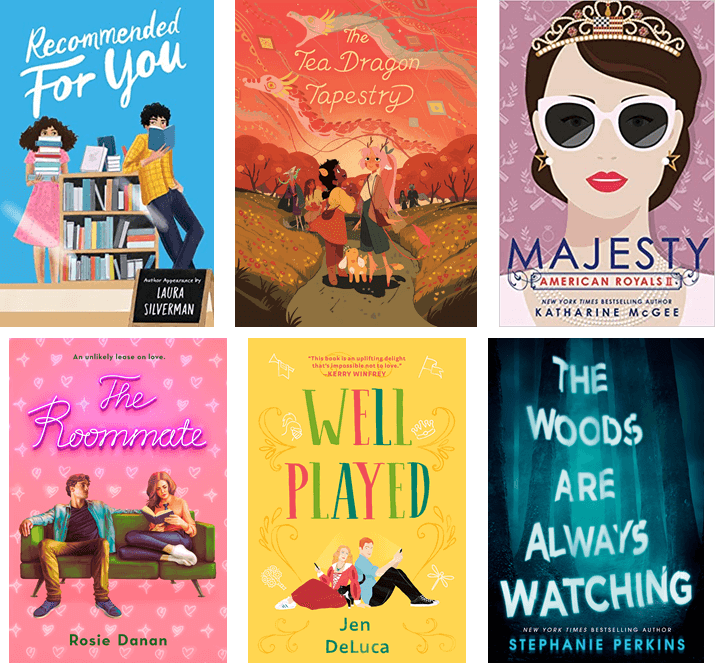 The Roommate by Rosie Danan | A lot of my friends have read early copies of this and it has glowing reviews so far. I'm excited!
Well Played by Jen DeLuca | I didn't love the first book in this series as much as everyone else, but I still really enjoyed it. I'm definitely interested in the sequel because DeLuca's writing style was great. I mostly didn't love the characters. So, a companion sequel will be perfect for me!
The Woods are Always Watching by Stephanie Perkins | Last but not least – another horror novel from Perkins! I don't really even remember when she finally announced this one but I've been eagerly anticipating any kind of new book from her.
Related Posts