Books on my Summer TBR
Top Ten Tuesdays were started by The Broke and the Bookish and are now hosted by That Artsy Reader Girl, where we make lists of our top ten books (or something else!) based on that week's prompt. The topics are provided ahead of time and can be found here. Book links bring you to Goodreads or my review.
I love making TBR posts even when my reading is hot garbage. I ended up with over twenty books to highlight between late June and late-ish September, so I decided to split this summer TBR into two posts! You'll see the books from late June and July today, and books from August and September (through the 22nd) tomorrow.
Late June
You Say it First by Katie Cotugno | I'm a huge fan of her work and this cover is adorable. I can't tell if it's really the "people from opposite ends of the political spectrum come together and work it out" kind of book – it seems like it's on the verge but mostly centers around them having conversations about a variety of topics.
Summer at Lake Haven by RaeAnne Thayne | Another season, another time I'm surprised by a new Haven Point book! She keeps releasing them and I'm always excited 🙂 I'm jazzed to read about Samantha too!
Girl, Unframed by Deb Caletti | I didn't read her last release, which many people loved, but this one seems more up my alley – it's a thriller where a girl returns to San Francisco with her self-absorbed famous mother.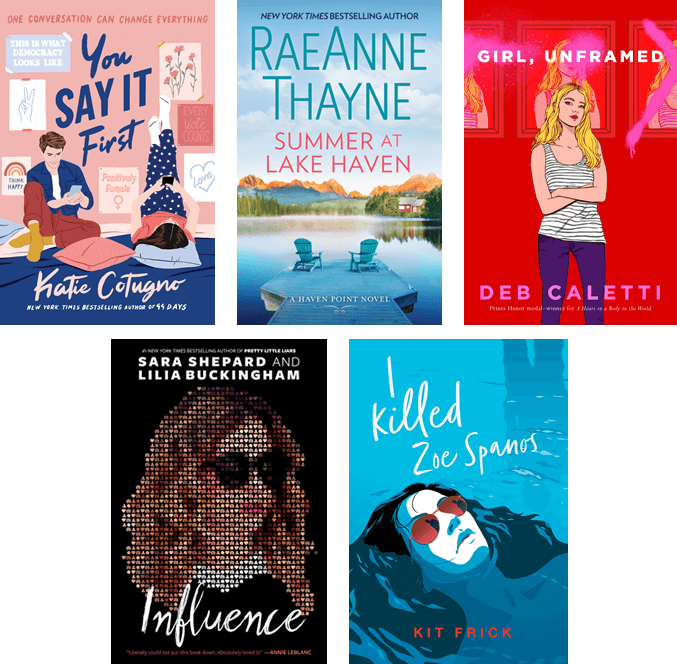 Influence by Sara Shepard and Lilia Buckingham | I'm actually one release behind on Sara Shepard books, which is crazy for me, but I'm excited for this one! It's about influencers but it could be about anything and I'd read it lol.
I Killed Zoe Spanos by Kit Frick | I haven't loved Frick's books so far but I'm intrigued by this one and willing to give her a try. I'm definitely on a thriller kick lately!
July
The Best Man Plan by Jaci Burton | I read the prequel novella to this series and really loved it – I'm super excited for this book and series to get started! They're centered around this adorable wedding venue in the country and I loved learning about the family in the introductory short story.
B*Witch by Paige McKenzie and Nancy Ohlin | I keep getting sucked in to these witchy YA stories but have slept on actually reading them. This one is about high school-aged witches in rival covens who have to come together to solve a murder.
Sex and Vanity by Kevin Kwan | I didn't even realize he had a new book coming this year until a couple of weeks ago! I really loved the CRAZY RICH ASIANS books so I didn't even need to see what this was about before deciding to read it. I hope it's as compulsively readable as his other three books.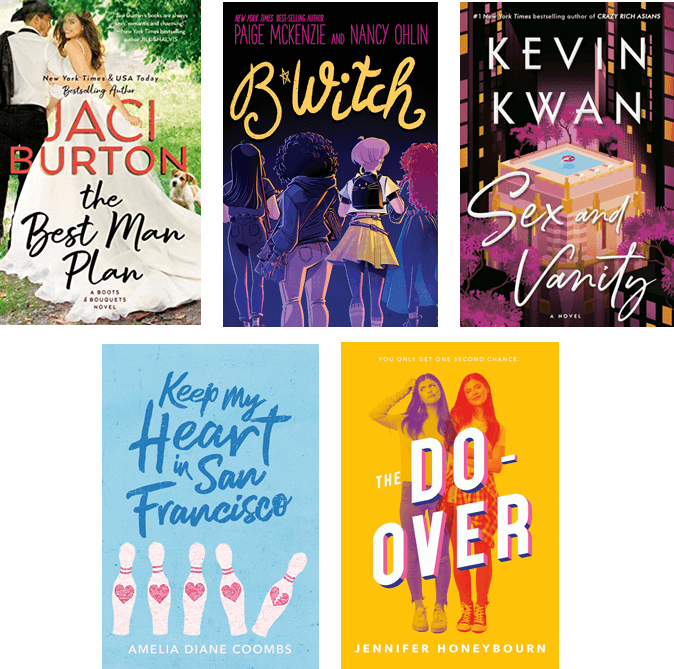 Keep My Heart in San Francisco by Amelia Diane Coombs | I feel like I've been waiting for this one for a long time, actually! It looks so cute. Two ex-best-friends have to team up to save a local bowling alley in town.
The Do-Over by Jennifer Honeybourn | I'm a HUGE sucker for time-turney books like this. The main character chooses the popular guy over her best friend and six months later, she's able to turn back time and change her mind.
Related Posts