… aka own more than one product from.
I saw this post and was inspired to make one of my own. I've talked a lot about different skincare, beauty, and makeup preferences/routines in recent months and hope to make it an even more regular thing here. I am constantly watching beauty YouTube and buying/testing new products that are recommended to me. My routines have changed a lot over the past year (multiple times) but I'm finally getting into a groove. I'll probably post some updated favorites and routines soon! Otherwise, you can check out my posts on my first skincare routine, my favorite "holy grail" products, and two parts on beauty favorites and more.
This post is about beauty (makeup and skincare) brands that I love. In my case, that means "brands and companies I own more than one product from." I tend to try out a LOT of makeup and return things like nobody's business. I opt for high-end stuff the majority of the time but there are so many wonderful drugstore options to mix in too. In order for me to discuss the brand here, I want to have more than one product from them in my arsenal. For example, Tarte Shape Tape is a wonnnnderful concealer… but I don't own anything else from Tarte, so you won't see them here.
---
The Body Shop
I have been using this line of products for a while. They're still very much ingrained in my routine and I think they're the reason I don't break out nearly as much as I used to! My favorite products are the Tea Tree Mattifying Lotion and the Tea Tree Skin Clearing Facial Wash. I used to use the lotion every day as my moisturizer, but now I mix it in depending on the soap I used in the shower (I know, it's complicated, more on that another time). It doesn't provide as much moisture even though I have oily skin, so I use it every other day instead. The facial wash used to be my go-to in the shower but now I use it every single night with my Tao brush.
---
It Cosmetics
This is definitely one of my holy grail brands. I've tried out loads of their products (some have cycled out of my routine for various reasons) but I haven't ever really been disappointed by them. I am obsessed with these two products the most: Your Skin But Better CC+ Airbrush Perfecting Powder and the Brow Power Universal Brow Pencil. I have used these every single day for years and they are perfect. My skin is less oily with the CC powder (and gives extra coverage on my redness) and the brow pencil is so easy to use. I just like to fill them in a little bit and tame the hairs, so this is perfect. I used to use the Bye Bye Redness Neutralizing Color Cream and I absolutely need to get a new pot to rotate back in. I have very red cheeks and it's more noticeable lately for some reason. I want to use some of this again to see how it helps. I used to LOVE IT. Don't let the color deter you – it somehow blends really nicely into most skin tones. It also looks like they've added two more shades recently. I couldn't find a picture of the actual brush I use, but this one is similar. Their Flat Top Buffing Foundation Brush is awesome. I use it for packing loose powder on my face though.
---
Makeup Revolution
This is a new-to-me brand, but they have so many great inexpensive options. I haven't explored them quite as much as I would have liked so far. These two products are my favorites though. I am OBSESSED with the Conceal and Define Full Coverage Concealer/Contour. Some say it's a dupe for Shape Tape and I disagree. The formula is much lighter, which I prefer for some areas of my face. I also enjoy their Mini Chocolate Bronze & Glow Palette because it has a good contour/bronzer shade and highlight shade. I wanted something small and simple since I'm fairly new to those steps, and this lasts all day for me.
---
Too Faced
I wrote this post a few weeks ago and HAD TO UPDATE IMMEDIATELY after my Too Faced order came in. Before the recent order… I've had the Natural Eyes Neutral Eyeshadow Palette for a few months and I use it whenever I put on eyeshadow. I recently got rid of my old Urban Decay Naked palettes because they're kind of old, so this is my go-to for natural shades. They're all gorgeous. My new order included… quite a few things. Whoops. I heard nothing but wonderful things about the Born This Way Super Coverage Concealer on YouTube so I had to get some and FOLKS I LOVE IT. It's less cakey, thick, and crease-y than Tarte Shape Tape. It finishes beautifully on the skin and I'm someone who uses concealer ALL OVER. My friend swears by the Peach Perfect Mattifying Setting Powder so I knew she'd kill me if I didn't buy it to try too. It looks so amazing over the concealer!! It makes the most flawless finish that I'm obsessed with. I also ended up with their new Melted Matte-Tallic Liquified Lipstick and absolutely loved the staying power. I want to try the non-metallic version next. Guys, this brand is gold, okay?
---
NYX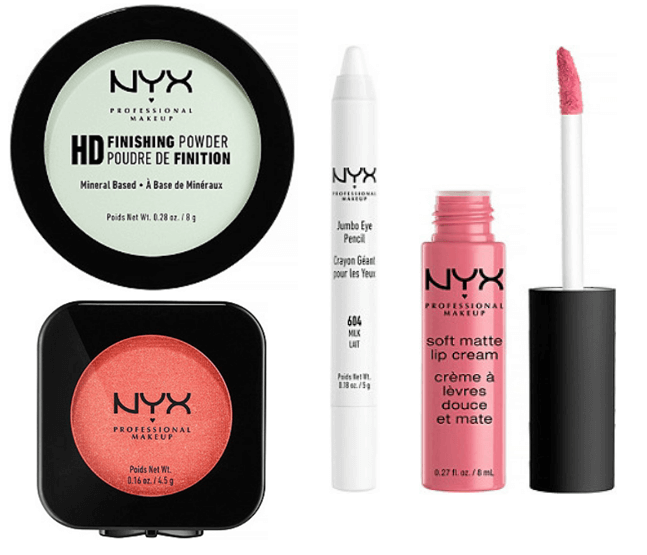 Finally a drugstore favorite! I have been using various NYX products for years, even back when I did not spend money on makeup things or care about any of it. My go-to ultimate favorite that I've used basically every day for like 8 years is the Jumbo Eye Pencil in Milk. I use this as my highlight color in the corner of my eye all the time, even without eyeshadow. It's my favorite and I've talked about it SO many times. I've also been using their HD Blush for years. I don't remember which shade I have, but this shit lasts all day. In the same HD line, I've recently started using the HD Finishing Powder in Mint Green to cover up some redness. I actually use this under all of my makeup (more on this later). If you know me at all, you know lips are not my forte. I'm lazy, I'm bad at applying it, and I need it to last forever to be worth it. I really enjoy their Soft Matte Lip Cream in a couple of shades. It lasts a while and has a nice consistency.
---
Essence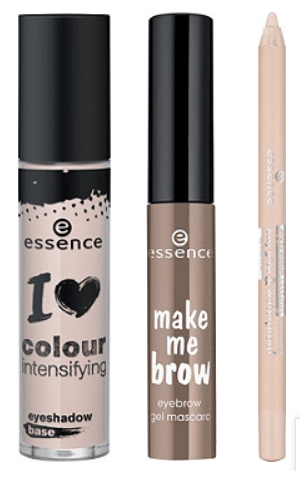 This is another brand that's cheap but not fully drugstore? It's right next to the Makeup Revolution stuff, both in Ulta and in my brain. They recently got some fame for the Lash Princess Mascara, which I actually do not enjoy.  I've tried a few things from the brand because of the great price point and these are my favorites. The I Love Colour Intensifying Eyeshadow Base is very nice and works super well. I use the Make Me Brow Gel when I need a bit more structure in my eyebrows so they don't go everywhere. I sometimes use the Extreme Lasting Eye Pencil in Nude to line my lower lashline and cover up redness.
---
L'Oreal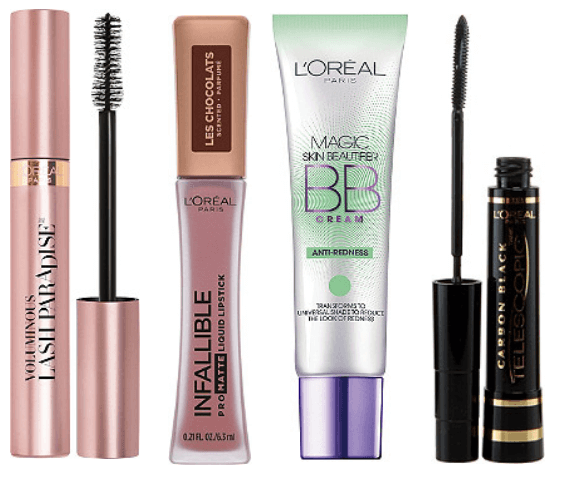 I don't mean to get dramatic here but the Voluminous Lash Paradise Mascara could be the best mascara I've ever used. It lifts, adds volume, looks amazing on the lower lashes, and doesn't smudge black stuff on my face. It's amazing. I also really loved the Telescopic Carbon Black Mascara for a while too. Both are so wonderful! When I was being lazy last summer and wanted some super light makeup, their Magic Skin Beautifier BB Cream (Anti-Redness) is a holy grail for me. I wanted to just cover up my red cheeks and throw some powder on top of something for running errands, so this did the trick. It's not good for my oily skin after too long, but it does the trick for a couple of hours. Finally, the Infallible Pro Matte Liquid Lipstick (Les Chocolat) line lasts just as long as Lipsense and does not transfer at all. It's kind of amazing?? My only issue is that the shades are all very chocolatey, which isn't my go-to look. I got the pinkest looking shade (pictured) and it's still kind of a purple-pink-brown shade. Not bad though!
---
Urban Decay
Urban Decay is one of those brands I don't realize how much I like until I go through and look at my products. I recently discovered a few favorites and wanted to share a couple of old favorites I've cycled out. I'd definitely buy them again though. I think everyone knows about the Eyeshadow Primer Potion, All Nighter Setting Spray, and Naked Palette(s), right? These are the top famous options from Urban Decay and I've loved and used them all. I don't currently use them, but definitely wanted to toss them here as general favorites. My new favorites from this brand are both powders, but two different types. I saw so many of my favorite beauty gurus talk about the Velvetizer Mix-In Powder on their channels… and everyone loved it! It doesn't have great reviews or ratings online (not terrible though) so clearly it has mixed reviews. You can mix this super finely milled powder into your foundation to make it thicker and like a mousse, and/or you can use it like a setting powder. I've done the latter so far and it is the number one thing that keeps me less oily each day. It's insane. I also use the new All Nighter Waterproof Setting Powder for touch-ups mostly.
Related Posts