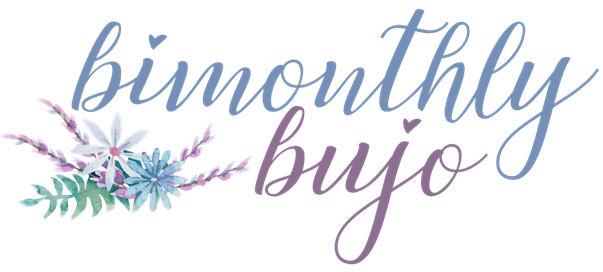 When I mentioned the idea of sharing layouts from my reading-related bullet journal on the blog, most of you seemed interested to read about it! I can't justify making one post each month dedicated to the 3-4 bujo pages I make during that month, so I thought doing a little bullet journal update every two months would be fun instead! In these posts you will see all of the new pages I added during the past two months.
---
I feel like my bullet journal usage is increasing quite a bit, which is nice! I feel like I was stuck in my rigid selection of page layouts for each month (new release tracker, reading tracker, and TBR), but I've been trying to make readathon or challenge-specific pages to enjoy tracking other things! This round-up of layouts will likely be longer and bigger than the previous time I posted about this 😉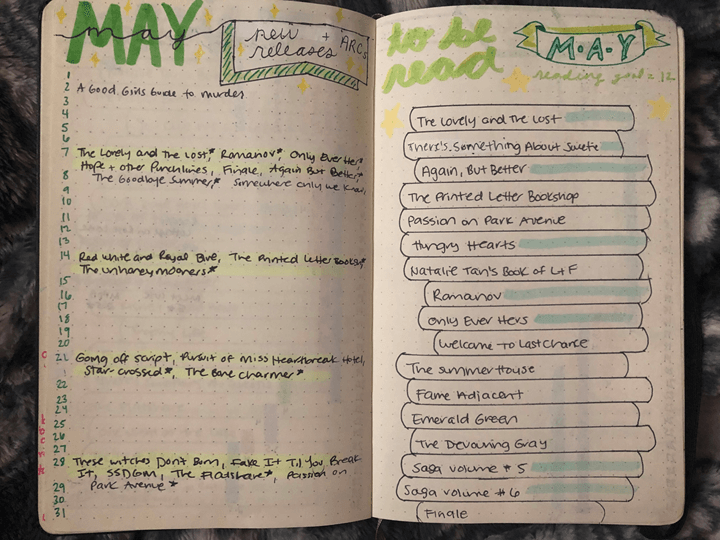 May ARCs and New Releases: I really like the way this page turned out at the top! As usual, I tracked my review copies with asterisks next to the titles, highlighted the release weeks, and included other releases I'm excited about.
May TBR: Phew this looks like a bad month for reading from my TBR! I don't remember why I read so off-base but I think this was one of those months where I included too many options, especially review books I wasn't overly into.
May Reading Tracker: Now that I look at how lopsided my tracker is, I can tell why I was so off-base on reading my TBR. Some books took me forever to read and some took just a day or two (thank you, graphic novels). I barely read ANYTHING in the first half of the month and cranked a few things out in the second half.
Summer Bingo: I love when a new bingo card comes around! I'm doing so well with this one already. I always try to make a color scheme based on my assigned marker color for the month, so I'm really loving the summery orange and yellow. I included some string lights on pages as well.
June ARCs and New Releases: This is a busy month for books being published! There's something about new summer releases that really gets me excited for reading 🙂 I love the outdoor reading time, on the beach or in my backyard.
June TBR: I actually did a really good job for June, only skipping a few reads and pushing them off to July. I also had written one book club book on here but we changed it at the last minute, so I allowed myself to change the TBR as well.
June Reading Tracker: I know I said this for May, but I genuinely had the weirdest reading month in June. One book lasted from mid-May to mid-June while another took me two weeks to finally finish, with a lot of stop and go. Other books took me one or two sittings to read!
FaerieAThon: I want to do more readalong or readathon pages in my book, as you'll see, so I did a layout to track for FaerieAThon. It'll be annoying to flip back and forth, since it goes through the end of the year, but it'll be nice to fill it in and see the days I need to read.
SummerAThon: I participated in SummerAThon at the last minute and it was great for my TBR progress and overall June reading! I didn't get to do much for the first few days since I was away for a bachelorette weekend, but I finished a book per day essentially at the end of the week to make up for it. I hit all the categories as well.
Related Posts