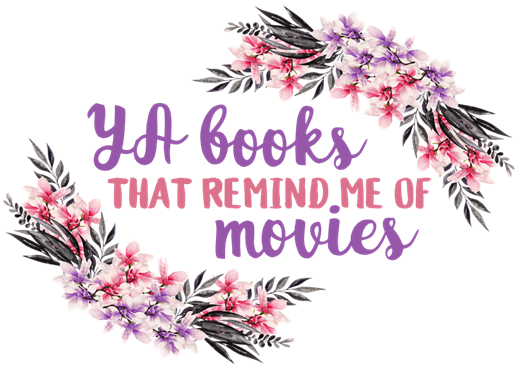 When I sat down to write my list of 2017 releases I was looking forward to, I realized there were a lot of books that had similar premises to moves I once watched and loved. Books are constantly getting turned into movies and movies will keep coming out with sequels – long past their prime – because it can definitely be hard to have a completely unique idea now. There's so much content all the time and I LOVE IT. You have no idea how excited I was to read these books synopses and say "hey, that sounds like [insert movie name here]!" If I enjoyed the movie and the idea behind it, you bet your ass I'll read a book with a similar premise. I'll be featuring upcoming books and the movies I thought of (purely based on the synopsis), as well as one book I read that reminds me of a TV series miniseries I'm in the middle of. To be clear: I'm not saying any of these books copied the movies or that they're "retellings" in YA form. I'm just saying that the premises sound similar enough for me to write this post, alrighttttt?
Groundhog Day + A Week of Mondays
Like most people who enjoy comedy and/or Bill Murray, I really like GROUNDHOG DAY. It's an ~older~ movie compared to some others on here but the premise is obviously timeless. The synopsis reminds me of A WEEK OF MONDAYS, which I have yet to read, and BEFORE I FALL, which is one of my all-time faves. Honestly there are probably more books I'm missing. There's something about repeating the same day over and over that interests me for some reason. It sounds boring but I love how different each day ends up being!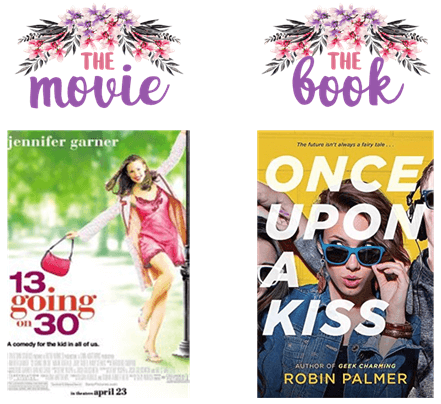 13 Going on 30 + Once Upon a Kiss
I think you could also add the movie BIG with Tom Hanks to this one! It has a similar premise. 13 GOING ON 30 is about a girl who wishes she was 30 on her 13th birthday. (Similar premise for BIG too!) I still have ONCE UPON A KISS on my TBR even though it sounds super appealing to me. I love the idea of waking up years after an accident with no idea what happened in the world. Okay so the premises for these two aren't exactly the same but maybe you see the same correlation I do? Kthanks.
The Breakfast Club + One Of Us Is Lying
Obviously it's very difficult to find a book that will actually compare successfully to THE BREAKFAST CLUB. I loooove the movie and am always looking for these kinds of books to add to my TBR. I love the idea of a bunch of different kids coming together with some kind of common goal and/or becoming friends by the end of the day. I think ONE OF US IS LYING will be a cool, different take… because it adds in a little murder! *dramatic music*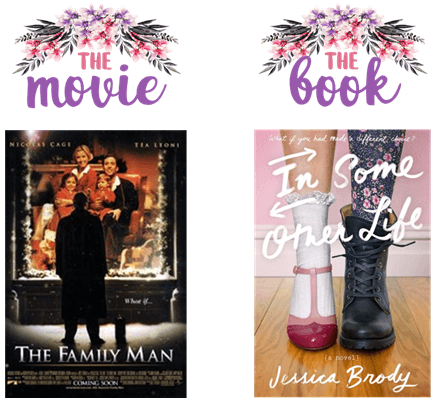 The Family Man + In Some Other Life
One of my all-time favorite holiday movies is THE FAMILY MAN, where a high-powered financial guy gets a "second chance" by glimpsing what his life could have been if he followed his heart instead. (Remember when Lauren didn't go to Paris because of Jason on THE HILLS? Well this would be like if she did go and her whole life changed.) IN SOME OTHER LIFE is basically the same thing except opposite: the main character follows her heart and has it broken three years later. She's given a second chance and a glimpse at the other life.
The Kids are All Right + The Other F-Word
Both of these books involve lesbian parents having children with artificial insemination through a sperm donor. The children go forward with finding their biological fathers. In THE KIDS ARE ALL RIGHT, he integrates into their life with some fun complications. THE OTHER F-WORD involves not only tracking down a father, but other half-siblings who had the same sperm donor. I love this concept!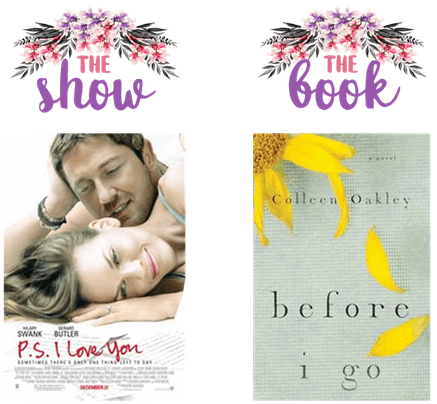 PS I Love You + Before I Go
I realize this book is definitely not YA, but I made the graphic before I realized this one should be included. I suck. So, anyways, yes I absolutely cry my eyes out whenever I watch PS I LOVE YOU. When her husband finds out he's sick, he makes sure that she receives letters over the following year(s?) to help her get over him. It breaks my heart on multiple occasions. BEFORE I GO has a somewhat similar premise, where the woman makes sure her husband has a happy relationship once she passes away from cancer. She sets out to find him the perfect woman before she's even gone. Both heartbreaking premises for sure.
Stranger Than Fiction + Literally
This is the combo that inspired this post actually! I've talked multiple times about how STRANGER THAN FICTION is one of my favorite (very underrated) movies. A man discovers his life is being written as a novel and narrated by an author / woman he doesn't know. LITERALLY is basically the same thing. The first sentence of the synopsis says "A girl realizes her life is being written for her in this unique, smart love story that is Stranger Than Fiction for fans of Stephanie Perkins." Likeeee you couldn't give me a better combo if you tried, okay?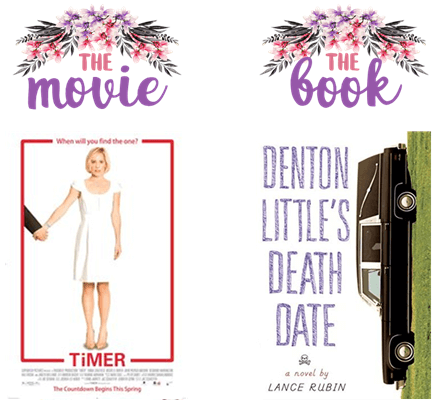 TiMER + Denton Little's Death Date
Alright so the comparison here is clear but they're very different. In TiMER, an underrated movie you must watch, everyone in the world has a soulmate timer. They know the exact moment they'll meet their soulmate and the timer is casually clicking down to that date/time. In DENTON LITTLE'S DEATH DATE, everyone knows the exact day they're going to die. I realize these are opposite in terms of happiness and nice things, but the idea of a countdown predicting a major life event is the same. In any case, I need to read DENTON LITTLE finally.
The 10th Kingdom + The Marked Girl
I couldn't resist tossing this one on here, considering it's the only book I've actually read out of this whole list. Lindsey and Alyssa are always talking about THE 10TH KINGDOM and I've been casually watching it lately. It's technically a miniseries but each episode is 1.5 hours long. It's about portals and kingdoms and fantastical things. A girl and her dad end up on the other side of the portal from NYC. In THE MARKED GIRL, the portal situation happens in LA and it has the opposite – the magical people end up in our world. Maybe they're not exactly the same but I've never read portal-based books and this is the best connection I've got!
Related Posts