The Bookmark Lit Bulletin was created to wrap up each month and prepare for the next. I share my life happenings, book haul, books I read and reviewed, posts I shared, challenge updates, and more from the previous month. I also let you know what may be coming up on the blog in the coming month. You can read past bulletins here and learn more about the feature here.
---

I had a busy end of the month and had to read a bunch of ARCs in a row. (I love ARC tours but man, they add up quickly! Back to back to back.) I made some good progress on my reading challenges as well. Overall, enjoyed pretty much every book I read! Love when that happens.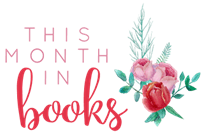 13 books read this month
(13 new reads and 0 rereads plus 1 DNF)
Hardcover: 1 | Paperback: 2 | eBook: 1
eARC: 2 | ARC: 4 | Audio: 2 | Mixed: 1
6 books for review and 7 books for me
29 books read this year
(28 new reads and 1 reread plus 1 DNF)
Goodreads goal: 160 | 18% completed
17 new releases and 13 backlist titles
43% books in series and 57% standalones

Average rating for books read in February: 4.0 stars
Highlights of the best and worst…
Best of the Best  |  Pleasantly Surprised  |  Disappointed 

All of the books read this month:

Top Ten Tuesdays
Books Out of my Comfort Zone 
Books + Music (Romance Tropes as Songs)
Valentine's Day: New Ships
Historical Time Periods for Books
Features
Cover Colors #7: Arrows (Blog Tour)


Secret Sister Project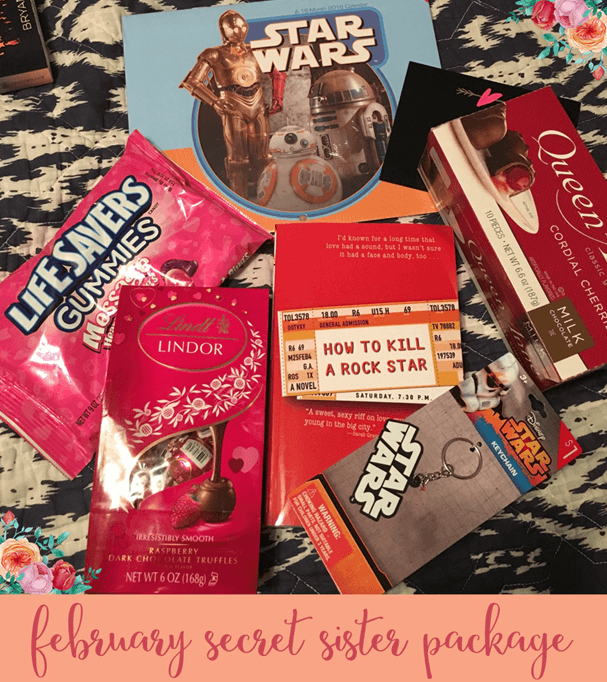 My new Secret Sister sent me her first package! She chose the theme of things I love, to represent Valentine's Day… and she nailed it! I got some Star Wars stuff (calendar and keychain), as well as some of my favorite candies (chocolate covered cherries, chocolate + raspberry truffles, and gummies). She also sent along How to Kill a Rock Star by Tiffany Debartolo, which is one of her favorites. I've been really looking forward to that one! I also ate so much candy immediately.
Books Acquired
From the publisher | Save Me, Kurt Cobain by Jenny Manzer (thank you!!) /// From the publisher for a blog tour | Ask Me How I Got Here by Christine Heppermann and Down with the Shine by Kate Karyus Quinn /// Secret Sister package | How to Kill a Rock Star by Tiffany Debartolo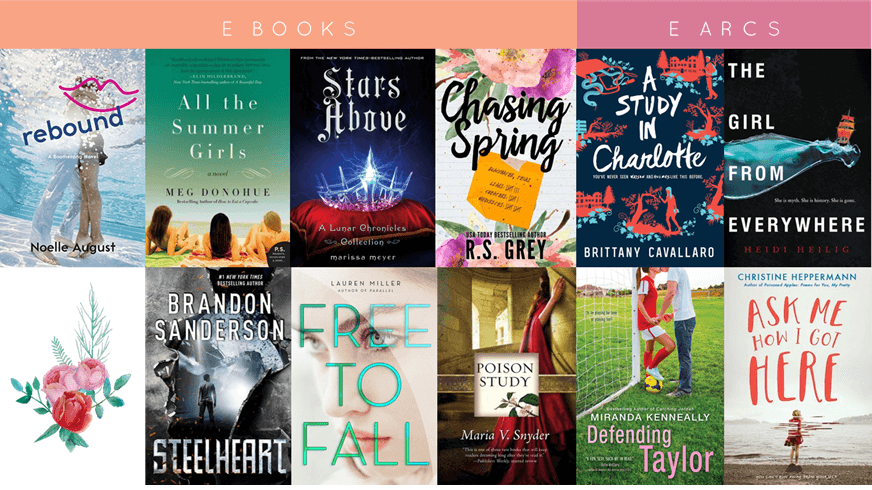 eBooks from Amazon sales and preorders| All the Summer Girls by Meg Donohue, Stars Above by Marissa Meyer, Chasing Spring by RS Grey, Steelheart by Brandon Sanderson, Rebound by Noelle August, and Poison Study by Maria V. Snyder /// eARCs | A Study in Charlotte by Brittany Cavallaro, Defending Taylor by Miranda Kenneally and Ask Me How I Got Here by Christine Heppermann (yes, I have both physical and e-arcs!) /// eBook gift from Andi (love you!) | Free to Fall by Lauren Miller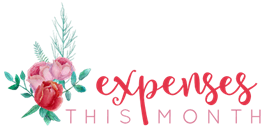 $21.94 for a total of 6 books | All 6 eBooks (4 on sale, 2 preorders)

I have to say, now that my planning routine is down pat, looking back on the month is VERY easy. The first weekend included a very terrible football event I'm not talking about. We went skiing (for me) / snowboarding (for Chris) the following day, so that was a lot of fun. The conditions were great because it was snowing while we were there! I'm getting the hang of it. The next weekend, we went to my friend's husband's birthday party at Dave & Buster's. It was a lot of fun but that's not an easy place to have a party and actually talk to the people who are hosting it. The next day was Valentine's Day. We ended up relaxing most of the day (we thought about skiing again but the conditions were freeeeezing. It got to be -4 the night before!) and then went to see Deadpool in the afternoon. It was SO GREAT! I looooved it; it was exactly what I wanted it to be. We ended up getting take-out sushi for dinner to avoid crowds, so that was perfect. I also was able to have dinner with my friend at Chili's this past month. I missed her so it was awesome to reconnect. Chris works a lot on the weekends lately (plenty of overtime, which is nice!) so I usually have time by myself to relax and clean the apartment a little bit. This means binge-watching shows, reading, and listening to audiobooks or podcasts. I love that time to myself, to be honest. We also had our monthly ConnLUG meeting this month, which was a lot of fun. I like casual meetings where we just do a set draft and chat about upcoming things. The following day we went skiing/snowboarding with friends at a local mountain. It ended up being like 50 degrees that day so I just had a tee shirt under my ski coat – it was kind of amazing. It was a rougher day, conditions-wise, so I fell a lot. This past weekend, I had a lot of free time to catch up on Younger, read, relax, and clean. Chris was helping his parents Friday night and working Saturday morning. We did some shopping (I finally used an Old Navy gift card from Christmas!) and had Chick-fil-a (the best!) for dinner. Sunday, we headed up to Vermont! We decided to get a hotel room near Brattleboro so we could go skiing the next day (probably right as you're reading this!) and be much closer than home. We ended up walking around to the different shops and restaurants in Brattleboro for the afternoon.

YEP I finally did it! I recommended Serial to Chris without ever listening to it, just because of the hype I heard. Well, the hype worked for him too and he forced me to get going. I am so fucking intrigued by this podcast and mystery, it's insane. I loved it. Who do you think did it?!
Maybe I'm on a crime-related kick? We've been lovvvvving American Crime Story: The People vs. OJ Simpson. We were only around 3-4 years old when it all went down, so we don't remember anything. It's been really interesting to learn more and HE TOTALLY DID IT.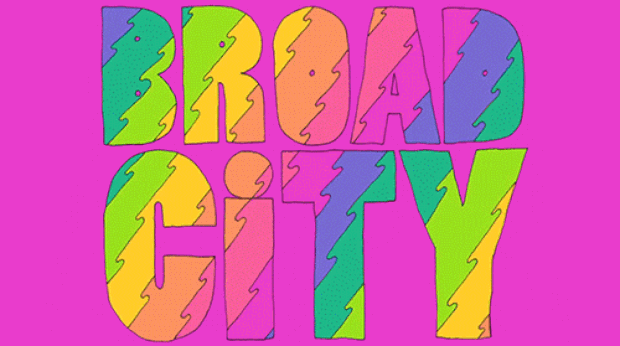 I am going to lump Broad City and Workaholics into one here, because they usually come back around the same time and are both EXCELLENT. I love them both for (very) different reasons, but they make me laugh week after week.
We also started watching Angie Tribeca. It's seriously just like The Naked Gun and Airplane! so we laugh nonstop at the stupid jokes. It's just sooo classic. Also, the synopsis for each episode is really funny. I love Rashida Jones so much.
Aaand because apparently this has been a big TV month for me, we're also starting Fuller House now that it's on Netflix! At the time of writing this we've only watched one episode, but I'm excited to see where things go. It has the same cheesy, cute humor of the original show for sure.

I signed up for five challenges in 2016, plus I'm hosting a super casual link-up challenge. Want to know why I chose these? Check it out here. The Contemporary Romance challenge also hosts a monthly topic to discuss, so I'll be occasionally including that in my Bookmark Lit Bulletin posts.
During this Month
No challenges this month!
Year-Long
Debut Author | Goal: 12 books | 2 read in February| 58% complete
THE WAY BACK TO YOU by Michelle Andreani, Mini Scott
A STUDY IN CHARLOTTE by Brittany Cavallaro
Backlist Books | Goal: 20 books | 4 read in February | 35% complete
OF BEAST AND BEAUTY by Stacey Jay
SECOND TIME AROUND by Beth Kendrick
WHAT ALICE FORGOT by Liane Moriarty
AFTER I DO by Taylor Jenkins Reid
Flights of Fantasy | Goal: 20 books | 1 read in February | 20% complete
OF BEAST AND BEAUTY by Stacey Jay
Rock My TBR | Goal: 21+ books | 1 read in February| 12% complete
WHAT ALICE FORGOT by Liane Moriarty
Contemporary Romance | Goal: 21+ books | 6 read in January | 62% complete
SECOND TIME AROUND by Beth Kendrick
LINNY'S SWEET DREAM LIST by Susan Schild
WANDERLOST by Jen Malone
WHAT ALICE FORGOT by Liane Moriarty
AFTER I DO by Taylor Jenkins Reid
THE WAY BACK TO YOU by Michelle Andreani, Mindi Scott
Monthly Contemporary Romance Challenge Topic:
Top 10 Authors/Books for Romance Newbies to Start With
 Seasonal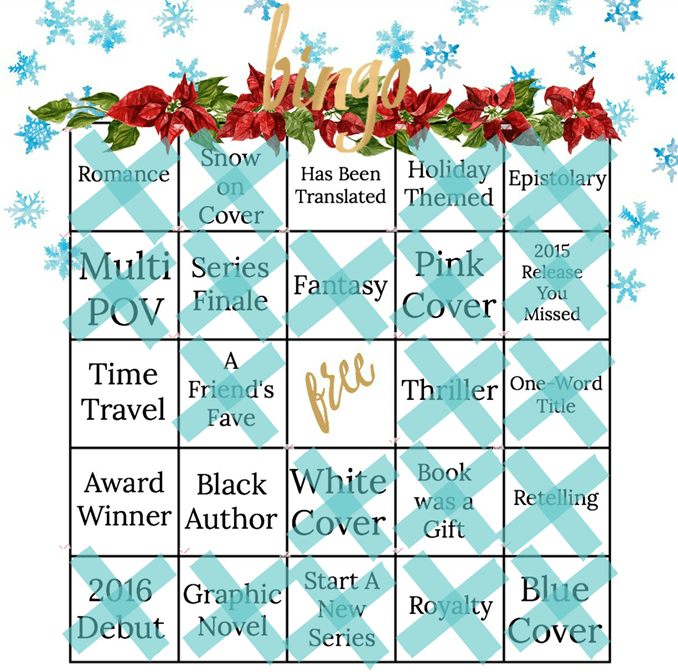 Holiday Bingo Card | Hosted by Pretty Deadly Reviews
I did well with this one, as I hoped! I got every box except for four boxes. The completed squares are listed below in the scrolly box:
Romance: The Distance from A to Z – Natalie Blitt
Multi POV: Faking It – Cora Carmack
Time travel
Award winner:
2016 debut: Firsts – Laurie Elizabeth Flynn
Snow on cover: Icing on the Lake – Catherine Clark
Series finale: HP and the Deathly Hallows – JK Rowling
Friend's fave: Parallel – Lauren Miller
Black author
Graphic novel: Saga #3 – Brian K. Vaughan
Translated
Fantasy: Harry Potter and the Deathly Hallows – JK Rowling
White cover: The Mistake – Elle Kennedy
Series starter: Christmas at the Lilac Cottage – Holly Martin
Holiday theme: Christmas Wishes and Mistletoe Kisses – Jenny Hale
Pink cover: Dreamology – Lucy Keating
Thriller: See How They Run – Ally Carter
Gifted book: Stuff White People Like – Christian Lander
Royalty: Fairest – Marissa Meyer
Epistolary: The Perks of Being a Wallflower – Stephen Chbosky
2015 release: It's a Wonderful Death – Sarah J. Schmitt
One word title: Bossypants – Tina Fey
Retelling: Arrows – Melissa Gorzelanczyk
Blue cover: Call Me Maybe – Ellie Cahill
---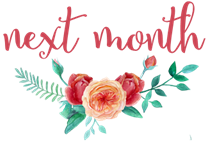 I have a wide-open month, post-wise… that's kind of nice! I'm used to having things JAM-PACKED and no room to add discussions until the following month. You'll see the usual Top Ten Tuesday posts each week of course (I have tomorrow's done and am really happy with it!). I've got some mini review posts, which is the major reason my month is more open. One of my goals was to condense review posts and/or post less of them in general… so mission accomplished! I have a discussion about TBR planning because I feel like this is something I reference a lot, but never talked about in full. I'm also hoping to get some Five on Friday post(s) going this month, as long as I have fun stuff to report… We'll see! I'm going to continue on with my Organization Series to talk about my new bullet journal and how it helps with organizing everything in my life. I'm also going to share a fun discussion inspired by a TTT from this month – songs that could be books. I'll be focusing on three artists in particular (wait and see who!). And finally, I have yet another post about buying books. This time I'll be talking about how I very, very rarely buy books anymore. I mentioned it in the past but wanted to elaborate. I've been trying to kick around some ideas involving book blogger collaborations but have absolutely nothing firmed up yet… so we'll see about that too.


March is usually a busy month because I have many birthdays to celebrate – family members and friends alike. We're also hoping to sneak in a few more trips to the mountain for skiing as long as the weather cooperates or we get more snow. Otherwise, it looks my personal month is as wide open as my blog month! That's kind of nice. I'm sure we'll come up with something to do.


Well, as I suspected last month… I read one book from the TBR I planned for February. I started a second one but had to put it on hold for some other books that came in. I don't know why I bother with TBR lists. Here are some books I HOPE to read in March! Ruby Red is for Book Buddies, so that will definitely get done. There are some upcoming ARCs I've been looking forward too, as well as a BUNCH from the library that need to be renewed or read or both.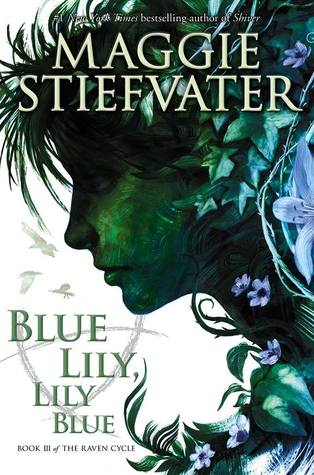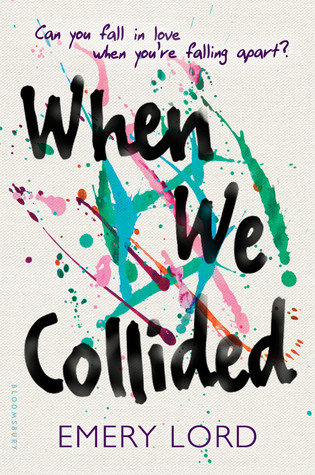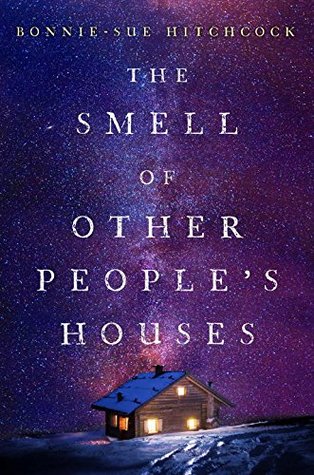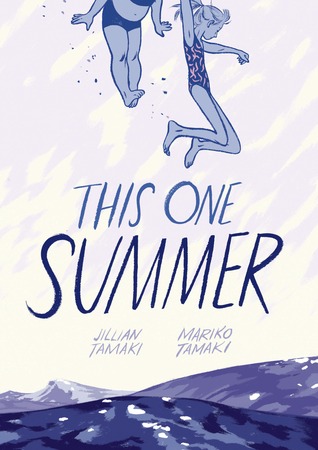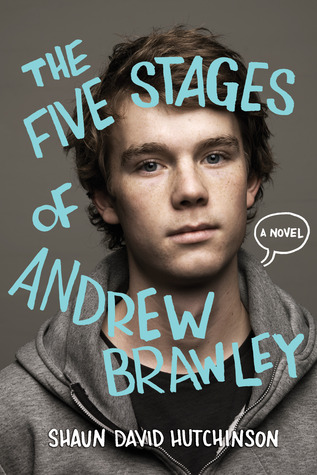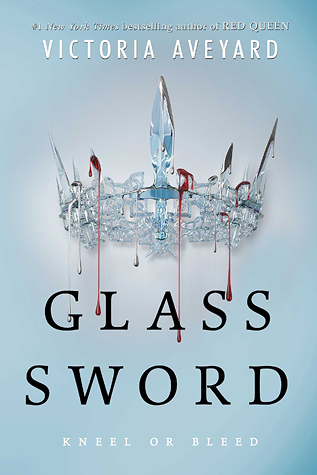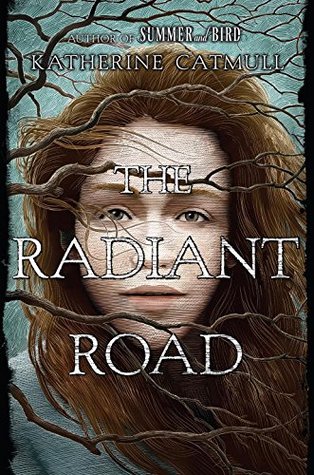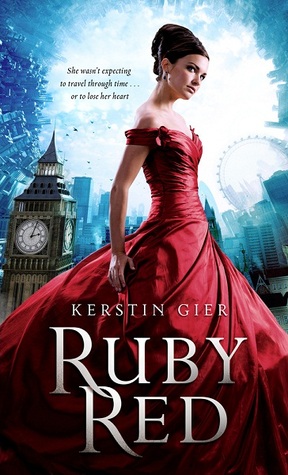 Related Posts