The Bookmark Lit Bulletin was created to wrap up each month and prepare for the next. I share my life happenings, book haul, books I read and reviewed, posts I shared, challenge updates, and more from the previous month. I also let you know what may be coming up on the blog in the coming month. You can read past bulletins here and learn more about the feature here.
---

14 books read →  Physical: 5 | eBook: 2 | eARC: 1 | Audio: 0 | ARC: 2 | Format mix: 4
In 2015… 127 books read of 175 Goodreads goal [73% complete, 12 books ahead of schedule] Blog posts this month: 18 books reviewed and 13 other posts  |  Challenges this month: 3

I'm still feeling good about my reading progress! I'm very far ahead on my Goodreads challenge, so I know I'm going to get lazy with reading at some point… Overall, good month but less than last.

Average rating for books read in July: 3.96 stars
Highlights of the best and worst…
Best of the Best  |  Pleasantly Surprised  |  Disappointed 

All of the books read this month:

I've been incredibly good about cutting down on my book buying lately! I wrote recently about how my buying habits have changed, and that's certainly reflected in my book hauls each month! The Secret Sister project has definitely given me the ability to anticipate a book or two each month, without buying them myself. I love it so much and want to start highlighting it in my wrap-ups.
Secret Sister Project
Sarah's final box: The Queen of the Tearling by Erika Johansen, The DUFF movie, Super Grover Funko POP figurine, Kate Spade coffee mug and matching notebooks, lotion | New sister's first box: After I Do by Taylor Jenkins Reid, Everything Leads to You by Nina LaCour, favorite snack and candy, Carolina Panthers pillowcases, pink/cheetah print scarf, washi tape, page flags, candles
Thank you both so much, you are ridiculously wonderful and thoughtful! ♥
Other books acquired
Purchased while on sale: Here's Looking at You by Mhairi McFarlane, Demon in the Wood by Leigh Bardugo, Hollow City by Ransom Riggs | Secret sister gifts: Magonia by Maria Dahvana Headley, Time Between Us by Tamara Ireland Stone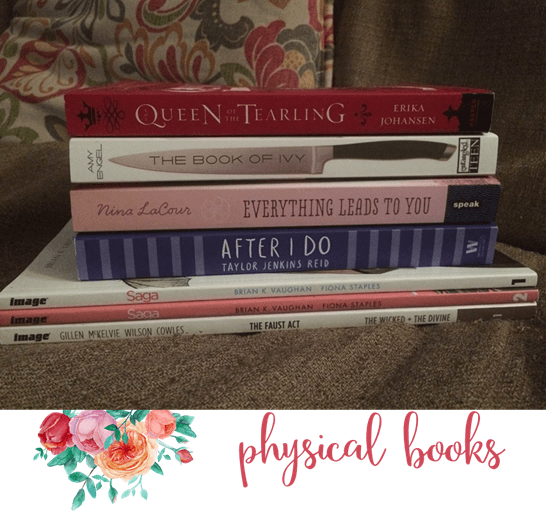 Physical copies → Giveaway (thank you!): The Book of Ivy by Amy Engel | Secret sister gifts: The Queen of the Tearling by Erika Johansen, After I Do by Taylor Jenkins Reid, Everything Leads to You by Nina LaCour | Purchased: Let's Get Lost by Adi Alsaid (not pictured because I forgot)
Graphic novels and comics → Purchased: Saga (Volumes 1 and 2) by Brian K. Vaughn, The Wicked and The Divine (The Faust Act, Volume 1) by Kieron Gillen

Top Ten Tuesdays: Fairytale Retellings (Favorites & To Read), Most-Read Authors, Auto-Buy Authors, Books on my Syllabus for Young Adult Fic 101
Discussions, Features, and Personal: Cover Colors for ACOTAR, How to Stop Hating Review-Writing, How Do You Buy Books? (Update), Book Barn Trip
Challenges: Bout of Books [Sign-Up/Progress, Scavenger Hunt Challenge, Four Seasons Book Covers Challenge, Wrap-Up], ARC August Wrap-Up, Beat the Heat Readathon Sign-Up/Progress 

Is this the real life? Is this just fantasy? I don't know why I made that title for this section because then I end up with Queen stuck in my head all day. Although, Chris is literally obsessed with Queen so Freddie Mercury is kind of ALWAYS in my head. Sooooo, what did I do in August? Good question. This month flew by and I really have no idea. We had something planned every single weekend though. We started the month with the premiere of the Lego Brickumentary. We joined our ConnLUG group that weekend and displayed some of our creations in the theater. It was a lot of fun and the movie did a great job of showing the adult Lego community. I took a few random days off this month to enjoy some time to myself. Of course, that didn't happen. I spent one day up at the beach with my family. The second day was a bit more relaxing; I got to read at home on and off throughout the day, but not as much as I hoped. I ended up having lunch with my mom, visiting my Nana, and meeting with my insurance agent. Fun. The second weekend of the month involved a Jack & Jill for my friends who are getting married next month. I'm in the wedding, so it was a lot of work for me, but it was also really fun! Chris won an iPad in the raffle, which was so fucking cool. The following weekend had our usual ConnLUG meeting, where we voted on a building competition, did a set draft, and ate a lot of food. It was super fun. Sorry most of you don't know what any of those words mean 😛  There was a joint party for my grandparents this month as well. It was a combination of my Nana's birthday, my step-grandfather's birthday, and my step-grandparents 50th wedding anniversary. We ended up spending the whole day there and really enjoyed it! My stepsister, who we don't really keep in touch with too much, was there too. It was actually a lot of fun to reminisce with my family. My little sister started high school this month too! I can't even fathom that. It's making me feel super old. In other Lego news (sorry not sorry), Chris and I found some of the Series 14 Lego Minifigures out in the wild a week early, too! We snagged 6 bags right away. I got some exciting news about Lego (since their corporate office is in the town next to my hometown) that HOPEFULLY I can update more about soon! Send me some good vibes, please!!

Chris and I have been addicted to Sense8! We binged the whole season this month and it is so excellent. The first few episodes are kind of confusing, but it's just crazy how things tie in together and how the people interact with each other. It's a Netflix original show where people telepathically can experience each other's lives. I think the series really kicked it up a notch around episode 7 and 8, so I highly recommend sticking around to see what happens! The finale was kind of a let-down but we're still really excited for next season.
We've also been getting more and more into the Marvel universe. We've been keeping up with the movies as they come out, as well as watching some of the older ones. Chris has been reading a LOT of comics lately, so he fills me in on the cool stuff they don't have in the movies. I never thought I would enjoy movies like these, but they're so awesome.
My mom recommended Humans to us towards the end of the month, when we saw her at my family party. It sounded cool, so we decided to give it a shot! We've watched the first few episodes so far and are definitely enjoying it. It's kind of really creepy? but also interesting. Each episode has somewhat of a cliffhanger at the end, so I'm glad we'll be able to binge the first season.


Year-Long
Fairytale Challenge| 1 book this month | Cinder – Marissa Meyer
Reread Challenge| 2 books this month | Keeping the Moon and What Happened to Goodbye by Sarah Dessen
105 Challenge| 8 books this month | Debut books (Rules for 50/50 Chances by Kate McGovern, The Night We Said Yes by Lauren Gibaldi, Cinder by Marissa Meyer, My Life Next Door by Huntley Fitzpatrick, Nantucket Blue by Leila Howland), time-bending (Maybe in Another Life by Taylor Jenkins Reid) and non-audio rereads (Keeping the Moon and What Happened to Goodbye by Sarah Dessen)
TBR Pile Challenge| 6 books this month | Keeping the Moon and What Happened to Goodbye by Sarah Dessen, Cinder by Marissa Meyer, Nantucket Blue by Leila Howland, How to be Bad by E. Lockhart, Lauren Myracle, Sarah Mlynowski, Two-Way Street by Lauren Barnholdt
Library Challenge| 2 books this month | What Happened to Goodbye by Sarah Dessen, The Night We Said Yes by Lauren Gibaldi
Flights of Fantasy Challenge| 1 book this month | Cinder by Marissa Meyer
Audiobook Challenge | 2 books this month | Keeping the Moon and What Happened to Goodbye by Sarah Dessen, Two-Way Street by Lauren Barnholdt
Series-a-Month Challenge | 0 series completed this month | None
During this Month
ARC August | August 1-31 | LOL, why did I bother? I suck at ARC-related challenges. I knew I wasn't going to read too many because I tried to read summery books for Bout of Books instead of ARCs, and tried to read books I've been itching to read for a while at the beginning of the month. That really only left the final week of August for ARCs, so… | Sign-Up, Wrap-Up
Bout of Books | August 17-23 | Man, I love this readathon. I'll use any excuse I can to read like a fool and complete fun challenges. I also met my goal of reading five books and participating in at least two challenges! Woooo.| Sign-Up/Progress, Challenges (Scavenger Hunt, Four Seasons), Wrap-Up
Beat the Heat Readathon | August 24 – September 6 | Because apparently I can't get enough of readathons? Someone needs to stop me at some point… | Sign-Up/Progress
 Seasonal
Summer of Series Challenge | June, July, and August | Whoops. Definitely failed for August. Maybe that's okay though, since I read two in July? I think I'll give myself a pass 😉 | Sign-up
Summer Bingo | June, July, and August | I killed this challenge. I finished all of the boxes except for a couple! The full list is located at the link at the end of this, but my almost-full bingo card is below!| More info/books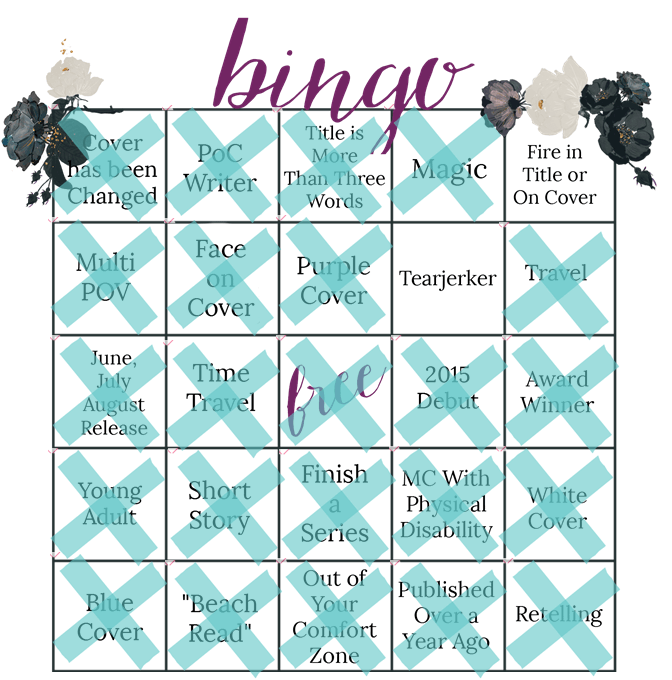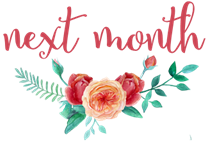 I WELCOME SEPTEMBER WITH OPEN ARMS. My favorite month is hereeeeeee! No way to contain my excitement; sorry. First of all, my birthday is September 9th and I'm going to be a whopping 24 years old. I know, I know. It's not that bad. But it still freaks me out! I'm about to be in my mid-twenties. How is that possible?! Since it's on a Wednesday, I'm going to assume we'll keep it low-key. I haven't decided if I want to just get dinner or do bowling…or something. My three year anniversary with Chris is September 16th, but we don't have anything really planned for that day. We were going to go to Charlotte that weekend, but ended up pushing the trip back a week. That being said, we're going to Charlotte at the end of the month! We'll be staying for an extended weekend (from Thursday to Monday) to see a Panthers game and tool around my favorite city ever. It'll be our first time going and not staying with my friend's parent's (who live there), so we'll have lots of time to do whatever we want. If you're from North Carolina and have restaurant/activity/entertainment recommendations, please let me know!

I haven't looked at the TTT topics yet, but you'll see Top Ten Tuesday on here as usual. I'm on two blog tours for adult fiction books, so that'll be a nice change of pace! There are the usual other reviews plus a good amount of ARC reviews for next month (since I binged on ARC tours for the past couple of months…). Cristina and I pushed our Book Buddies review out to the beginning of September, so you'll get two 😉 There will be two new faces participating in Inside & Out on the 14th and the 28th. I'm hoping, because September is literally my favorite month and generally has a lot of ~life happenings~ for me, I'll be able to revive my often-ignored Five on Friday feature! I'll give you a recap about my birthday, my anniversary, our vacation, and FOOTBALL. I also have two discussion posts planned: one on feminism in YA and the other exploring fate vs. choice. Aaaand because I'm doing the Beat the Heat readathon, you'll probably see an update or two for that.

Related Posts