Ten Characters I Didn't Click With
Top Ten Tuesdays are hosted by The Broke and the Bookish, where we make lists of our top ten books (or something else!) based on that week's prompt. The topics are provided ahead of time and can be found here. Book links bring you to Goodreads or my review.
Ah yes, this topic is an interesting one. There are plenty of books where the main character annoys the crap out of me or just doesn't work for me, so here are ten of them!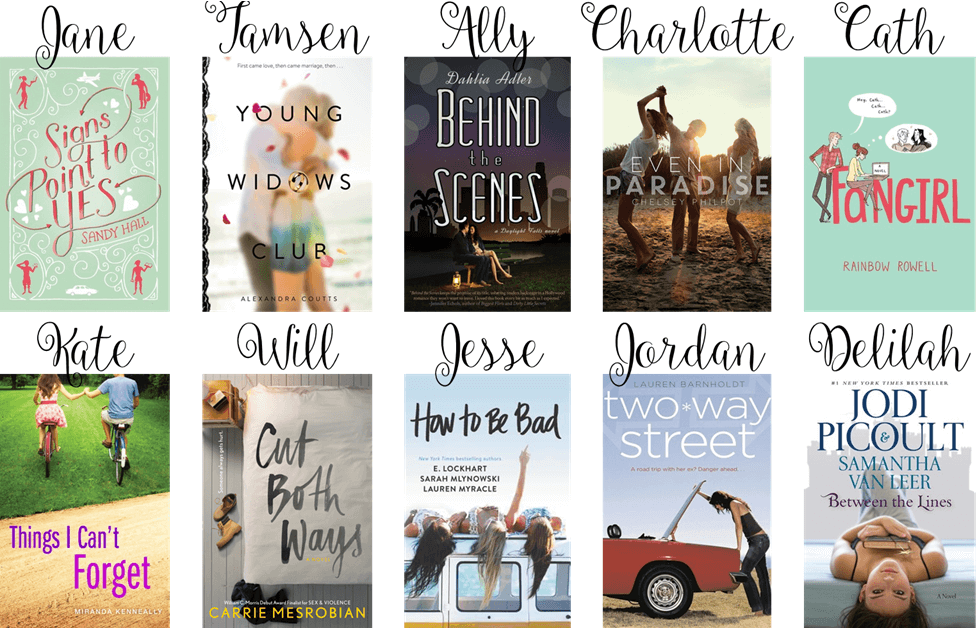 ---
Jane from Signs Point to Yes by Sandy Hall – These characters were all kinds of awkward, and not in an endearing way. I couldn't click with them and cringed at a lot of the dialogue.
Tamsen from Young Widows Club by Alexandra Coutts – For such a sad topic, this book didn't give me really any emotions at all. Tam had no interests or hobbies except for her the ones she shared with her deceased husband, and I just didn't connect with her.
Ally from Behind the Scenes by Dahlia Adler – I loved the second book in this series, but the first one wasn't as good for me because of Ally. She was a bit overdramatic and I liked all of the side characters more than her!
Charlotte from Even in Paradise by Chelsey Philpot – I'm still sad about this book. I was so excited for it and it just didn't work for me. Charlotte was a follower with very little of her own personality.
Cath from Fangirl by Rainbow Rowell – I'm certainly a black sheep on this one, but Cath annoyed me to absolutely no end. I can't even deal.
Kate from Things I Can't Forget by Miranda Kenneally – I can't read books based around religion or religious characters, so I knew this one wasn't going to work. I wanted to strangle Kate.
Will from Cut Both Ways by Carrie Mesrobian – I wish this one clicked better for me because the premise was intriguing, but Will was so blasé about everything and didn't stop thinking about sex (even when people in his life were going through shit and deserved better).
Jesse from How to be Bad by E. Lockhart/Sarah Mylnowski/Lauren Myracle – I liked the other two girls (although I didn't really click or feel connected to them), but Jesse bugged me. Again, this is just a case of me having qualms with religious topics in books.
Jordan from Two-Way Street by Lauren Barnholdt – This book was pretty cute and I liked it, but Jordan was kind of a dick. It was hard for me to ship them together because of it. He was pretty sexist and degrading towards women.
Delilah from Between the Lines by Jodi Picoult/Samantha van Leer – Most YA books don't make me feel old, but this one did. The main character was super bland and young for her age, in my opinion.
Related Posts