Ten Finished Series I NEED to Finish (or Start!)
Top Ten Tuesdays are hosted by The Broke and the Bookish, where we make lists of our top ten books (or something else!) based on that week's prompt. The topics are provided ahead of time and can be found here. Book links bring you to Goodreads or my review.
I'm actually not TOO bad at finishing series once I start them. If the books are published and I started the series, there's a good chance I finished it too. I could only think of five published series that I still need to finish… so, I decided to also show five finished series that I want to read but haven't yet!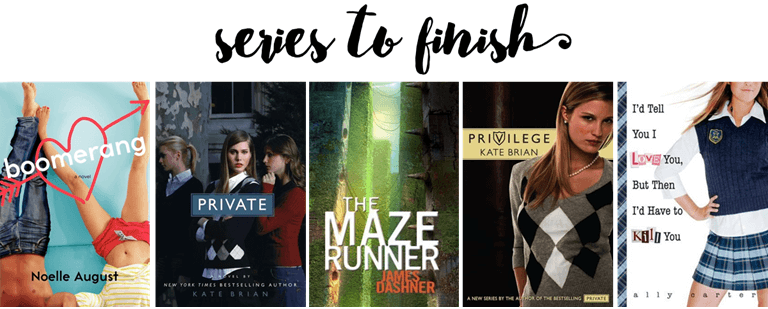 Boomerang trilogy by Noelle August
Read: Boomerang | To Read: Rebound, Bounce
I actually loved the first book, which could be why I'm so nervous to read the next two! I've heard some mixed things about both of them. I know they'll be super quick reads but I just haven't gotten around to it yet. New Adult has been on the back burner!
Private series by Kate Brian
Read: Books #1-11 | To Read: Book of Spells, Vanished, Ominous, Vengeance
I absolutely loved this series and remember buying and reading each book immediately when it came out. It was really the first series (aside from Harry Potter, obviously) that I tracked when each book was coming out and bought them. Once I finished the 11th book and knew I had to read the prequel, I lost some steam. The series took a weird turn but I'll finish eventually!
Maze Runner series by James Dashner
Read: The Maze Runner, The Scorch Trials, The Death Cure | To Read: The Kill Order, novellas
I loved the first book and didn't like the second two, so my motivation to read the rest has been very nonexistent. Chris read some of the prequel and was pretty bored, so that didn't help either. Someday I might finish it off and read all of the novellas too, but that day probably won't come for a while. Just over it.
Privilege series by Kate Brian
Read: Privilege, Beautiful Disaster, Perfect Mistake (?) | To Read: Sweet Deceit, Pure Sin, Cruel Love
Looking back, this is actually a really cool concept. It's a spin-off series of Private (discussed above) that is from the perspective of the serial killer. I read these a while ago and honestly don't know if I ever finished the third book. Reading during the summers between college years was always interrupted when I went back to school. I'll reread and finish this one off at some point!
Gallagher Girls series by Ally Carter
Read: I'd Tell You I Love You But then I'd Have to Kill You, Cross My Heart and Hope to Spy, Don't Judge a Girl by Her Cover, Only the Good Spy Young, Classified Material (novella) | To Read: Out of Sight Out of Time, United We Spy, other novellas
I really love this series. I read it so long ago that I decided to reread all of the books before finishing the final two books in the series that I never got around to reading back in the day. I finished my reread and am now ready to finish it off. Part of me isn't ready to see how it ends, but the other part of me wants to cross the series off my list. I haven't read her Heist Society series yet, so maybe I can read that to tide myself over between Embassy Row novels!
---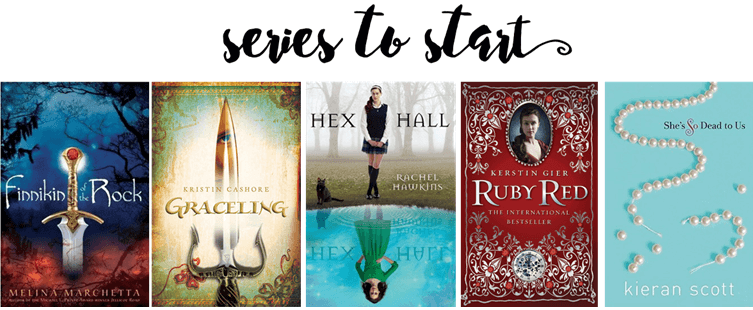 Lumatere Chronicles by Melina Marchetta | Graceling Realm by Kristin Cashore
Hex Hall by Rachel Hawkins | Precious Stone by Kerstin Gier | She's So/He's So by Kieran Scott
Related Posts