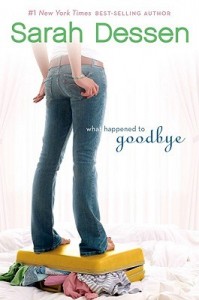 What Happened to Goodbye
by
Sarah Dessen
on May 10th 2011
Also by this author:
That Summer
,
Saint Anything
,
Just Listen
,
Keeping the Moon
,
Lock & Key
,
Along for the Ride
,
Someone Like You
,
Once and for All
,
The Rest of the Story
(416 pages) •
Goodreads
•
Amazon
•
Barnes & Noble

Who is the real McLean?

Since her parents' bitter divorce, McLean and her dad, a restaurant consultant, have been on the move-four towns in two years. Estranged from her mother and her mother's new family, McLean has followed her dad in leaving the unhappy past behind. And each new place gives her a chance to try out a new persona: from cheerleader to drama diva. But now, for the first time, McLean discovers a desire to stay in one place and just be herself, whoever that is. Perhaps Dave, the guy next door, can help her find out.

I read this book for the first time, I think, during the summer of 2012. It may have been a few years earlier, to be honest. I've been iffy about which of her books I've actually read – there are so many and they all sound similar (even though they aren't) when I read the synopsis again – but I knew I did read this one back in the day. 
Honestly, not much. The mini town model is the one thing I remembered the most from this book. The restaurant itself also seemed familiar. For some reason, the Dessen books that take place in restaurants always stick in my mind the most. I'm so glad I revisited this one, especially because I barely remembered anything from the first time I read it. I'm so terrible with remembering book details; rereading is ideal for someone like me. I remember loving the restaurant, the model, the characters, and the whole plot, actually. I also had a vague idea of how the book ended.

When Cristina mentioned that she was rereading this one soon, I knew I had to hop on board. I've been aiming to read more Sarah Dessen this summer (somewhat failing, I guess) and this was a perfect one to add to the mix. 
I will say, I miss Colby (as a setting) and hope to get into some of those books by her during the duration of the summer. There was a glimpse at Colby in this book, which was nice, but I need to get back to some of the classic books with it as the main setting. I really loved the characters in this book, but I wish there was a bit more time with them. I don't know how to explain it, but I feel like there were a lot of characters in the mix and they weren't all as fleshed out as they could be. The Luna Blu was a really fun restaurant and setting for the book. I loved how the story ended for everyone; I think they were all in the right place. Mclean was a nice main character to get to know. Her struggles felt real to me, because I think everyone wishes they could be someone else sometimes. She had the perfect opportunity to reinvent herself and she took advantage of it. The family themes were very strong in this one – even more so than the romance. Honestly, I'd say the romance was pretty subtle, compared to some of her other books! I liked that though; I think Mclean had more growth as a character because of her parents instead of from a boy.

Yeah, I think so! I wouldn't revisit this one for another few years. It did emerge as a favorite, though, which is nice. Some of the Dessen books I've read within the last year haven't been my favorite. It's been kind of all over the place, but it's nice to reread them to figure out which of them will become tried-and-true for me.
| | |
| --- | --- |
| Plot & Premise | |
| Characters | |
| Writing Style | |
| Pacing & Flow | |
| Feels or Swoons | |
| Addiction Level | |
| Overall: | 4.4 |
---
"Book Buddies Ask" is a feature I do with my Book Buddy Cristina from Girl in the Pages! While we do an in-depth buddy read every-other month, we decided it would be fun to ask fun little questions for other books we read together more casually! These questions are inspired by fun little elements from the book.
Food plays a role inherently connected to family in the novel, as McLean's happiest times were spent with her family in their restaurant. Are there certain foods or recipes that you associate with certain family relationships you have?
There are a few that come to mind right off the bat, actually! Both of the main two are holiday-related, which is not surprising. On my dad's side of the family, I always associate that sherbert/sprite mix punch with Christmas Eve. My aunt would always make it (back when my family still saw her on Christmas Eve – lots of drama since then, unfortunately) and it was literally the highlight of the holiday for me. I need to just make it for myself one of these days. For my mom's side, I definitely think of green bean casserole. They make it every holiday and I always get mad when my mom tries something new with it instead. This past Christmas, she tried to make it healthier and I told her how the holiday just isn't the same. We only have it three times per year, so she needs to just make it for me in my favorite way 😉 Aside from family relationships, Taco Bell reminds me of a lot of my friends for different reasons. I also think of Chris for Taco Bell too, because one of our first "dates" was there. So romantic, right?
Related Posts