Pivot Point
by
Kasie West
Series:
Pivot Point #1
Genres:
Parallel Universe
,
Paranormal
,
Young Adult
Published by
Harper Collins
on February 12th 2013
Also by this author:
The Distance Between Us
,
On the Fence
,
Split Second
,
The Fill-In Boyfriend
,
P.S. I Like You
,
Lucky in Love
,
Listen to Your Heart
,
Snow in Love
,
Maybe This Time
Format:
Paperback
(352 pages) •
Source:
Uppercase Box
Goodreads
•
Amazon
•
Barnes & Noble

Knowing the outcome doesn't always make a choice easier . . .

Addison Coleman's life is one big "What if?" As a Searcher, whenever Addie is faced with a choice, she can look into the future and see both outcomes. It's the ultimate insurance plan against disaster. Or so she thought. When Addie's parents ambush her with the news of their divorce, she has to pick who she wants to live with—her father, who is leaving the paranormal compound to live among the "Norms," or her mother, who is staying in the life Addie has always known. Addie loves her life just as it is, so her answer should be easy. One Search six weeks into the future proves it's not.

In one potential future, Addie is adjusting to life outside the Compound as the new girl in a Norm high school where she meets Trevor, a cute, sensitive artist who understands her. In the other path, Addie is being pursued by the hottest guy in school—but she never wanted to be a quarterback's girlfriend. When Addie's father is asked to consult on a murder in the Compound, she's unwittingly drawn into a dangerous game that threatens everything she holds dear. With love and loss in both lives, it all comes down to which reality she's willing to live through . . . and who she can't live without.
Twice a month, I'll pick a slip of paper from my book jar and read a book that has been sitting around for a while. I don't buy as many physical copies as I do e-books, but my bookshelves are still overflowing with far more unread books than ones I've read. A lot of these book jar picks will help with the TBR Challenge I joined for 2015, but some books I own are newer books that won't qualify. Without further ado, here's my review for the first book I drew from my book jar!

This definitely qualifies as one of those books where I find myself asking WHY didn't I read this sooner?? I absolutely loved The Distance Between Us by Kasie West and heard nothing but great things about this duology, too. I got it in my Uppercase box a few months ago and was really happy to finally own it… and even happier it was one of my first Book Jar picks!
Anyways this book was AWESOME. Totally not what I was expecting – in a great way. I assumed it would be really similar to Just Like Fate, which I also liked, but this was definitely higher-stakes. It was a bit of a mystery and I absolutely could not put it down. First, I thought that Addie was a random girl with abilities. I didn't realize she lived on a Compound full of people with abilities. That was SO cool and really made it much more unique than other books with this kind of general plotline about seeing the future/predicting paths/different universes. Second, I didn't realize it was going to be one of those books that alternates chapters between the two options. No big deal though. All so good!
I thought the chapters of her in the Norm world were kind of funny because she had to figure out the lesser technology that we have. She didn't know how to turn the car on (she hit the radio's power button), she couldn't put her key in the lock, and she didn't know what a DVD was or how it worked at first. It was cool watching her get used to the world and all of the things we have. I generally enjoyed the Norm chapters more, but that's mostly because of TREVOR. Ahhhh. He was amazing and I wanted more and more and more of him. I liked the secondary characters in this book quite a bit and am eager to see what happens with them next.
This book was so much more than I expected. The story was crazy, complex, and unique. It ended on a minor cliffhanger – just enough to pique interest for the next book. Since I have book one in paperback, I preordered the paperback of book two and it's not released until early February. There's a good chance I get it out from the library in the meantime.

The alternating chapters between her two choices were kind of confusing. In other books like this, the different decisions/paths are labeled at the bottom of the page or at the beginning of the chapter. Luckily, it wasn't TOO hard to figure out once you got reading. Regardless, the pacing of this book was really great. It slowly built up the events towards a majorly crazy ending. I couldn't stop reading.


"One person can't change the future. Do you know how many people and things are involved in every major event that happens? Sure, you might be able to change some of the minor aspects of a day, but ultimately things that are going to happen, if you go along a certain path, do happen."

UM everyone. Definitely people who like parallel life books. If you liked Kasie West's contemporaries, I also highly recommend this one. Her writing style is one of my favorites and she writes really cute romances.
My reaction upon finishing, which is always my Goodreads review: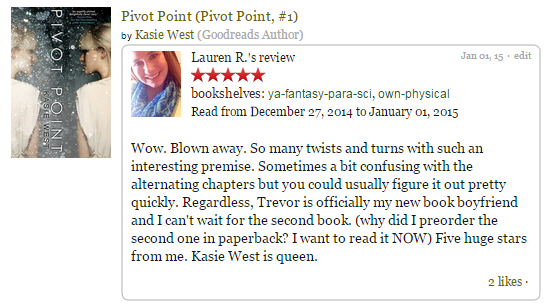 Related Posts