I don't like to do too many weekly memes on the blog (anymore) and usually stick to TTT, but I thought it would be fun to occasionally post Wednesday memes I'm interested in. It won't be weekly, but it'll be fun to recap the previous week or so and talk about what books I have on the docket. It will be a combination of WWW Wednesdays and Waiting on Wednesdays (more details below!), as well as anything else I'd like to share.
---

Waiting on…Wednesday is hosted by Breaking the Spine and asks upcoming releases that we're eagerly anticipating.
I'm currently waiting impatiently for…
Release Date: August 30th 2016
New York City as you've never seen it before. A thousand-story tower stretching into the sky. A glittering vision of the future, where anything is possible—if you want it enough.

Welcome to Manhattan, 2118.

A hundred years in the future, New York is a city of innovation and dreams. But people never change: everyone here wants something…and everyone has something to lose.

Leda Cole's flawless exterior belies a secret addiction—to a drug she never should have tried and a boy she never should have touched.

Eris Dodd-Radson's beautiful, carefree life falls to pieces when a heartbreaking betrayal tears her family apart.

Rylin Myers's job on one of the highest floors sweeps her into a world—and a romance—she never imagined…but will her new life cost Rylin her old one?

Watt Bakradi is a tech genius with a secret: he knows everything about everyone. But when he's hired to spy by an upper-floor girl, he finds himself caught up in a complicated web of lies.

And living above everyone else on the thousandth floor is Avery Fuller, the girl genetically designed to be perfect. The girl who seems to have it all—yet is tormented by the one thing she can never have.

Debut author Katharine McGee has created a breathtakingly original series filled with high-tech luxury and futuristic glamour, where the impossible feels just within reach. But in this world, the higher you go, the farther there is to fall….
I'm waiting on this one because hello? Gossip Girl in some kind of crazy near-future sounds amazing. I'm a sucker for books with mean girls and rich people so I honestly cannot wait. I even preordered this, which I NEVER do without already reading the book or it being my favorite author. I've seen mixed reviews but it's right up my alley so I don't care.
Release Date: September 6th 2016
In this contemporary retelling of The Canterbury Tales, a group of teens on a bus ride to Washington, DC, each tell a story—some fantastical, some realistic, some downright scandalous—in pursuit of the ultimate prize: a perfect score.

Jeff boards the bus for the Civics class trip to Washington, DC, with a few things on his mind:
-Six hours trapped with his classmates sounds like a disaster waiting to happen.
-He somehow ended up sitting next to his ex-best friend, who he hasn't spoken to in years.
-He still feels guilty for the major part he played in pranking his teacher, and the trip's chaperone, Mr. Bailey.
-And his best friend Cannon, never one to be trusted and banned from the trip, has something "big" planned for DC.

But Mr. Bailey has an idea to keep everyone in line: each person on the bus is going to have the chance to tell a story. It can be fact or fiction, realistic or fantastical, dark or funny or sad. It doesn't matter. Each person gets a story, and whoever tells the best one will get an automatic A in the class.

But in the middle of all the storytelling, with secrets and confessions coming out, Jeff only has one thing on his mind—can he live up to the super successful story published in the school newspaper weeks ago that convinced everyone that he was someone smart, someone special, and someone with something to say.

In her debut novel, Kim Zarins breathes new life into Chaucer'sThe Canterbury Tales in a fresh and contemporary retelling that explores the dark realities of high school, and the subtle moments that bring us all together.
I actually loved The Canterbury Tales in high school and am SO hyped for a retelling. The format of the original book involves different townspeople telling stories and I hope this is exactly the same. I need to preorder this one immediately because I love the concept.
---

WWW Wednesday is hosted by Taking on a World of Words and asks the three questions below.
 What are you currently reading?
Crown of Midnight by Sarah J. Maas (audiobook)
Game On by Michelle Smith (eARC)
I finally continued with my ToG "binge" audio read and I'm LOVING CoM so far! For some reason the plot is just intriguing me so much, especially compared to the first two books. I'm also reading GAME ON and loving it. The old-best-friends-slash-neighbors-getting-together trope is a major favorite of mine.
What did you recently finish reading?
Before I Fall by Lauren Oliver (ebook, reread)
Nantucket Red by Leila Howland (paperback)
I loved BEFORE I FALL when I read it back in 2014 and was due for a reread this year. When my book club selected it using our new method, I was happy to reread for our meeting. I don't know if I loved it as much this time around, but it hit me really hard again. I cried for sure. And I also just finished NANTUCKET RED (finally!) after reading BLUE with Cristina for Book Buddies. I looooved being back with Cricket and Zack.
What do you think you'll read next?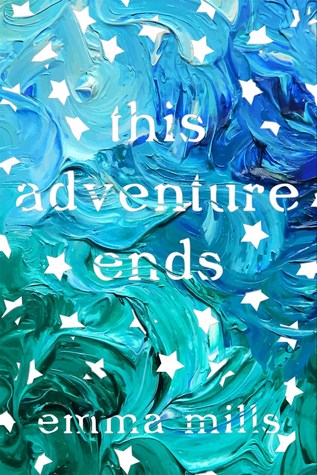 This Adventure Ends by Emma Mills (ARC)
Sweet Carolina Morning by Susan Schild (eARC)
I'll be continuing with ARC August with these two books next. I want to try to have one eARC and one physical ARC going at the same time to get through them faster. I was hoping to start THIS ADVENTURE ENDS on Monday but I kept needing the Kindle book because of the backlight, so it'll hopefully be today! I'll start SWEET CAROLINA MORNING when I finish my current eARC.
Related Posts