The Bookmark Lit Bulletin was created to wrap up each month and prepare for the next. I share my life happenings, book haul, books I read and reviewed, posts I shared, challenge updates, and more from the previous month. I also let you know what may be coming up on the blog in the coming month. You can read past bulletins here and learn more about the feature here.
---

The NFL draft is tonight! I'm definitely curious to see who the Panthers end up with this year. I think they could use more help on the offense, so I'm looking forward to a running back or another wide receiver. The first week of April brought my friends into town for Easter weekend as usual. It was a lot of fun to spend time with them. The following weekend, I made an impromptu trip to Boston for my friend's birthday. We roamed around, went shopping, and had dinner at the Cheesecake Factory. It was fun to see her and spend the day up there, but I was damn exhausted by the end of the day.  I went to Target randomly the following week and bought a Fitbit. I love tracking my steps, sleep, and calorie intake. It motivates me to go for walks and just keep track of what I'm eating a little more. I'm currently not someone who can exercise or run, so this is an easy way to stay active and try to get my steps in. My boyfriend and I joined a local Lego User Group (LUG) and had our first meeting this month. It was fun, but I guess a lot of people don't show up during the warmer months of the year. Can't really blame them – it was beautiful outside that day! The last weekend of the month was definitely the busiest. We went to Ikea to buy a new entertainment center and bookshelves (wait until you see it!) Two of my best friends have the same birthday and Chris's mom's birthday is the following day. I had to juggle lots of parties. We had a surprise party for Chris's mom, uncle, and cousin's boyfriend. I had to leave that party early to go to Dave & Buster's for my college roommate's birthday that night. I also took part in No Spend April, where I devoted myself to restricting what I bought, learning how to budget, and hopefully improving my financial situation a little bit. I did fairly well overall and will probably make a wrap-up post this weekend.
---

This month was…not the best for reading. I will say that I had a pretty average month. There was only one 5 star book and that's just because it broke me for a few days. The other two here were 4.5 and 4 stars.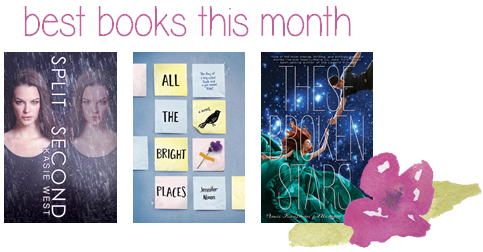 ---

---

Keep up with my full list of 2015 challenges here!
Fairytale Retelling Challenge | 2/15 books read | None this month
Reread Challenge | 5/17 books read | Harry Potter and the Order of the Phoenix by JK Rowling
105 Challenge | 47/105 books read | Even When You Lie to Me by Jessica Alcott, When by Victoria Laurie, Play On by Michelle Smith, All the Bright Places by Jennifer Niven, The Boyfriend App by Katie Sise, The Disenchantments by Nina LaCour, Second Helpings by Megan McCafferty, Harry Potter and the Order of the Phoenix by JK Rowling, Sloppy Firsts by Megan McCafferty, These Broken Stars by Amie Kaufman and Meagan Spooner, The Pretty App by Katie Sise
TBR Pile Challenge | 8/12 books read | The Boyfriend App by Katie Sise, The Disenchantments by Nina LaCour, Sloppy Firsts by Megan McCafferty, Second Helpings by Megan McCafferty, These Broken Starsi by Amie Kaufman and Meagan Spooner
Library Challenge | 6/28 books read | This is What Happy Looks Like by Jennifer E. Smith, Station Eleven by Emily St. John Mandel, Ruin and Rising by Leigh Bardugo
Flights of Fantasy Challenge | 11/20 books read | Harry Potter and the Order of the Phoenix by JK Rowling
Audiobook Challenge | 10/35 audiobooks listened to | Harry Potter and the Order of the Phoenix by JK Rowling
Series a Month Challenge | Half of the Jessica Darling series…?!
Blog Organization Challenge | Some updating around the blog (in old posts) throughout the month
---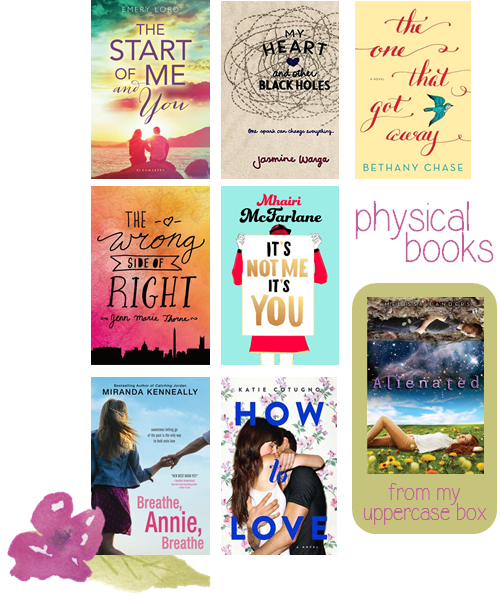 ---

---
"What if life could be this way? Only the happy parts, none of the terrible, not even the mildly unpleasant. What if we could just cut out the bad and keep the good? This is what I want to do with Violet – give her only the good, keep away the bad, so that good is all we ever have around us."    ―

Jennifer Niven

,

All the Bright Places
---


As usual I have some of my typical posts: Top Ten Tuesday, Inside & Out, and Bookmark Lit Bulletin. I also introduced a few new, random features last month! I wanted to share some of my life with a Currently post that I've seen lifestyle bloggers do. I also introduced some Reading Recap posts to share what I've been reading and listening to, since my reviews are usually scheduled far in advance. I debuted Color Covers, which features book covers, their color palettes, and corresponding outfits or quote graphics. I hope to bring another organizational post next month, as well as some discussions that have been sitting in my drafts!
---
I read five books out of the twelve that I chose last month. I'm seriously bad at coming up with a TBR and sticking to it, so I'm going to only show a few that I plan to DEFINITELY read. Two of them are ARCs and two are books I'm highly highly HIGHLY anticipating… cough new Sarah Dessen and Jenny Han!!! HELLOOOOO, come to me glorious preorders!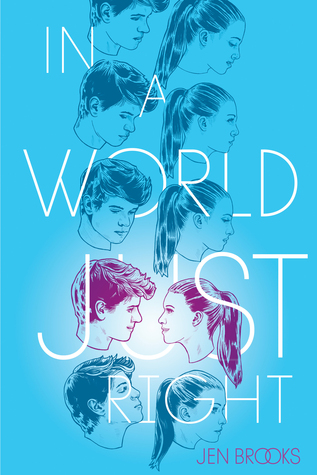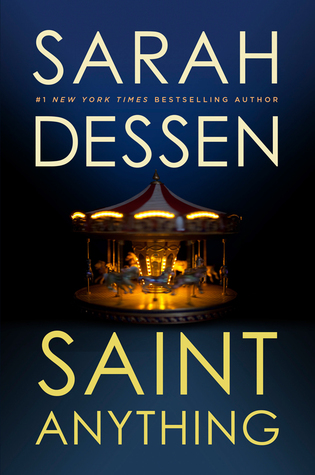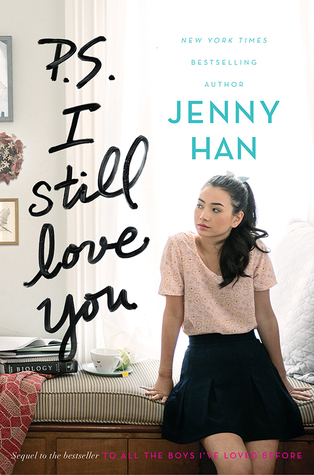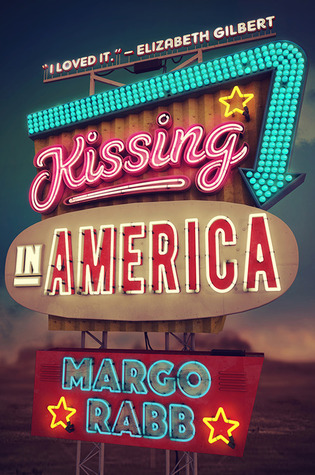 ---

My main, personal goal is to keep up with my budgeting spreadsheet. I did a great job in April with it and it helped me keep on task with spending money and bill-paying. As for reading goals, I hope to really start focusing on following my moods instead of trying to cram in books for review. I'm not a blogger with a lot of ARCs (partly on purpose!) so I don't feel the need to stress about "due dates" unless I'm on a blog tour… and even then, I only join blog tours for books I desperately want to read. I still want to keep up with my Foxy Dori and staying organized. I also started making bookmarks (to be shared soon!) and hope to keep crafting a little bit. I used to make things all the time and I just don't sit down and do it anymore. Hoping that changes.
---
May is going to be another busy one. We have a birthday party this weekend and a chili festival in my hometown. I'm reallllly hoping to go to the chili fest because I haven't been before and it sounds awesome. Chris's sister's college graduation is coming up in a few weeks so we'll be headed up to Maine for that. We also are going to another Lego convention that weekend (Brick Fest) so it's going to be super busy. I'm hoping we have a low-key end of the month. I'll be spending a day at Book Expo America at the very end of the month!!! I'm so so so excited. Now I just need to buy my ticket…
How was your month? What do you have coming up next?

Related Posts