Learn more about the author and enter the giveaway at the bottom of the post!
I received this book for free (hey, thanks!) in exchange for an honest review. I promise that this does NOT affect my opinion of the book or the content of my review. For real.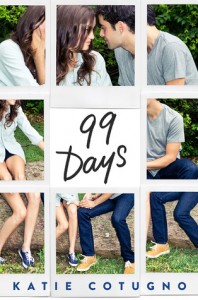 99 Days
by
Katie Cotugno
Series:
99 Days #1
Genres:
Contemporary
,
Young Adult
Published by
Harper Collins
on April 21st 2015
Also by this author:
Fireworks
,
Meet Cute: Some People Are Destined to Meet
,
Top Ten
,
9 Days and 9 Nights
,
Liar's Beach
Format:
eARC
(384 pages) •
Source:
Fantastic Flying Book Club
Goodreads
•
Amazon
•
Barnes & Noble

Molly Barlow is facing one long, hot summer—99 days—with the boy whose heart she broke and the boy she broke it for . . . his brother.

Day 1: Julia Donnelly eggs my house my first night back in Star Lake, and that's how I know everyone still remembers everything. She has every right to hate me, of course: I broke Patrick Donnelly's heart the night everything happened with his brother, Gabe. Now I'm serving out my summer like a jail sentence: Just ninety-nine days till I can leave for college and be done.

Day 4: A nasty note on my windshield makes it clear Julia isn't finished. I'm expecting a fight when someone taps me on the shoulder, but it's just Gabe, home from college and actually happy to see me. "For what it's worth, Molly Barlow," he says, "I'm really glad you're back."

Day 12: Gabe wouldn't quit till he got me to come to this party, and I'm surprised to find I'm actually having fun. I think he's about to kiss me—and that's when I see Patrick. My Patrick, who's supposed to be clear across the country. My Patrick, who's never going to forgive me.

I'm very particular about writing my reviews essentially right after I finish the book. I can't let my thoughts just sit around in my head, because I will inevitably lose them within a day or two (sometimes much sooner). This book, though, is one that took me longer to digest. I didn't have mixed feelings on it or anything, which is sometimes the reason I need a few days, but I knew I really appreciated what this book did and how it made me feel. It's a really hard topic and situation to get involved in, but I think Kate Cotungo did an absolutely amazing job. The general love triangle topic/trope can be VERY polarizing with readers. If it's something you're not opposed to in general, I urge you to try this book out. (I'm not one to discount a love triangle as long as it's believable, well-done, and involves no insta-love. More on that later.)
I couldn't stop reading this. Occasionally there are books where I can say "yep, I finished this in two sittings" but that's just because I had a lot of time on my hands. This is a book where I could absolutely not stop reading and was determined to see how it all ended. So yes, I totally read this in two long sittings. I couldn't get enough. I want to compare it to that metaphor where it's like a train wreck: you can't stop watching. In a lot of ways, based on what happens to Molly in the book, it feels exactly like a train wreck. You're simultaneously shaking your head at what she got herself into while also completely understanding how she did. I was on edge throughout the whole story and wondered how bad it was going to get. I kept seeing early Goodreads blurbs from fellow bloggers that their stomach was in knots the whole time and I didn't understand how that could be. After reading the book, I completely agree.
As awful as it feels to say this, I could relate to Molly. I feel like life can be so messy at times and it's nice when books can explore all of the messed up parts; it makes me feel something different for once. With my YA books, I'm not the kind of person who needs a neatly tied up story where there's one love interest and the whole thing is a fairy tale. I'm okay with a little chaos. This story hit that mark SO dang well for me. I cringed. I laughed. I smiled. I swooned. I truly could relate to all of the different emotions that Molly felt and her utter confusion about what was right for her. I love the college major she ended up choosing, because I feel like it's a more popular degree to choose and is underrepresented in YA books! View Spoiler »It's nice to have a little business major love! It's such a popular degree these days and I feel like so many main characters end up going to medical school or do something more liberal arts. « Hide Spoiler I've been in so many odd romantic entanglements in my life; it was nice to read a story of someone who doesn't have perfect feelings about one person, but mixed feelings on a couple of people. I hate admitting that about myself, but I've been there before.
If I have any complaints, I wish the family aspect was slightly more fleshed out. It would have been nice to have her mom more "around" throughout the book, even though she had an absolutely instrumental role in everything that happened to Molly. I liked the friendship themes too – that there's always that one friend that tries not to judge you and really has your best interests at heart, no matter how much time has passed. Overall, this book was so hard to read (I really mean that in the best way possible) but so compelling. If you're interested in reading a raw and real story about a completely flawed MC trying to find her way, then I absolutely recommend this one.












---
Trailer
Buy the Book
Follow the Tour
About Katie Cotugno
Katie Cotugno went to Catholic school for thirteen years which makes her, as an adult, both extremely superstitious and prone to crushes on boys wearing blazers. She routinely finds herself talking about the romantic endeavors of characters on TV shows as if they actually exist in the world.

Katie is a Pushcart Prize nominee whose work has appeared in The Broadkill Review, The Apalachee Review, and Argestes, as well as on Nerve.com. Her first novel, HOW TO LOVE, is due out from Balzer + Bray on October 1st, 2013.

The great loves of Katie's life include child's pose, her little sister, and mozzarella and honey sandwiches. She lives in Boston (and in sin) with her boyfriend, Tom.
Giveaway
Related Posts