In an effort to cut down on posts and burnout, my Review Roundups will feature 2-4 books I've read or listened to recently. Sometimes they're newer releases and sometimes they're all backlist titles. My ARC reviews usually get the solo treatment. Enjoy the mini reviews!
---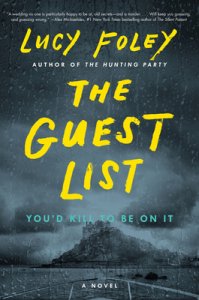 The Guest List
by
Lucy Foley
Genres:
Adult
,
Mystery/Thriller
Published by
Harper Collins
on March 19, 2020
Also by this author:
The Hunting Party
,
The Paris Apartment
Format:
Hardcover
(320 pages) •
Source:
Book of the Month
Goodreads
•
Amazon
•
Barnes & Noble

A wedding celebration turns dark and deadly in this deliciously wicked and atmospheric thriller reminiscent of Agatha Christie from the author of The Hunting Party.

The bride ‧ The plus one ‧ The best man ‧ The wedding planner ‧ The bridesmaid ‧ The body

On an island off the coast of Ireland, guests gather to celebrate two people joining their lives together as one. The groom: handsome and charming, a rising television star. The bride: smart and ambitious, a magazine publisher. It's a wedding for a magazine, or for a celebrity: the designer dress, the remote location, the luxe party favors, the boutique whiskey. The cell phone service may be spotty and the waves may be rough, but every detail has been expertly planned and will be expertly executed.

But perfection is for plans, and people are all too human. As the champagne is popped and the festivities begin, resentments and petty jealousies begin to mingle with the reminiscences and well wishes. The groomsmen begin the drinking game from their school days. The bridesmaid not-so-accidentally ruins her dress. The bride's oldest (male) friend gives an uncomfortably caring toast.

And then someone turns up dead. Who didn't wish the happy couple well? And perhaps more important, why?
I was trying to get back into reading so I decided to follow my mood. I joined Book of the Month specifically so I could get an early copy of THE GUEST LIST and read it ASAP. In the end, totally glad I did! It didn't fully grab me right from the beginning like I was hoping, but I sat and read the majority of the book in one sitting on a beautiful Saturday afternoon on my porch.
The story follows a wedding on a remote island off the coast of Ireland. There are a few points of view: Jules (the bride), Olivia (the sister of the bride/maid of honor), Johnno (the best man and childhood friend of the groom), Hannah (the plus one – her husband Charlie is Jules's best friend), and Aiofe (the wedding planner who owns the island venue with her husband).
The final 40% of the book was a whirlwind of twists and secrets. I love when mystery/thrillers have shorter chapters at the end that rapidly go back and forth between points of view as things come together. I've had this issue lately where I figure out at least part of the "mystery" or whodunnit, so the endings of suspense stories have been a little lame for me. I'm thrilled that I didn't put ANYTHING together in this one, and there were SO many twists I didn't see coming. Seriously, it was pretty masterful IMO.
I don't think there's much to say on this one because I don't want to spoil anything. I went in without really knowing much aside from the main plot/concept of the story and it worked out in my favor. I highly recommend this one!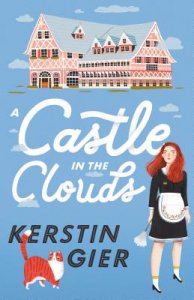 A Castle in the Clouds
by
Kerstin Gier
,
Romy Fursland
Genres:
Young Adult
,
Contemporary
Published by
Macmillan
on January 28, 2020
Also by this author:
Dream a Little Dream
,
Ruby Red
,
Dream On
,
Just Dreaming
Format:
Audiobook
(336 pages) •
Source:
Scribd
Goodreads
•
Amazon
•
Barnes & Noble

A Castle in the Clouds follows a girl as she navigates secrets, romance, and danger in an aging grand hotel.

Way up in the Swiss mountains, there's an old grand hotel steeped in tradition and faded splendor. Once a year, when the famous New Year's Eve Ball takes place and guests from all over the world arrive, excitement returns to the vast hallways.
Sophie, who works at the hotel as an intern, is busy making sure that everything goes according to plan. But unexpected problems keep arising, and some of the guests are not who they pretend to be. Very soon, Sophie finds herself right in the middle of a perilous adventure--and at risk of losing not only her job, but also her heart.
I've always enjoyed Geir's books and this one had arguably the most fun synopsis I'd seen. I love the idea of a "castle in the clouds" old-school hotel where an intern would take part in a fabulous NYE ball. It sounded mysterious and intriguing. I think, unfortunately, this book didn't live up to my expectations. I had thoughts that it would be a bit of a mystery, maybe even including magical realism. It's one of those situations where the concept and synopsis sound so great, but it wasn't executed as well as I'd hoped.
The awesome setting didn't really make up for the lack of plot either. I loved the descriptions of the old hotel and learning about all of its guests, but that took up about 60% of the book. I didn't feel like there even was a plot until over halfway through. I kept wondering what the point of the book was.
Things got interesting toward the end though when the mystery things sort of kicked in. I enjoyed it while it was happening but I also was really half paying attention. Nothing was grabbing me after a while and I was just ready for it to be over. I think this was unfair of me, to be honest, because I could have enjoyed it a bit more at that point if I actually was able to focus on it. I wish I gave it a fair shot but my interest was long gone.

Incomparable
by
Brie Bella
,
Nikki Bella
Genres:
Nonfiction
,
Memoir
Published by
Simon and Schuster
on May 5, 2020
Format:
Audiobook
(256 pages) •
Source:
Scribd
Goodreads
•
Amazon
•
Barnes & Noble

A raw, honest, and revealing co-memoir by Brie and Nikki Bella: twin sisters, WWE Hall of Fame inductees, entrepreneurs, philanthropists, and stars of the hit E! shows Total Bellas and Total Divas.
As twins, the Bellas have always competed. Legend has it that Nikki drop-kicked Brie in the womb so that she could make her grand entrance first. But the rest of the world often treated them as identical and even interchangeable, so they decided to do something about it.
In WWE, the Bellas accomplished so much together: bringing in young girls and women while building the Bella Army, helping the transition of female performers from Divas to Superstars, starring in Total Divas and Total Bellas, and founding companies like Birdiebee, Nicole + Brizee Beauty, and Bonita Bonita Wine.
Though their early journey began with loss, abuse, and plenty of rough times, these challenges "shined the diamond." They resolved to be survivors and the heroes of their own stories, and to take control and responsibility for their lives. Eventually, they would come to show girls everywhere that they can do anything.
The Bellas may be identical twins—but as individuals, they have proven themselves Incomparable.
I'm a big fan of wrestling and the Bella twins have been some of my favorites from early on. I saw them on Total Divas and eventually Total Bellas, which I started watching around the time Chris started watching WWE, and those shows got me more into wrestling overall. I owe them a lot, those Bellas! I was curious to read their book and was happy to bang through the audiobook in two sittings while working from home.
This book was a pleasant surprise, honestly! I think their writing was better than I expected, which probably isn't fair, but they joke a lot about they don't have large vocabularies. 😉 I loved reading about their journey – before, during, and "after" WWE. They were so open and honest about their family history and relationships, along with all of the things they learned from those times in their lives. Brie had a lovely chapter about her high school boyfriend who passed away and all of the things that experience and person taught her.
The book was mostly structured chronologically but I think the last chapter or two were a bit preachy. They were about their new businesses and the causes they're currently supporting, so it does make sense in the timeline, but it just left the book in a different place because of the "lessons" and content overall.
I'm not sure if I would recommend it to non-wrestling fans in general… It's not because they talk too much about wrestling and people may not care about it, but just because the book itself is really better suited to those who  already have an interest in the twins and wrestling? That's my take at least. I typically only read memoirs of celebrities I like so I'd follow that guideline overall.
Related Posts