As we're all going through the same global pandemic with various levels of "stay the F home," I thought it would be fun to highlight the good things in each week, instead of dwelling on the negatives, the unknowns, and the uncertain future. I tend to do some kind of wrap-up or rundown of my week/month/etc. on Fridays each week (often linking up with Friday Favorites/Currently) so this isn't too much of a diversion from that.
---
✨ AEW Double or Nothing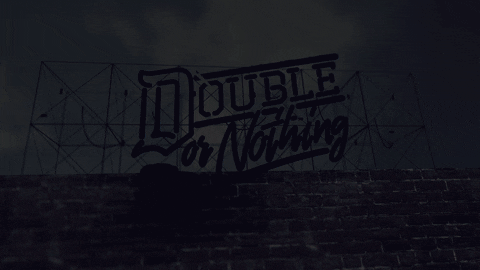 Wrestling is the only sport that's really continued through this pandemic. Say what you want about it (and your opinions are fully valid, it's not the smartest thing for them to be doing by ANY means) but it's brought me a lot of joy, entertainment, and distraction during all this. (For the record too, most things were filmed back-to-back and not aired live for the first two months.) AEW had their Double or Nothing PPV on Saturday and it was SO DAMN GOOD. Pretty much everything on it was fantastic and we had a wonderful Saturday night watching it.
---
✨ More Recipes from Cravings
We've continued to make recipes from the Cravings cookbooks and have really enjoyed it. We made some of John's breakfast sandwiches (well the homemade sausage patties at least) and omg they were so good. We made the mistake of using ground pork sausage instead of ground pork, so we added salt (per the recipe) and they were a bit too salty. We chopped them up into a hash the next day to tone them down. So good!
---
✨ Cocktails and Beer
We don't drink hard alcohol or cocktails that much, especially at home, but we've had a lot of alcohol sitting around for a bit. I made us Moscow Mules one night and got some fresh mint for Mojitos the following weekend. SO good. We also tried the latest Spiked Smoothie from our favorite brewery, which is a delicious Lemonade beer. It tastes like a naturally sweet, less alcohol-y Mike's Hard Lemonade.
---
✨ Stew Leonard's Treats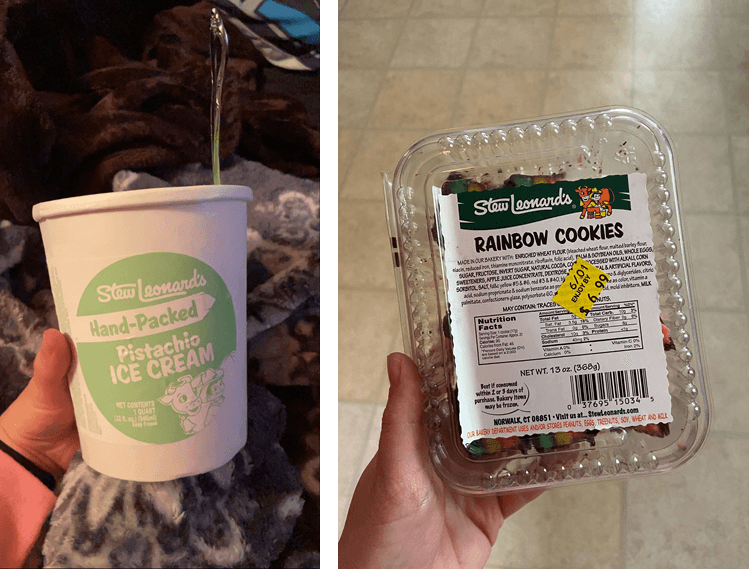 I've been craving Stew Leonard's Chicago Mix popcorn for a while. I love browsing the store usually and buying a bunch of random tasty things, but a trip inside isn't really in the cards right now. I found that I could do a pickup order from Instacart so we got some of our favorite snacks, including a few new things to try! We got the popcorn, rainbow cookies, pistachio ice cream, cranberry snack mix, and their storemade guac and salsa. THE BEST.
---
✨ BA's Best Chocolate Chip Cookies
As you know by now, we've fallen in love with the BA Test Kitchen on YouTube. We decided to try their best chocolate chip cookies and oh god they're SO good. We definitely made them too big and they all bled into each other, but the flavor was pretty damn perfect. I don't think I've ever made cookies like this from scratch before! Soft and chewy on the inside with a bit of a crisp outside.
---
✨ Baking
I made a Copycat Starbucks Lemon Loaf that I've been dying to try for a while now and it was pretty good! Definitely really dense from the yogurt but it does remind me of the original loaf for sure. I also made the two-ingredient dough bagels and they're pretty amazing, to be honest. It's just equal parts flour and nonfat plain Greek yogurt, plus a bit more flour for your surface and hands. I mixed the dough together with my hands, formed a flat piece on the counter, and cut it into equal pieces. Then, roll the dough into a long strip and circle it around to create a bagel. Bake at 375* for about 25 minutes, rotating the pan halfway through.
---
✨ Friends and HBO Max
I bought the digital Friends episodes a month ago on Vudu but realized I couldn't use Vudu apps on some of the key devices we have, so what's the point!? Anyways, I got a refund for those and just waited around for HBO Max to debut. I realized on the 27th, when it started, that I get it free with my dad's DirecTV account… so you better believe I linked it all up and have been watching Friends nonstop! I have the DVDs but I'm limited to only watching through the PS4 in the living room – I obviously want to watch on the go (my iPad while cooking, for example).
Related Posts