I received this book for free (hey, thanks!) in exchange for an honest review. I promise that this does NOT affect my opinion of the book or the content of my review. For real.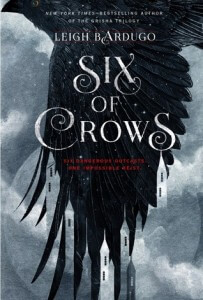 Six of Crows
by
Leigh Bardugo
Series:
Six of Crows #1
on September 29th 2015
Also by this author:
Shadow and Bone
,
Siege and Storm
,
Ruin and Rising
,
Summer Days & Summer Nights
,
The Language of Thorns: Midnight Tales and Dangerous Magic
,
Wonder Woman: Warbringer
,
Crooked Kingdom
,
King of Scars
,
Ninth House
(465 pages) •
Goodreads
•
Amazon
•
Barnes & Noble

Ketterdam: a bustling hub of international trade where anything can be had for the right price—and no one knows that better than criminal prodigy Kaz Brekker. Kaz is offered a chance at a deadly heist that could make him rich beyond his wildest dreams. But he can't pull it off alone...

A convict with a thirst for revenge.
A sharpshooter who can't walk away from a wager.
A runaway with a privileged past.
A spy known as the Wraith.
A Heartrender using her magic to survive the slums.
A thief with a gift for unlikely escapes.

Six dangerous outcasts. One impossible heist. Kaz's crew is the only thing that might stand between the world and destruction—if they don't kill each other first.

I personally didn't enjoy this book as much as I had hoped. I can absolutely, unequivocally say that (objectively) this is an amazing story written by a talented author that I generally love… but the heist aspect was just not for me. It is genuinely the most stereotypical case of "it's not you, it's me."
I started reading my ARC from BEA in September and seriously struggled for the first 30 pages. It was interesting but confusing. I liked the writing (DUH) but wasn't sure the heist aspect would keep me engaged. I decided to put the book aside after continuing to struggle through 100 pages, because at this point the book was being released. I decided to use an Audible credit to see if that helped. It kind of did, but not really. Here's my progress through this book:
Like honestly it took way too much effort and time to read this book. I barely feel like I even know what happened. I just could not focus for the life of me.
However, all of that negative aside – I can truly appreciate this story and am really interested to see where Bardugo takes us next!
Great things I can appreciate:
Super character-driven, even when they're essentially a ragtag crew of criminals
MULTIPLE SHIPS SETTING SAIL, oh god
Leigh Bardugo's amazing, gorgeous writing style
The end (last 20-40% or so) of the book moved faster and was more enjoyable in general
Things that didn't work for me:
The pacing didn't work for me. I kind of wanted to be on the edge of my seat, waiting for them to make it through crazy situations one after another. This generally did happen, but I still kind of feel like not much happened?
Similarly, it didn't hold my attention that well. I really will need to reread or re-listen to this before the second book comes out
~confusing at times~
Overall, this one still has to get four stars from me. I can appreciate a great story while recognizing that it isn't a story that will work for me personally. Even so, I have positive feelings about the book in general and really am eager for the second one!

| | |
| --- | --- |
| Plot & Premise | |
| Characters | |
| Writing Style | |
| Pacing & Flow | |
| Feels or Swoons | |
| Addiction Level | |
| Overall: | 4 |
Related Posts