I received this book for free (hey, thanks!) in exchange for an honest review. I promise that this does NOT affect my opinion of the book or the content of my review. For real.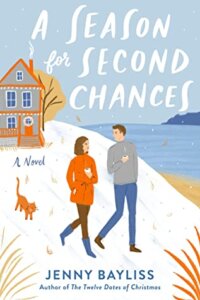 A Season for Second Chances
by
Jenny Bayliss
Genres:
Adult
,
Contemporary
,
Holiday
Published by
Penguin Random House
on October 19, 2021
Also by this author:
The Twelve Dates of Christmas
Format:
eARC
(448 pages) •
Source:
Publisher
Goodreads
•
Amazon
•
Barnes & Noble

A charmingly quirky seaside town offers a recently separated restauranteur a fresh start and possibly a new lease on love in A Season for Second Chances, by the author of The Twelve Dates of Christmas.

Annie Sharpe's spark for life has fizzled out. Her kids are grown up, her restaurant is doing just fine on its own, and her twenty-six-year marriage has come to an unceremonious end. Untethered for the first time in her adult life, she finds a winter guardian position in a historic seaside home and decides to leave her city life behind for a brand-new beginning.

When she arrives in Willow Bay, Annie is enamored by the charming house, the invigorating sea breeze, and the town's rich seasonal traditions. Not to mention, her neighbors receive her with open arms--that is, all except the surly nephew of the homeowner, whose grand plans for the property are at odds with her residency. As Christmas approaches, tensions and tides rise in Willow Bay, and Annie's future seems less and less certain. But with a little can-do spirit and holiday magic, the most difficult time of her life will become...a season for second chances.
Story
When Annie's life goes off the rails and she loses her spark, she decides to take on a role essentially housesitting for an elderly woman who will be away from her beachside home for the winter season. Annie moves to the cute little town to watch over the house and keep it running, rent-free, from the fall through the spring. She has to contend with the woman's nephew, though, who is trying to sell the property to a developer. Naturally you can imagine the Hallmark movie moments that occur from there!
Overall, this was a super cute story with a low-key, breezy plot. I loved the setting, cast of quirky locals, and the easy (not truly "easy" but more like drama-free) romance.
Wintery Setting & Holiday Feels
Beachside holiday or winter books can be really fun – I know that I personally love visiting the beach and going for a walk whenever I visit Maine, regardless of weather. Having a cute seaside town transition into a little Christmassy village in England? Love those vibes. Because the book didn't take place strictly in December or around the Christmas holidays, it wasn't quite as Christmassy as it could have been… BUT it was super cute to see how the town went crazy for other fall holidays like Halloween and Thanksgiving. This was the perfect book to read in November to kick off holiday reads on a lighter note.
Overall
I definitely recommend this one for your first holiday-ish read of the season, definitely safe for before Thanksgiving if you're the type of person who usually likes to wait! Bayliss writes charming characters in small, adorable English villages better than anyone out there. I can't wait to read her next release that came out this year!


---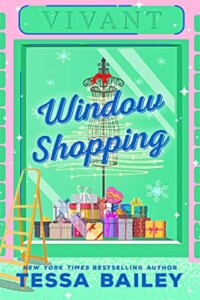 Window Shopping
by
Tessa Bailey
Genres:
Adult
,
Contemporary
,
Holiday
Published by
Self-Published
on October 19, 2021
Format:
eBook
(258 pages) •
Source:
Purchased
Goodreads
•
Amazon
•
Barnes & Noble
Content warning: because of its genre and/or because it has older characters than you normally see on my blog, it may contain sex, drinking/drugs, and/or violence.
A sizzling, standalone, feel-good holiday romance from Tessa Bailey, New York Times bestselling author of It Happened One Summer.

Two weeks before Christmas and all through Manhattan, shop windows are decorated in red and green satin.
I'm standing alone in front of the famous Vivant department store, when a charming man named Aiden asks my opinion of the décor.

It's a tragedy in tinsel, I say, unable to lie.
He asks for a better idea with a twinkle in his eye.
Did I know he owned the place? No. He put me on the spot.
Now I'm working for that man, trying to ignore that he's hot.
But as a down on her luck girl with a difficult past, I know an opportunity when I see one—and I have to make it last.

I'll put my heart and soul into dressing his holiday windows.
I'll work without stopping. And when we lose the battle with temptation, I'll try and remember I'm just window shopping.
Story
I saw this one gaining some steam (no pun intended) within the book community last year. "Sexy Ted Lasso" was thrown around a lot so naturally I was very curious! That ended being very much the case lol. Stella is fresh out of prison (long story) and ready to restart her life in NYC. While staring at a horrible window display in front of a fancy department store, she's approached by essentially Ted Lasso in a Christmas bow tie. She begrudgingly talks with him about the window and within days, she has a job as the new window designer there.
I haven't read a spicy little romance in a while so that was pretty good to scratch that itch! His Ted Lasso "super nice guy" qualities were off-putting at the beginning but he shows later that he can be very… uh, not nice, if you catch my drift. They made for an interesting couple and probably the most aggressive version of the grumpy x sunshine trope I've ever read. The two of them had some miscommunications and weird issues pop up throughout but they were kind of together most of the book, so it wasn't that dramatic.
Wintery Setting & Holiday Feels
The Christmassy/holiday vibes of the department store were nice but this was a pretty short book that ended on Christmas Eve. I did like reading about the holiday rush and her designs for the windows. However, a book set in NYC at Christmas should totally have way more festiveness involved! It's what I've come to expect – I can't help it.
Overall
For my first Tessa Bailey, it was kind of what I expected? I wasn't a huge fan of the writing (it was cheesy a lot) but it was pretty readable. I could imagine possibly reading more of her books in the future but I'm not desperate to. I think this could have been a shorter novella very easily, and there was a lot more manufactured drama than necessary, but it was still a good enough read.


---

Related Posts