I received this book for free (hey, thanks!) in exchange for an honest review. I promise that this does NOT affect my opinion of the book or the content of my review. For real.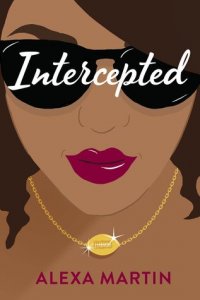 Intercepted
by
Alexa Martin
Series:
Playbook #1
Genres:
Adult
,
Contemporary
Published by
Penguin
on September 11, 2018
Also by this author:
Fumbled
,
Blitzed
Format:
eARC
(308 pages) •
Source:
Publisher
Goodreads
•
Amazon
•
Barnes & Noble
Marlee thought she scored the man of her dreams only to be scorched by a bad breakup. But there's a new player on the horizon, and he's in a league of his own...

Marlee Harper is the perfect girlfriend. She's definitely had enough practice by dating her NFL-star boyfriend for the last ten years. But when she discovers he has been tackling other women on the sly, she vows to never date an athlete again. There's just one problem: Gavin Pope, the new hotshot quarterback and a fling from the past, has Marlee in his sights.

Gavin fights to show Marlee he's nothing like her ex. Unfortunately, not everyone is ready to let her escape her past. The team's wives, who never led the welcome wagon, are not happy with Marlee's return. They have only one thing on their minds: taking her down. But when the gossip makes Marlee public enemy number one, she worries about more than just her reputation.

Between their own fumbles and the wicked wives, it will take a Hail Mary for Marlee and Gavin's relationship to survive the season.
As you definitely already know, I love football an absurd amount. It's my favorite thing to think about, watch, and talk about with friends and family. I'm ridiculous in how much I love my team and how much a loss can ruin my day/week. My fantasy football ladies-and-"book bloggers"-only league, Game of Throws, was given the chance to buddy read this novel from Berkley. I also had an egalley for review on my own, but knew I wanted to read it at the same time as my gals. We all read it over the course of opening weekend of football, which is also around my birthday AND when I was in Charlotte to see the season opener for my team! It was absolutely perfect timing and got me into the football mood even more than before.
I enjoyed this one overall! There were a few things that bugged me throughout, but they are all smallish complains. I think the writing style was very easy to read, but some dialogue and scenes felt forced, like they were trying too hard. The constant hashtags annoyed me (the MC explained that she "hashtags her life" in her head sometimes) and only got worse as the book went on. There was a lot happening in the second half of the book and there were a few different conflicts. There were issues with heckling and even assault, the other football wives, her ex-boyfriend and whoever he was dating at the time, AND obviously within the main couple at the end. I liked that the book was well-rounded and she had a full life, but there was a lot going on. Sometimes it felt like too much. The whole plot with the football wives was majorly in the "mean girls" trope, which is overused IMO.
Gavin and Marlee's relationship was sweet, caring, and steamy; I could feel the chemistry. Some parts at the end felt like Gavin was a different person in some ways? Many of his decisions and a lot of the conflict was surrounding him being an idiot all of a sudden. I thought he was so perfect most of the time! It was a bit frustrating because it felt like drama for the sake of drama; it was out of character. All of the football-related elements were SO GREAT. (Although, Marlee somehow spent 10 years dating an NFL wide receiver and didn't realize the Giants played in New Jersey instead of New York???)
If you're a football AND romance fan (and can look past some cheesy hashtags in the MC's head), I'd definitely recommend this. I couldn't put it down. I tried to read on my vacation but I was too distracted. I read 94% of the book in one sitting when I was at home watching Monday Night Football, which was perfect.
Check out my friends' blogs this week to see their reviews sprinkled throughout: Andi at Andi ABC's, Mary at Mary Had A Little Book Blog, Tonya at Vivacious Bibliophile, Wendy at Book Scents and Jess at Gone With the Words.
About Alexa Martin
Alexa Martin is a writer and stay at home mom. She lives in Colorado with her husband, a former NFL player who now coaches at the high school where they met, their four children, and a German Shepherd. When she's not telling her kids to put their shoes on…again, you can find her catching up with her latest book boyfriend or on Pinterest pinning meals she'll probably never make. Her first book, Intercepted, was inspired by the eight years she spent as an NFL wife.
Giveaway
My wonderful friends have banned together for a giveaway! FIVE winners will receive a finished paperback of Intercepted. Open to US. Entrants must be 13+. Giveaway is open until 12 AM CDT October 8. Please enter via Rafflecopter below; winner will be chosen at random, and odds are determined by number of entries.
Giveaway code: a Rafflecopter giveaway

Related Posts