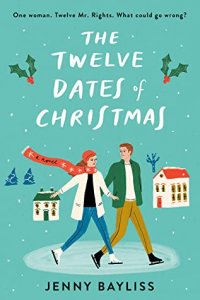 The Twelve Dates of Christmas by Jenny Bayliss
Genres: Adult, Contemporary, Holiday
Published by Penguin on October 13, 2020
Also by this author: A Season for Second Chances
Format: Paperback (368 pages) • Source: Purchased
Goodreads • Amazon • Barnes & Noble


'Tis the season for finding romance in this hilarious and uplifting holiday read

When it comes to relationships, thirty-four-year-old Kate Turner is ready to say "Bah, humbug." The sleepy town of Blexford, England, isn't exactly brimming with prospects, and anyway, Kate's found fulfillment in her career as a designer, and in her delicious side job baking for her old friend Matt's neighborhood café. But then her best friend signs her up for a dating agency that promises to help singles find love before the holidays. Twenty-three days until Christmas. Twelve dates with twelve different men. The odds must finally be in her favor . . . right?

Yet with each new date more disastrous than the one before--and the whole town keeping tabs on her misadventures--Kate must remind herself that sometimes love, like mistletoe, shows up where it's least expected. And maybe, just maybe, it's been right under her nose all along. . .
Story
This was one of my most anticipated reads for the holiday season and it didn't disappoint! I loved the idea of following Kate on her twelve dates, set up through the 12 Dates of Christmas program. A local agency developed a matchmaking program where the people would go on twelve predetermined dates with matched partners and see how they get along. They were all seasonal and often festive with holiday themes. Lots of the dates showed some promise and plenty more were major busts, so it was funny to see how they all shook out or what activities the couple would go with.
It was pretty obvious where the story was going from the beginning, which was okay by me. I like a predictable holiday romance. It did take me a little while to warm up to the winning love interest though; he was a bit annoying and it felt like he took advantage of her a little bit in the first half of the book (her kindness or friendship, I mean). I won't say anymore!
As I'll discuss more below, her snow-covered English village was adorable. I could relate to her feelings of wanting to be in the big city (London) for a while but happily returned home to help her father out. She debated if it was the right move but truly loved being there. It makes me want to travel to England as soon as I'm able to get out of the country haha. She had strong friendships with Matt and Laura, plus the townsfolk who always seemed to know what was going on in her life. Definitely understood that too!
Kate was a nice character to read about. She had some classic moments where I wanted to shake her and tell the characters to just COMMUNICATE. Classic romance novel lack of communication!
Wintery Setting & Holiday Feels
Many of the dates were holiday-themed in some way or featured wintry activities, like gingerbread house making, a snowy trail walk, an outdoor Christmas movie viewing, etc. Her small English village was completely adorable and frequently snow-covered, which made for a lot of fun scenes for a winter romance. While the dates took place in the few weeks ahead of Christmas and the story ended right on the holiday, the holiday feels weren't overly strong in this one. It's one I would usually read in November or, as luck would have it this year, right after Christmas but ahead of New Years.
Overall
This was a really cute wintry romance. I loved reading about her village and all the snow! The dates were fun to observe and see where the Lightning Strikes organization would set them up next. Even though it was highly predictable, it was fun to see how all of the dates with twelve men would shake out. The Christmas feels were moderate but the snowy setting definitely upped the late December vibes for me.


---


Related Posts