In an effort to cut down on posts and burnout, my Review Roundups will feature 2-4 books I've read or listened to recently. Sometimes they're newer releases and sometimes they're all backlist titles. My ARC reviews usually get the solo treatment. Enjoy the mini reviews!
---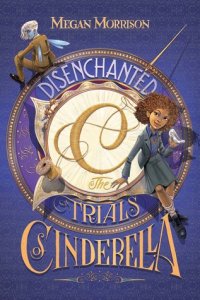 Disenchanted: The Trials of Cinderella
by
Megan Morrison
Series:
Tyme #2
Genres:
Middle Grade
,
Fantasy
,
Fairytale Retelling
Published by
Scholastic
on October 11, 2016
Format:
Audio/Physical
(416 pages) •
Source:
Scribd
,
Library
Goodreads
•
Amazon
•
Barnes & Noble

Ella Coach has one wish: revolution. Her mother died working in a sweatshop, and Ella wants every laborer in the Blue Kingdom to receive fairer treatment. But to make that happen, she'll need some high-level support . . .

Prince Dash Charming has one wish: evolution. The Charming Curse forced generations of Charming men to lie, cheat, and break hearts -- but with the witch Envearia's death, the curse has ended. Now Dash wants to be a better person, but he doesn't know where to start . . .

Serge can grant any wish -- and has: As an executive fairy godfather, he's catered to the wildest whims of spoiled teenagers from the richest, most entitled families in Blue. But now a new name has come up on his list, someone nobody's ever heard of . . . Ella Coach.
I'd been meaning to work on the Tyme series for a while, after really enjoying GROUNDED. I like fairytale retellings so much and knew one or two of these books should end up on my Retellings Challenge TBR! This story followed Ella (Cinderella) as she grew close to Prince Dash Charming. They were put together on a school project and Ella shows him how important it is that local businesses use fair labor practices. This sounds a bit weird or boring for a middle grade book, I'm sure, but it was quite powerful!
Meanwhile, our third POV is Serge – a fairy godfather tasked with helping children like Ella – who is trying to find his way forward. He doesn't like the "company" he works for and wants to make his own impact somehow, helping kids who NEED help instead of those whose families are rich enough to pay for their magic.
I love how this series features a lot of elements from the original tales/stories but offers a completely fresh take in general. I also love how Megan Morrison manages to take something like fair labor practices and turn it into an engaging book for young readers. It was wonderful to see Dash's world turned upside down, essentially, as he realized all of the troubles in his kingdom.
There were so many twists and interesting tidbits that happened throughout the book! I'm so intrigued to see where things head from here in the next companion(s).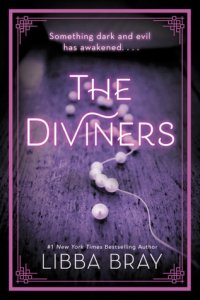 The Diviners
by
Libba Bray
Series:
The Diviners #1
Genres:
Young Adult
,
Historical Fiction
,
Paranormal
Published by
Hachette
on September 18, 2012
Also by this author:
Summer Days & Summer Nights
,
A Great and Terrible Beauty
,
Rebel Angels
,
The Sweet Far Thing
,
Before the Devil Breaks You
,
The King of Crows
Format:
Audio/Physical
(578 pages) •
Source:
Scribd
,
Owned
Goodreads
•
Amazon
•
Barnes & Noble

Evie O'Neill has been exiled from her boring old hometown and shipped off to the bustling streets of New York City—and she is pos-i-tute-ly ecstatic. It's 1926, and New York is filled with speakeasies, Ziegfeld girls, and rakish pickpockets. The only catch is that she has to live with her uncle Will and his unhealthy obsession with the occult.

Evie worries he'll discover her darkest secret: a supernatural power that has only brought her trouble so far. But when the police find a murdered girl branded with a cryptic symbol and Will is called to the scene, Evie realizes her gift could help catch a serial killer.

As Evie jumps headlong into a dance with a murderer, other stories unfold in the city that never sleeps. A young man named Memphis is caught between two worlds. A chorus girl named Theta is running from her past. A student named Jericho hides a shocking secret. And unknown to all, something dark and evil has awakened.
It's no secret that the GEMMA DOYLE books are some of my all-time favorites. I love Libba Bray's writing from those books alone and have, for some inexplicable reason, avoided her DIVINERS series for years and years. My fellow Bray-lover Madalyn has been yelling at me forever and I finally had no excuse when she organized the Diviners Readalong with some other booktubers. I whipped out my physical copy and mixed in the audio from Scribd, ready to tackle the beastly books finally.
And I've been kicking myself for waiting so long!!! GOOD LORD. I am obsessed with Bray's writing still, of course, but let me first tell you – the audiobook narrator for this book was unbelievable. She manages to sound like a full cast somehow? Like… so much talent, I cannot comprehend.
I really loved all of the characters except Jericho. I get very weird vibes from him and I'm not sure if I missed something specific while listening, because many others seem to hate him (but they're also reread reviews so that makes me think he's more terrible later???).. Not sure, but no thanks. I love Evie! She could be such an annoying character based on her personality but somehow she isn't and is incredibly wonderful. Theta, Memphis, Will, Mabel… they're all great and fully developed as characters already IMO. I'm itching for ALL of them to band together and solve paranormal crimes as a unit, too.
I can TELL this is the kind of series that will get better and better with each reread because many people say how much foreshadowing and easter eggs there are for later book events. I can't wait to find out someday because I can already tell I'll be rereading like the GEMMA DOYLE series.

Lair of Dreams
by
Libba Bray
Series:
The Diviners #2
Genres:
Young Adult
,
Paranormal
,
Historical Fiction
Published by
Hachette
on August 25, 2015
Also by this author:
Summer Days & Summer Nights
,
A Great and Terrible Beauty
,
Rebel Angels
,
The Sweet Far Thing
,
Before the Devil Breaks You
,
The King of Crows
Format:
Audio/Physical
(613 pages) •
Source:
Owned
,
Library
Goodreads
•
Amazon
•
Barnes & Noble

The longing of dreams draws the dead, and this city holds many dreams.

After a supernatural showdown with a serial killer, Evie O'Neill has outed herself as a Diviner. With her uncanny ability to read people's secrets, she's become a media darling, earning the title "America's Sweetheart Seer." Everyone's in love with the city's newest It Girl…everyone except the other Diviners.

Piano-playing Henry DuBois and Chinatown resident Ling Chan are two Diviners struggling to keep their powers a secret—for they can walk in dreams. And while Evie is living the high life, victims of a mysterious sleeping sickness are turning up across New York City.

As Henry searches for a lost love and Ling strives to succeed in a world that shuns her, a malevolent force infects their dreams. And at the edges of it all lurks a man in a stovepipe hat who has plans that extend farther than anyone can guess…As the sickness spreads, can the Diviners descend into the dreamworld to save the city?

In this heart-stopping sequel to The Diviners, Printz Award-winning and New York Times bestselling author Libba Bray takes readers deeper into the mystical underbelly of New York City.
I've been such a garbage reader lately – especially of non-review copies – that I'm adding LAIR OF DREAMS to this round-up… one month after finishing THE DIVINERS (above). Oh well! It's nice to keep a few together for now, because I was super eager to get into this one. I'm fascinated by books involving dreams or dream manipulation, like DREAMOLOGY and RAVEN BOYS plot points aka Ronan my bb.
While I'm always intrigued reading these books so far, I always feel like not a lot actually happens early in the stories. It could be just because the books are huuuuge and suddenly I'm halfway through, wondering what just happened in the first 200+ pages.
I really enjoyed this installment overall because the characters finally all circled up together and created the squad I've been waiting for. I loved seeing some momentum build in a few relationships (why did no one tell me about fake dating in this book???) and the introduction of Ling. The "mystery" element of this one was interesting, involving the dream world, but I don't think it took up as much of the plot as expected. Again, for such a long book, I don't remember much happening.
There were SO many fascinating threads getting pulled together or mentioned at the end of the story, like Theta's past and what the heck is happening with Project Buffalo. Genuinely cannot wait to read the next book!!
Related Posts