I received this book for free (hey, thanks!) in exchange for an honest review. I promise that this does NOT affect my opinion of the book or the content of my review. For real.
Fireworks
by
Katie Cotugno
on April 11th 2017
Also by this author:
99 Days
,
Meet Cute: Some People Are Destined to Meet
,
Top Ten
,
9 Days and 9 Nights
,
Liar's Beach
(336 pages) •
Goodreads
•
Amazon
•
Barnes & Noble

It was always meant to be Olivia. She was the talented one, the one who had been training to be a star her whole life. Her best friend, Dana, was the level-headed one, always on the sidelines, cheering her best friend along.

But everything changes when Dana tags along with Olivia to Orlando for the weekend, where superproducer Guy Monroe is holding auditions for a new singing group, and Dana is discovered too. Dana, who's never sung more than Olivia's backup. Dana, who wasn't even looking for fame. Next thing she knows, she and Olivia are training to be pop stars, and Dana is falling for Alex, the earnest, endlessly talented boy who's destined to be the next big thing.

It should be a dream come true, but as the days of grueling practice and constant competition take their toll, things between Olivia and Dana start to shift . . . and there's only room at the top for one girl. For Olivia, it's her chance at her dream. For Dana, it's a chance to escape a future that seems to be closing in on her. And for these lifelong best friends, it's the adventure of a lifetime—if they can make it through.

Set in evocative 1990s Orlando, New York Times bestselling author Katie Cotugno's Fireworks brings to life the complexity of friendship, the excitement of first love, and the feeling of being on the verge of greatness.
Initial Excitement
99 DAYS is one of my favorite books, so I was eagerly anticipating the next story by Cotugno. (I still haven't read HOW TO LOVE because pregnancies/babies in YA books isn't my jam, but I will read it this year I hope!) I was such a huge fan of boy and girl bands back in the 90's and early 2000's, so this book was pushed up my TBR even further. I was ready to feel nostalgic and bask in the popstar goodness.
Quick Summary
Dana and Olivia are lifelong friends who suddenly earn the chance to be famous popstars. Olivia had been training for this her whole life by singing, starring in plays, and taking lessons. Dana, on the other hand, just went along to keep Olivia company for the audition in Orlando. She ends up being forced to audition and somehow makes it into the band. The girls hit rough patches in their friendship, find love, and try to get used to a new lifestyle.
Storytelling, Setting, and Feels
I was jazzed up about reading a "historical" book set in the 1990's. I grew up during that time and haven't really read any books set during it (aside from books written during that period!). I have to admit that I totally wish there were more 90's feels. I appreciated the references to music of that time period (Spice Girls, Mariah Carey, TLC, etc.) but it really didn't FEEL like it was set during a different period. I think this is a good thing for the teens of today who weren't born in the 1990's (ugh, I'm old) because it won't feel outdated or hard to relate to. However, for those of us looking for a little nostalgia, there isn't as much as I hoped.
The romance was solid! I liked Alex a lot and thought him and Dana were a cute match. I certainly ship them but don't have any memorable feelings about it for some reason? Put it this way, I added this sentence in after I finished the review because I completely forgot to even mention it in the first place. The focus is on friendship and finding your way, but the romance was just a great added bonus for me.
Characters
Cotugno has a way of taking imperfect, often frustrating characters and making them compulsively readable and relatable. I always find ways to connect to these girls because I too was a teenager making not-the-best decisions. I never expect and easy story with simple characters from this author and I LOVE that about her. That being said, I certainly felt a lot of frustration throughout parts of the story and the end.
Dana was the main character of this story. I liked her a lot (more than Olivia) but I really think this story could have benefited from two points of view. I'm not mad that it was only Dana's perspective, but it would have been helpful to see what Olivia was thinking – even just a couple of chapters? I was absolutely annoyed with some of the decisions made throughout, especially at the end like I mentioned, but I found the characters to be relatable and real. (As always! Thank you Cotugno.)
Negative Stuff and Ending Feels
I know that not all stories and endings can be perfect and happy. I'm not going to spoil what happens throughout the book but I was definitely sad and disappointed at times. Frustration and outrage were also pretty common feelings. It's nice to have a book make you FEEL stuff instead of just making you happy, I guess? It's easier to feel that way now that it's been a while since I finished. I think that some stories are even better in hindsight once your initial reactions/emotions are over with, if that makes sense.
Another note, as I mentioned before, I could have used more feels from the 90's. If she had included bits about their clothes, fashion trends, and current events, I would have connected more to the timeframe. It really just reads like a contemporary YA set in 2017.
TL;DR?
If you were a fan of girl and boy bands back in the day, read this one! I enjoyed the musical references throughout but wish it felt more like the time period it was portraying in other ways. The characters were easy to relate to. Cotugno made a girls-becoming-famous-popstars idea fresh, instead of something stale and overused. I was reminded of the books I read back in the day but also felt like nothing I'd really read before at the same time. I think if you've enjoyed her books in the past, you'll like this one too.
Thoughts in a Gif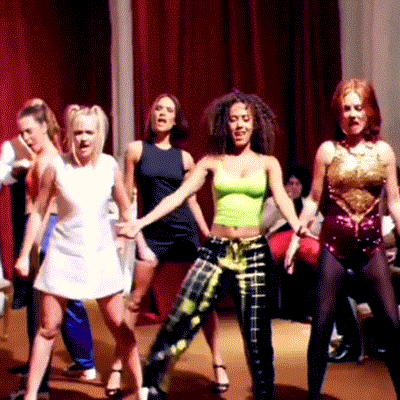 Rating Breakdown
| | |
| --- | --- |
| Plot & Premise | |
| Characters | |
| Writing Style | |
| Pacing & Flow | |
| Feels or Swoons | |
| Addiction Level | |
| Overall: | 4 |
Infographic
For physical copies of books I read this year, I've been using the Bookout app to track reading stats! The end result is a cute infographic about reading speed, averages, and other information.
Related Posts