I received this book for free (hey, thanks!) in exchange for an honest review. I promise that this does NOT affect my opinion of the book or the content of my review. For real.
The Project
by
Courtney Summers
Genres:
Young Adult
,
Mystery/Thriller
Published by
Macmillan
on February 2, 2021
Also by this author:
Sadie
Format:
eARC
(320 pages) •
Source:
Publisher
Goodreads
•
Amazon
•
Barnes & Noble

Lo Denham is used to being on her own. After her parents died, Lo's sister, Bea, joined The Unity Project, leaving Lo in the care of their great aunt. Thanks to its extensive charitable work and community outreach, The Unity Project has won the hearts and minds of most in the Upstate New York region, but Lo knows there's more to the group than meets the eye. She's spent the last six years of her life trying—and failing—to prove it.

When a man shows up at the magazine Lo works for claiming The Unity Project killed his son, Lo sees the perfect opportunity to expose the group and reunite with Bea once and for all. When her investigation puts her in the direct path of its leader, Lev Warren and as Lo delves deeper into The Project, the lives of its members it upends everything she thought she knew about her sister, herself, cults, and the world around her—to the point she can no longer tell what's real or true. Lo never thought she could afford to believe in Lev Warren . . . but now she doesn't know if she can afford not to.
I really loved SADIE – it was the kind of addicting read I'm always looking for when it comes to mystery/thrillers. It stuck with me for a long time after reading too. I've only read a few (at most) cult-related books so I was intrigued by THE PROJECT.
Lo's parents died in a car accident (she survived) and her sister joined The Unity Project, a group in New York that pretty much screams "cult" to everyone outside it, so she's been alone for a number of years when the book begins. The story goes back and forth between her POV in present day and Bea's (her sister) in the past as she is getting deeper in the Project. I enjoyed reading about how Lo tried to make a life for herself, as imperfect or sad as it was, and her time investigating the Project.
It took me a really long time to get into this one. It was interesting for the most part but I knew exactly where it was headed. Too many reviews or summaries said the ending was "unexpected" so I kind of knew where it was probably going as a result. I kept mixing up the two characters names in my head and it went back and forth between them, which didn't help me.
While I liked the book overall, it won't stick with me like SADIE did. I wish I didn't see parts of the ending coming because I do think it impacted my reading.
---
I received this book for free (hey, thanks!) in exchange for an honest review. I promise that this does NOT affect my opinion of the book or the content of my review. For real.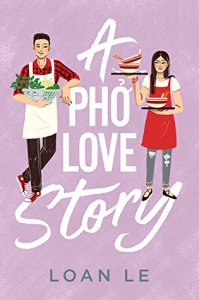 A Pho Love Story
by
Loan Le
Genres:
Young Adult
,
Contemporary
Published by
Simon and Schuster
on February 9, 2021
Format:
Audio/eARC
(416 pages) •
Source:
Publisher, Scribd
Goodreads
•
Amazon
•
Barnes & Noble

If Bao Nguyen had to describe himself, he'd say he was a rock. Steady and strong, but not particularly interesting. His grades are average, his social status unremarkable. He works at his parents' pho restaurant, and even there, he is his parents' fifth favorite employee. Not ideal.
If Linh Mai had to describe herself, she'd say she was a firecracker. Stable when unlit, but full of potential for joy and fire. She loves art and dreams pursuing a career in it. The only problem? Her parents rely on her in ways they're not willing to admit, including working practically full-time at her family's pho restaurant.
For years, the Mais and the Nguyens have been at odds, having owned competing, neighboring pho restaurants. Bao and Linh, who've avoided each other for most of their lives, both suspect that the feud stems from feelings much deeper than friendly competition.
But then a chance encounter brings Linh and Bao in the same vicinity despite their best efforts and sparks fly, leading them both to wonder what took so long for them to connect. But then, of course, they immediately remember.
Can Linh and Bao find love in the midst of feuding families and complicated histories?
When Dimple Met Rishi meets Ugly Delicious in this funny, smart romantic comedy, in which two Vietnamese-American teens fall in love and must navigate their newfound relationship amid their families' age-old feud about their competing, neighboring restaurants.
I can't lie: this book was truly one of my most anticipated debut novels ever. I remember when it was announced, I excitedly told Chris, and updated him constantly when there was a real description, cover, release date…all of that. I was thrilled to get a review copy! It took me a while to read because my reading is back to being not-great, but the addition of the audiobook really made this an enjoyable experience for me.
Bao and Linh had a lot of things trying to keep them apart – mostly their families and their warring pho restaurants across the street from each other. When they inevitably come together as friends (and more) they have to find a way to bridge the gap between their parents. Aside from the family issues, both of them are grappling with their futures. Linh wants to be an artist but is too afraid to tell her parents because they won't approve. Bao doesn't know what he wants to do and feels like he's not really "great" at anything.
Their romance was super innocent and sweet, but I didn't love it quite as much as I expected? I don't know why – there just weren't a ton of actual swoons for me. I wanted them to be together and their families to mend their rift, but their relationship was secondary to the well-defined Vietnamese culture woven throughout the story. There are a ton of things to unpack from a cultural and familial perspective here. Loan Le really made this a fleshed-out world.
I adored all of the references to Vietnamese food. My fiance is Vietnamese so I recognized a ton of dishes that I've had before and his mom makes all the time. It was such a pleasure to read! That being said – I can't even imagine how important this book will be (and how enjoyable!) to Vietnamese YA readers. I don't want to speak too much on the rep because I only know it from my perspective, but I hope it resonates with a lot of readers who see inklings of their family in these pages.
While is isn't an all-time favorite book for me like I was hoping or expected, I would highly recommend it if the premise calls to you. It was adorable and manages to be occasionally syrupy sweet and also dive into the tougher elements of being the child of immigrants (racism, familial expectations, fleeing to the US, trying to achieve the American dream – the list goes on).
Related Posts