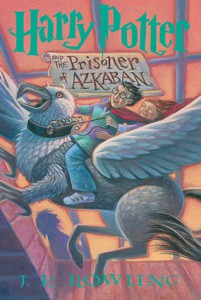 Harry Potter and the Prisoner of Azkaban
by
J. K. Rowling
Series:
Harry Potter #3
Genres:
Fantasy
,
Young Adult
Published by
Scholastic
on September 8th 1999
Also by this author:
Harry Potter and the Sorcerer's Stone
,
Harry Potter and the Chamber of Secrets
,
Harry Potter and the Goblet of Fire
,
Harry Potter and the Order of the Phoenix
,
Harry Potter and the Half-Blood Prince
,
Harry Potter and the Cursed Child
Format:
Audiobook
(435 pages) •
Source:
Library
Goodreads
•
Amazon
•
Barnes & Noble

Harry Potter is lucky to reach the age of thirteen, since he has already survived the murderous attacks of the feared Dark Lord on more than one occasion. But his hopes for a quiet term concentrating on Quidditch are dashed when a maniacal mass-murderer escapes from Azkaban, pursued by the soul-sucking Dementors who guard the prison. It's assumed that Hogwarts is the safest place for Harry to be. But is it a coincidence that he can feel eyes watching him in the dark, and should he be taking Professor Trelawney's ghoulish predictions seriously?

If I remember correctly, the first three books were already published when I started the series in 1999. So, I got this one for Christmas (which was three months after it was published in the United States) and started reading it pretty much immediately after the second book.
I remember that this one was my faaaavoriteeeee. Honestly, up until rereading, I couldn't really explain WHY. It just had a different feel than the other books: probably because of the new characters that I immediately loved. The time-turner's introduction was so cool too. I remember buying a version of the necklace when I saw it at Barnes & Noble one day too. I wore it to the rest of the movie premieres. 😉

My answer stands! I always knew I wanted to reread the series but just never found the time to do it. Rereading them through audio, as I've said before, has been such a great experience! It genuinely baffles me that the narrator can do all of the character's voices SO SPOT-ON. Honestly though, I was especially looking forward to reading this book out of the seven! Because I knew it was my long-standing favorite (without ever rereading), I wanted to verify that it was still my favorite or see if that changed.
Not a lot happens in this book until the very end, apparently. I kind of forgot that. Regardless I confirmed that this is definitely one of my favorites.
I feel like I should just list the reasons why I loved this one – back then and now!
Introduction of Sirius Black and Remus Lupin
The scene with the boggart, if only because I can picture the movie's scene so perfectly in my head and it makes me laugh
I FORGOT ABOUT CEDRIC DIGGORY. I can't believe my boyfriend was introduced in this book and I forgot <3
HERMIONE PUNCHES DRACO
The scene in the Shrieking Shack and the fact that Harry will finally have someone (a parental figure) who loves him
The time-turner and its usefulness for more than just Hermione's packed schedule

Absolutely. Of course. This was definitely re-established as one of my favorites, if not my #1 favorite. I'll definitely have to see how I feel after rereading the 4th book because these two are close contenders for my favorite.
Related Posts