Like everyone during quarantine, we've been doing a lot of cooking and baking! It's been so fun to find new meals, work with what we have, and bake tasty (well-deserved) treats. I was inspired by Communikait and her "what I'm eating lately via my iPhone" posts. They're simple photos of meals she's had and a little description about the recipe.
---
We made deep dish pizza in a springform pan after watching a video on all the ways to make pizza – it was so fun! I used the classic WW two-ingredient dough (I had to do a 1.5 cup version, using that much flour and yogurt) to get the right amount to fill the pan. I baked the dough in the pan for about 20 minutes around 425 to get it crispy first. I then added my (already warm from the crockpot) homemade marinara sauce (fit about 1.5 cups of sauce too), mixed in chopped pepperoni, and topped with cheese. I put it back in on a higher temperature until the cheese was warm. So good!
Yes, I went and made the whipped coffee to try! Without a hand mixer I definitely would never have bothered whisking forever and ever. I used vanilla almond milk on the bottom and the same ratio as everyone else for the top (2 tbsp instant coffee, 2 tbsp sugar, 2 tbsp hot water). The pictured coffee had less sugar to try to be healthy but that was a big mistake lol.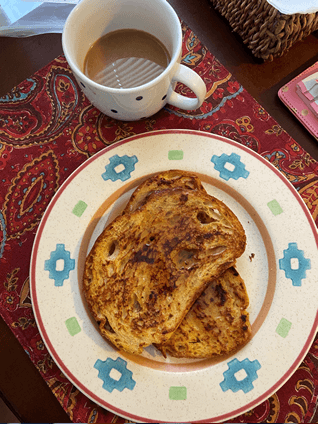 I made french toast one morning because we had some really tasty bread from Whole Foods that was on its last leg. I do a simple mixture with eggs, milk, vanilla extract, and cinnamon sugar. I tend to cook it a little too fast I think and this one fell apart because of the type of bread.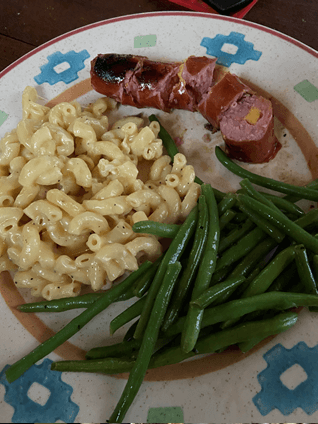 My go-to Instant Pot mac and cheese was the focal point of this meal, along with a Beddar Cheddar sausage and green beans. I love this IP mac and cheese because it's just noodles cooked in chicken broth and butter for five minutes, and then the shredded cheese and milk are melted it once its done cooking. So easy and tasty!
We got a bunch of duck bones from Chris's mom a few weeks ago so we made an Instant Pot pho soup using the homemade duck broth I made. It was quite a long process but it was SO good. We froze the leftover duck broth to make pho again soon with it. I don't really have a recipe because we basically used the seasoning pack from his mom for the flavoring once the plain duck broth was made.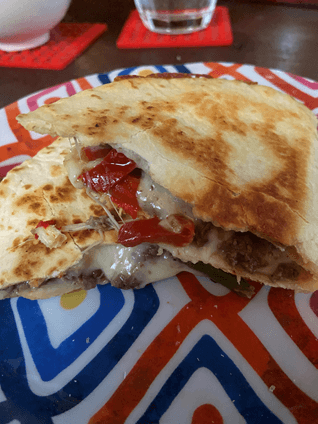 I truthfully don't remember what's in this quesadilla but we've been eating them a LOT lately. If I have leftover meat already cooked (mostly steak or chicken) we'll use it up on a Saturday for a quick quesadilla lunch. It's so easy and tasty. We always have salsa, sour cream, and guac in the fridge to dip too.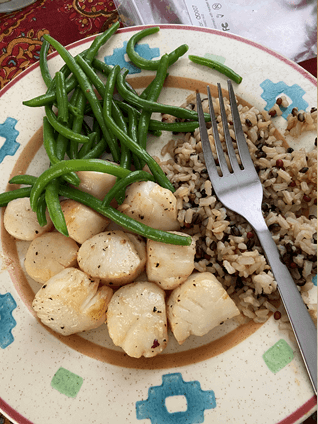 I had been craving scallops forever so we popped some in the air fryer one night for dinner. It was SO tasty and easy – literally just spray with olive oil and add basic seasonings, then air fry for however long the internet recommends 😉 We did a side of rice and green beans.
I got a random idea to make some Philly cheesesteak-esque sandwiches for dinner one day, which involved cooking up some shaved steak and peppers then topping with cheese on ciabatta rolls I had purchased beforehand. Super easy and now that I think of it, this steak mixture was in that quesadilla above 😉
In true quarantine-fashion, we decided to make a slightly random meal with whatever leftovers and canned/frozen items we had on hand or left over. We had two taco shells left so I made some crispy air fried shrimp tacos with a side of Cuban-style black beans, cilantro lime rice, and street-style corn using the Everything But the Elote seasoning from TJ's. We would usually have tacos by themselves without sides since they contain everything basically, but we went heavy on sides here so we could get filled up with only one taco! And, the bonus is that everything was so tasty.
I'm the biggest sucker for anything s'mores, so I decided to make some s'more-style Rice Krispie treats for dessert one night. I replaced the regular krispies with cocoa and it was such a good move. Chris doesn't love chocolate so he thought they were a bit much, so I would cautiously say you could remove the chocolate chips if you do cocoa krispies. If you love chocolate, ignore me!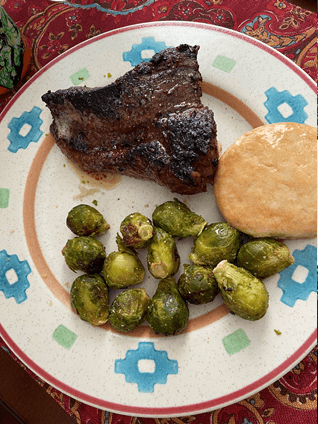 Chris has perfected the art of cast iron skillet buttery steak and also made some homemade buttermilk biscuits for this particular meal. We're usually not huge eaters of red meat but we're trying to balance some things out more in our diet lately. He made the buttermilk himself from making is own butter a couple of weeks ago, so it was the perfect time to try some biscuits. SO GOOD.
Okay so funny story here. I was looking into random recipes and saw Chrissy Tiegen had posted a recipe for Sunchips chicken that also used some sundried tomatoes, which I had in the fridge leftover. I decided to give it a try for dinner. I didn't reread the recipe before defrosting my chicken and I ended up defrosting some tenderloins instead of breasts, only to realize her recipe involved stuffing the chicken… not exactly going to work with that kind of chicken. I reworked my life and made my own recipe: Sunchips-crusted chicken tenders with sundried tomato pasta. I wanted to use up the pasta so I found a quick recipe that included sundried tomatoes, added some broccoli, and voila!
I've been trying to be better with breakfast because I get lazy unless the thing is prepared already (like if I make a batch of muffins or overnight oats or chia pudding). We've been eating some yogurt with fruit lately so I made a banana, yogurt, jam, and granola bowl. Adding the jam to plain vanilla yogurt is amazing.
Related Posts