I'm taking a cue from lifestyle bloggers and vloggers who share daily vlogs about their lives for this feature! I'm not sure if it will be a regular things around here or not, but I always am fascinated by people's daily lives and routines. I'll be sharing various pictures and descriptions of a day in my life – what I wore, what I ate, where I went, what I did, and more. Let me know what you think in the comments!
6:30 AM – 9:00 AM
I used to love getting up super early and having time to myself before work. That changed when we moved to Maine for a while because our schedules were really weird with Chris working nights and me working from home. I had to get back into the swing of having a commute and giving myself "me time" in the morning again. I have to get up at 7:30 to shower, get ready, and drive to work for 9 AM, so I like to get up anywhere during the "6:00 hour" to have as much time as possible to enjoy my morning.
I went to bed somewhat early last night because I was uninterested in the TNF game, so I woke up at 6:30. I scrolled through my phone a bit and got out of bed at 6:45 to make coffee and cereal. Tis the season for Pumpkin O's from Trader Joe's! I ate my food in the kitchen while listening to the newest episode of Serial season three.
I went back up to bed with my coffee to watch the latest The Good Place episode from the night before. It feels SO good to be caught up on this show because (a) I love it and (b) I'm finally caught up on SOME of my shows for once. I also watched a YouTube video I bookmarked the night before from RachhLoves.
I hopped in the shower, started listening to the WrestleRamble episode about NXT, got out, and did my makeup while watching Riverdale. I'm clearly trying to get all of my TV time in! I like to listen to podcasts or audiobooks in the shower and while I drive, but lately I've been watching shows during my makeup process. After getting dressed and ready for the day, I headed to work for 9 AM.
9:00 AM – 12:45 PM
I usually start my day in the office with another cup of coffee and, in this case, a yogurt. I caught up with my coworker until my boss got in, then checked my email and got started on some things. I typically take a few mini breaks throughout the day to read articles in Feedly, blog, and relax. I have problems staring at the screen all day so I tend to get up and move around sometimes. We're a bit slow right now too, so I've been pushing things through with one job and casually searching for candidates for two more.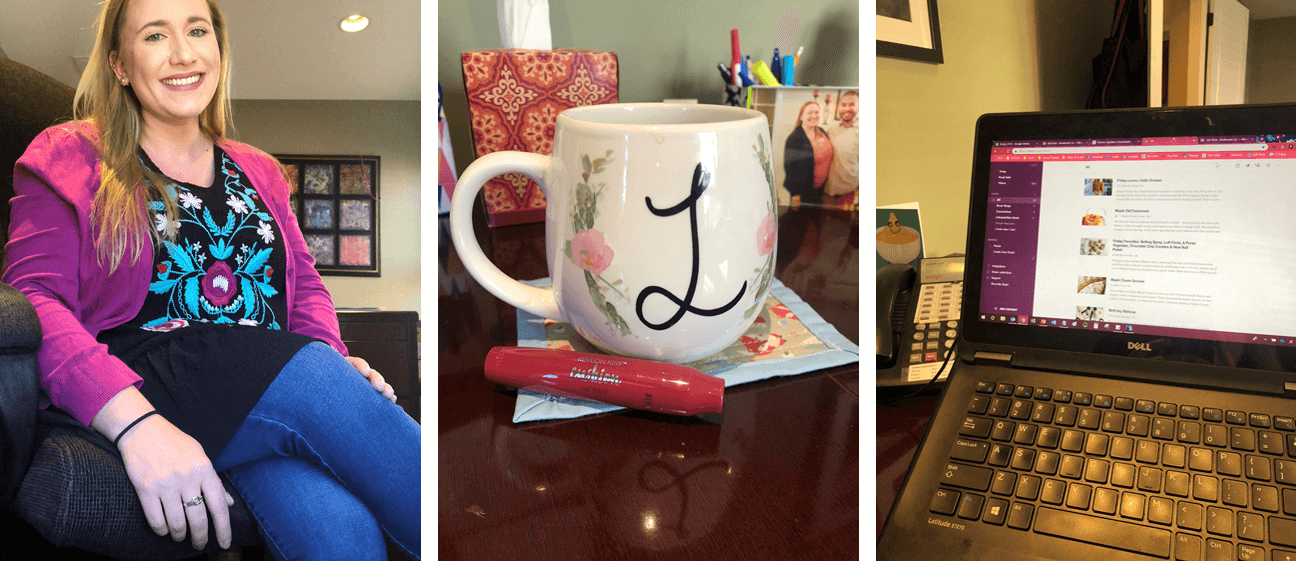 I'm trying one of the four new Revlon Kiss Cushion Lip Tint (Naughty Mauve) and am kind of obsessed with these. As you can see, I'm wearing jeans because it's Friday and a cute new top with a sweater. I've been waiting all week to wear this shirt because I knew it would look better with jeans than work pants. 😉
I usually like to eat lunch early while working and then run errands during my lunch break. I packed a BLT (which was also dinner last night) with my low-point bread, light mayo, and TJ's turkey bacon.
While eating my sandwich, I did a little Pinterest investigaton to determine what I needed at Stop & Shop. I planned on going there to get sugar free candy (I wanted s'mores this weekend and needed sugar free chocolate – less points!) and some of my Shipyard Pumpkinhead beers. I've just been craving them and yes folks, pumpkin season. I ended up getting those things and way too much more because I tend to get addicted to grocery shopping. I also needed cash for the football game tonight.
12:45 PM – 2:45 PM
I had a few zero-point snacks in the afternoon: a banana, mandarin orange, and unsweetened applesauce. We've been having internet issues this week with our provider at work. We keep gaining and losing internet and phones for extended amounts of time and we thought it improved yesterday, but clearly we were wrong. It was an annoying afternoon where we kept having to adjust plans and work. My boss ended up letting us leave early after a quick meeting.
2:45 PM – 5:15 PM
I went to my dad's house to half-work, half-relax for the rest of the work day. I facilitated a job offer with one of my candidates, which was a nice start to my weekend. I took some pictures of their cute cat, hung out with dad for a few while he got ready for the night (he got out of work early to set up), and figured out what I was going to order at Subway.
Dad left for the game setup and I followed soon after. I went over to the nearby Subway to get my  predetermined sandwich. The bread costs the most WW points, so the whole sandwich was 12 points (this is with zero-point veggies and chicken). Cheese, sauce, and bread are the only items with points. It was so tasty. I ended up bringing the sandwich up to my old apartment complex because there was a gazebo I could kill time in. Yes, I also wanted to see if our old neighbors still lived there haha. I finished eating and stopped at Walgreen's for a Diet Dr. Pepper for the game.
5:15 PM – 9:00 PM
The game started at 6:30 but I got there early to hang with my dad and stepmom and get our seats. We sit next to the band with all of the other ~band parents~ so it's always a bit rowdy. You'd be surprised. My sister held the flag for the National Anthem before the game, which was cool.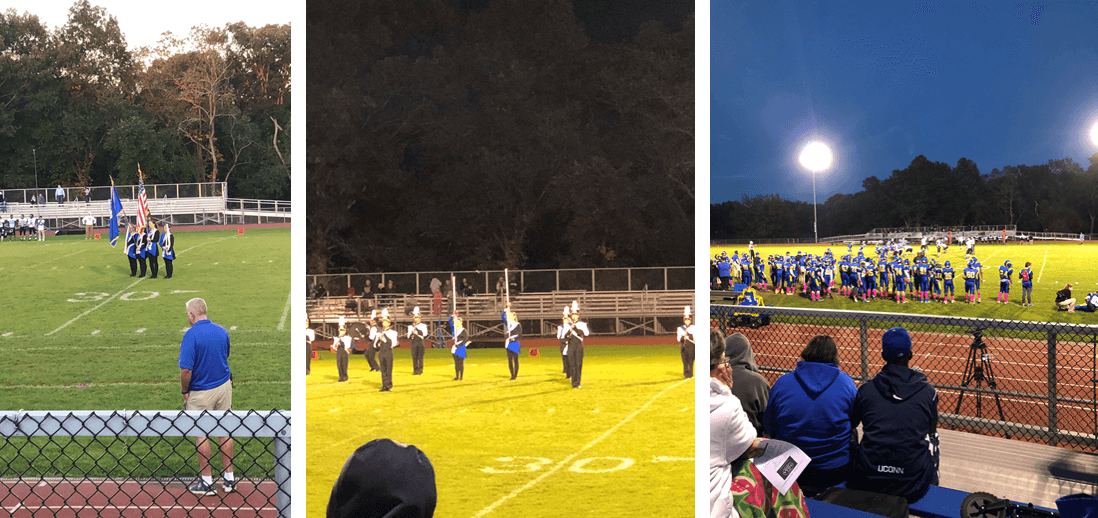 The game itself was pretty great! Her school won 38-6 or something like that. There were some injuries though, which was sad and scary because they're so young. The band did their halftime performance and my sister did a great job. She's a captain for the Color Guard so she always looks like she knows what she's doing. They won a contest so the local Fox station was broadcasting the game on their channel!
9:00 PM – 11:00 PM
We watched the band file back to the band room after the game and then I headed back to dad's house to grab my laptop and groceries I had in the fridge. I drove home to my place, which is about 20 minutes away. Chris and I caught up on some of our WrestleTalk News videos (on YouTube) and then watched an episode of Disenchanted on Netflix. The show is pretty funny but not always LOL-funny. I like the characters quite a bit actually.
My WW point allowance for each day is 23 points, but you get 35 bonus points to use throughout the week or however you choose. You could have one huge cheat day or use a few extra points in each of your days. I went "over" by 3 points because of my Subway dinner being more than I expected. I ate a lot of fruits though, so that feels good. I love having them be free.
So that was my day! Just an average Friday with some plans after work. I actually was going to do a full "weekend in the life" post but I realized my Saturday was going to be full of fall-time things, which I already planned another post about.
Related Posts