I love matching books and movies up with each other, providing recommendations based on other books you liked (if you liked this, try that!), and a bunch of recommendations from just one book. I was thinking about some of my other favorite forms of media and how I might be able to make recommendations based off those. Some of these involve podcasts that are popular with lesser known shows, or vice versa, so you'll see how they can be mixed and matched. I also have a couple that couple podcasts with books, instead of just shows or movies.
---
A Very Fatal Murder + American Vandal
As a true crime podcast aficionado, I've come to realize that A LOT of them follow the same formula: incompetent law enforcement, botched investigations, suspects who aren't taken as seriously as they should be (or vice versa), and the commentary on ~small towns~ / "it could happen anywhere." I absolutely LOVED The Onion's true crime parody podcast (complete with fake ads from products that will definitely remind you of stereotypical podcast sponsors). The show reminded me of every true crime podcast mashed into one, with the added element of parody and comedy. This is EXACTLY like Netflix's AMERICAN VANDAL, where high school students investigate the very serious crime of penis graffiti on teacher's cars (and the second season about the Turd Burglar). It's another crime procedural parody and I loved every second of its insane humor.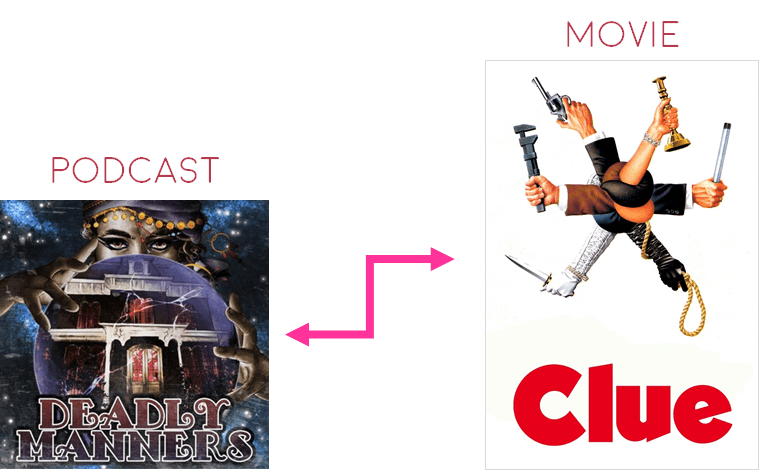 Clue + Deadly Manners
I only saw the famous comedy/mystery movie CLUE within the last year… but I've since rewatched it multiple times. I love the big mansion, the correlations to the game that I loved, the absurd humor, and quotable lines. This is a lot of people's FAVORITE movie, with good reason. It's certainly in my top twenty. While the podcast recommendation here is more serious than the movie, it reminded me quite a bit of it. It's set at a house party back in the day, where people are snowed in and dropping like flies. It's more on the mystery side but the time period is similar enough and the vibe (minus a lot of humor) is definitely relevant. (Deadly Manners also has stars like RuPaul, Kristen Bell, and Anna Chumsky narrating!)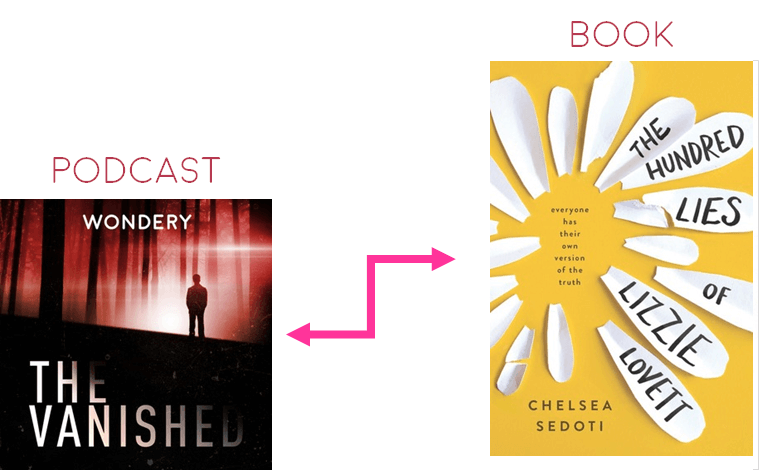 The Vanished + The Hundred Lies of Lizzie Lovett
I love podcasts about people who go missing, seemingly without a trace. There are SO many podcasts like this on my list but I decided to use The Vanished here to sync up with THE HUNDRED LIES OF LIZZIE LOVETT. The story is about a teenager who goes missing and the girl who decides to find out what happens to her. It's a little weird and complicated, compared to the podcast, but it's similar in theory. The Vanished discusses one case per episode where someone disappears, vanishes, or runs away, and the case is still unresolved.
Dirty John + You
I'm keeping with the "visual media only" recommendations here, even though I read the book first. The show and book YOU are about a stalker who will do anything to be the perfect guy for his obsession, a girl named Beck. He stalks her and hacks into her social media and email, then forms himself into being the "dream guy" for her. The podcast Dirty John follows a guy who lied about his entire life to get with an unassuming, overly kind woman. He took advantage of her while threatening her family members and acting incredibly aggressive when anyone picked up on his schemes.
Finding Tammy Jo + Sadie
Both of these involve teenage girls going missing and then being found later, murdered, seemingly without any leads about what happened. In Finding Tammy Jo, the podcast investigators learn about the missing girl, when she's finally found, and attempt to figure out what happened to her. This reminds me of SADIE because it follows a similar story. There's even a podcast element in SADIE, where someone is just a few steps behind the main character as she sets out to avenge her sister's death. There's a BIT more closure in the book (in some ways) because of how things progress with Sadie's investigation into who she believes is the culprit. Unfortunately, there aren't any major leads in Tammy Jo's case as of now.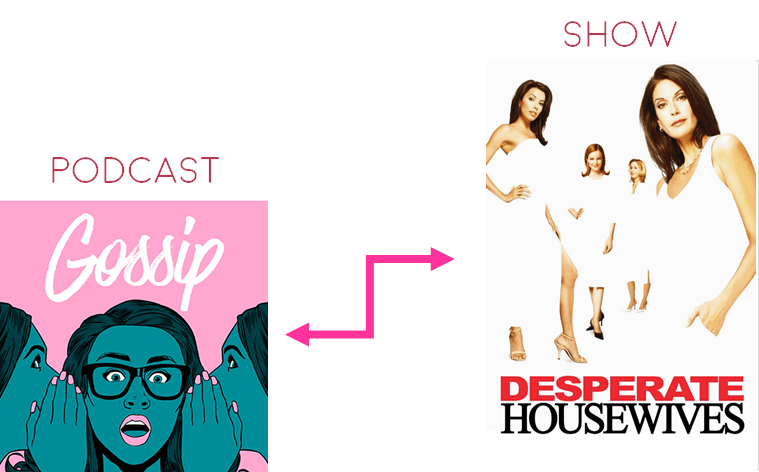 Gossip + Desperate Housewives
I loved the show DESPERATE HOUSEWIVES even though I was pretty late to the party on it. Luckily, though, I was able to binge everything in just a few months. I loved their drama, gossip, murder… everything was so over-the-top. I felt similarly with the podcast Gossip. It's an audio drama where three friends get together in a coffee shop and gossip about the other people in their town, all while dealing with this creepy mystery in the background (that's definitely not taken seriously overall). I saw a lot of correlations throughout most of the episodes, but it started to feel even more similar toward the end.
Sandra + Her
If you're curious about what could happen when artificial intelligence gets personal, these are the media suggestions for you. Sandra poses the question, in an episodic fictional format, of what would happen if someone like Siri or Alexa was actually voiced by REAL people who were given specific topics of expertise. The MC here would pop on as "Sandra" whenever someone had a question specifically about birds. It was a fascinating podcast with an unexpected conclusion. The movie HER came to mind right away, where a man essentially falls in love with his operating system. The stories for these two aren't the same, but they both make you really think about artificial intelligence and where the world is heading.
Related Posts