I really don't consider myself to be a ~fashionable~ person, but I do try to put together good-looking outfits! The VAST majority of my closet consists of Lularoe or Honey & Lace (that was a long phase of my life and I acquired way too much – I don't buy anymore but I still kept the stuff I liked!) and Old Navy. It wouldn't surprise me if I went through and looked at everything in there, only to discover that literally 90% of my clothing came from those few brands. Old Navy will always be my first love though! I buy all of my pants/jeans/bottoms from them and most of my shirts (including sweaters, cardigans, basics, etc.) from there as well. I DIGRESS. I saw this fun "what I wore this week" post on A Little Bit of Emily and decided to do the same!

We're finally hitting cooler weather in Connecticut! I feel like it went from being super hot and humid, to just plain humid, to humid and rainy, to just rainy, and now it's more cold and still sometimes rainy. It's annoying because we love hiking and hanging outside in the fall, when it's in the 50s or 60s, but everything has been so wet. In any case, I'm happy to be wearing my sweaters, scarves, and boots again!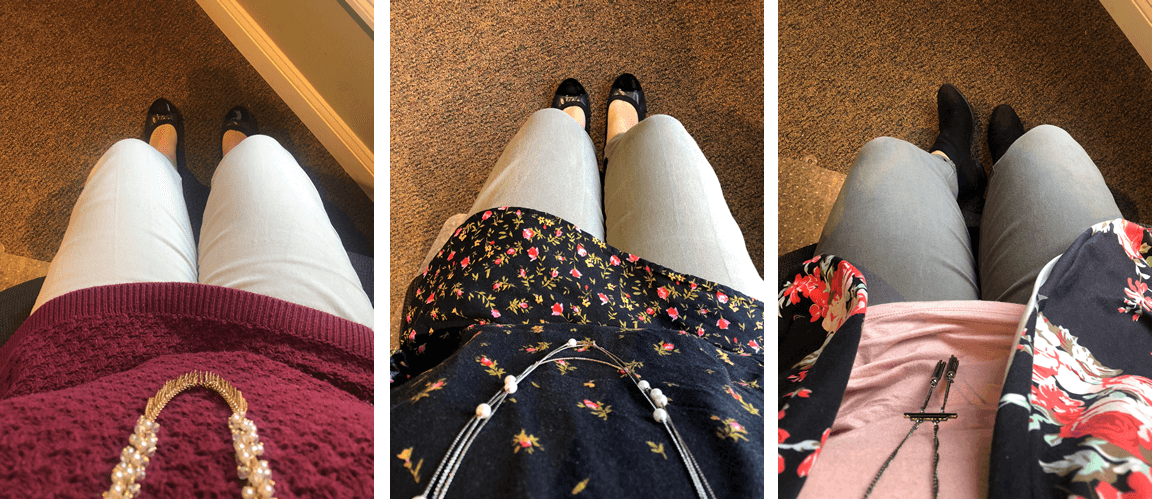 Monday October 22nd
Since losing weight, I had to shrink some of my previously-air-dried clothing items so they would fit. I'm happy to have this problem! I wore my burgundy sweater from Old Navy a couple of years ago (newly shrunk) with a pair of khaki pants (kind of a lighter tan shade?), also from Old Navy. (Believe me, this will be a pattern.) I wore my go-to Payless flats (here) too. I think the necklace is from Charming Charlie, which is likely another pattern you'll see.
Tuesday October 23rd
I got this super cute floral bell-sleeved top from Old Navy last year and yet again, it's a little too big. I wish I got a few more in this style because I keep gravitating toward those big sleeves and floral is my JAM. I'm wearing it with the twin pair of pants to the ones I wore on Monday; I got a green pair and a tan pair when I bought them at Old Navy years ago. I'm wearing a multi-strand necklace with some pearls interspersed and my Payless flats again.
Thursday October 25th
I forgot to take a picture on Wednesday and now I regret it, but oh well. Skipping ahead a day! We picked up some old clothes from Chris's parents' house that we had brought home back in April, so I was happy to grab my floral print… open long-sleeve? The material is soft, kind of like leggings, and is really thin. It's not a cardigan or sweater but just a nice top layer, found here on Amazon. The shirt is from Honey & Lace (now called Piphany) in their Tustin tunic style (image here). I have another pair of Old Navy pants – this time, they're sort of like leggings but a fancier material for work? I'm wearing my little black booties from Payless as well. The necklace is from a Paparazzi Jewelry seller on Facebook (everything they sell is $5!).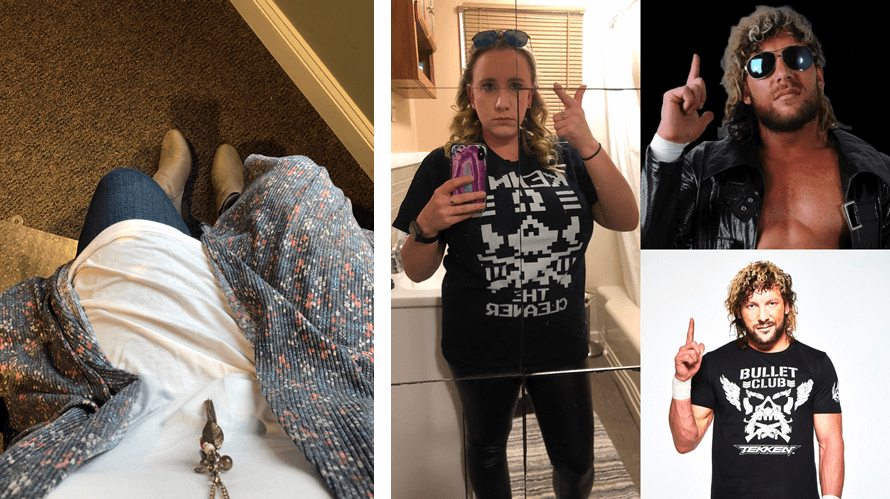 Friday October 26th (Work)
We can wear jeans on Friday, so I ALWAYS make that happen, folks. I wore my new Universal Thread jeggings from Target (here) with the tan version of the black booties I wore yesterday. I have a Lularoe Sarah sweater (super long and cozy on a cold day) on with a long off-white shirt from Amazon (here). I need a few more colors once I hit my goal weight! I don't remember where this necklace is from…
Friday October 26th (After work)
We had a Halloween costume party to go to on Friday night with Chris's friends, so this was my costume! I went as the wrestler Kenny Omega, one of my all-time favorites. I knew it would be a simple one, with his tee shirt, leather pants, boots, curly dirty blonde hair, and sunglasses.
Related Posts