I'm taking a cue from lifestyle bloggers and vloggers who share daily vlogs about their lives for this feature! I'm not sure if it will be a regular things around here or not, but I always am fascinated by people's daily lives and routines. I'll be sharing various pictures and descriptions of a day in my life – what I wore, what I ate, where I went, what I did, and more. Let me know what you think in the comments!
9:00 – 11:00 AM
I start work at 9 AM and since I currently work from home, I usually wake up right around then. Yes, I'm lazy. Today was no exception. I got up, got my coffee, turned on my computer, and checked my email. I have a candidate for a job that was made an offer from a client last night (yay!) so we worked toward scheduling a call for 11 AM. I moved on to making a quick breakfast once my emails were dealt with. Because we're heading home to CT tonight for a few days, we needed to finish up our eggs. I made a little fried egg on toast with an apple and cashews for breakfast. I've been using the LifeSum app to count calories and track how healthy I'm being, which is fun! Once I put in my food, it tells me if I'm high or low on carbs, protein, and fat. I try to remedy it by changing up what I'm eating. I learned that an egg on toast is definitely not enough so I added the other things to make it more balanced. It's actually pretty filling, so I can see why they recommend these things!
I'm big on taking short breaks to keep productivity up, so I usually peek at a blog post from someone once an hour. At some point, to get away from the screen, I'll take a quick shower. I don't usually wear makeup unless I'm going somewhere later on so it only takes me a few minutes to hop in and get back into comfy clothes. It's a glamorous life. This morning I hopped in the shower after my call and knew I was planning on venturing out, so I changed into comfortable-but-good-for-outside clothes… that always means some Lula leggings and a top. It's weirdly warm out today (in the 60s!) so I'm keeping it light and simple with the leggings, a tee shirt, and a sweater.
11:00 AM – 1:00 PM
I got some more work done after spending some time getting ready. My lunch break is usually 30 minutes to an hour, depending on what I'm doing. Because the weather is FINALLY warm (don't get me wrong, as a skiier I'm okay with the cold, but I am excited for a little reprieve!), I just had to go outside for lunch. We live just above Portland's downtown-y area, so we usually like to walk north (away from downtown) to some of the little shops and restaurants near us. There are four coffee places now less than one mile away and I'm PUMPED.
Based on timing for today, Chris and I decided to go to The Proper Cup for coffee (just for me) and a lunch/snack. We tried a blueberry hand pie that was pretty good but truthfully a little bland. I love the industrial vibe inside the shop but their selection is super small. The cold brew will be enough to make me a repeat customer though! We hung out there for a few minutes and watched a cute dog out the window.
1:00 PM – 5:00 PM
After walking back to the apartment, Chris started getting ready for an interview he had. I got back to work for a few more hours but took 5 minutes to walk with him down the road to his meeting. I made sure to bring my headphones for the walk back to catch up on my This Is Love and WrestleRamble podcasts. Because we're heading home to Connecticut for a few days so I can have some face-time in the office, we also had to pack up our stuff throughout the day. My boss was kind enough to let me work remotely for this year in Maine, but I head home monthly for 2-5 days to get some in-office time. This week, she is in Iceland for vacation, so I'm mostly helping my other coworker have some company in the office. This is going to be our shortest trip home yet; we're heading out tonight and will be driving back to Maine on Friday night.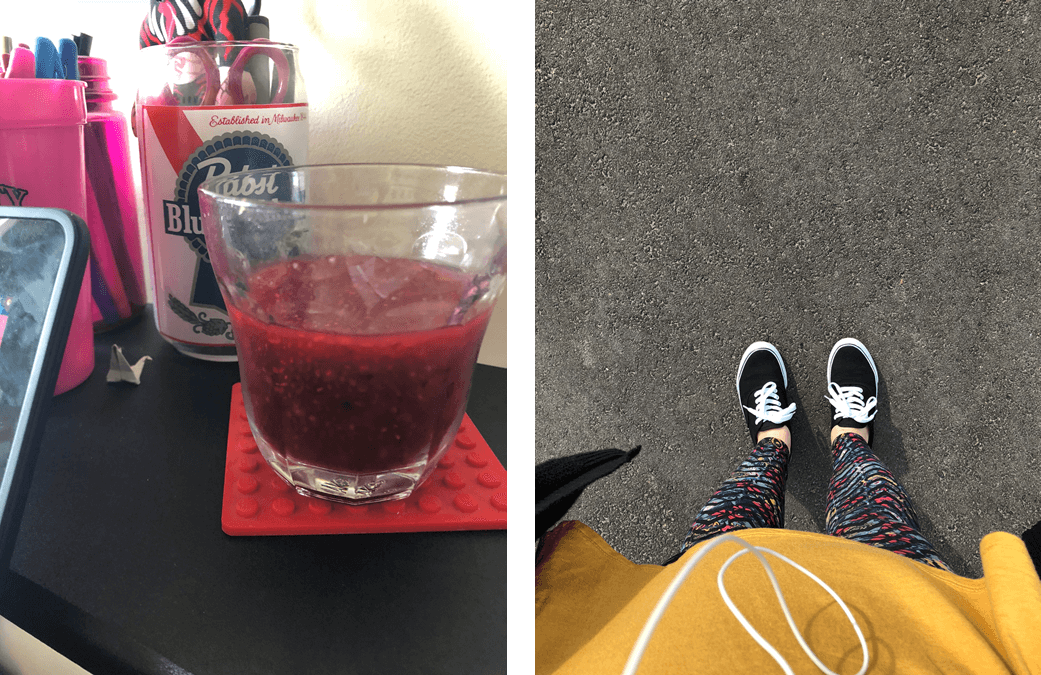 We try to get everything packed before I'm technically done with the workday (or the night before), because it's easier to leave promptly at 5:00 PM when I'm done working. We only bring home laundry to wash and wear when it's clean. I always pack an outfit or two for the office if I know that I was a scrub and won't have nice clothes in the hamper lol. Our biggest goal in the few days before heading home is to finish up any fresh food or drinks that might go bad while we're gone. We made a green tea raspberry lemonade chia seed drink (what a mouthful) this week that I had to finish off, AND we needed to use one last banana and avocado in smoothies. These drinks were good enough to hold us over in the early afternoon.
We usually stop for fast food as a little treat on our way home, but we've been doing that after skiing each time so we're cutting back! We ended up making some of the Trader Joe's frozen dinners around 4:30 as an early dinner/late lunch. Right before we left, I got my shipment in from Barnes & Noble, which was super exciting and one day early. Chris also ordered me something for Valentines Day that finally arrived too. Pictures are below!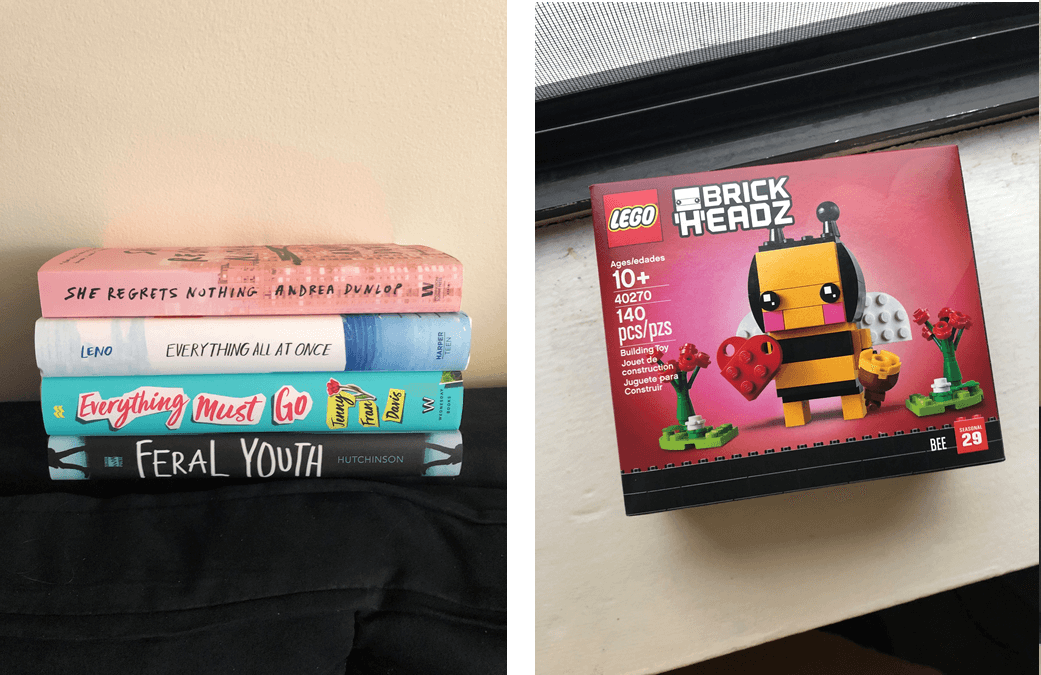 5:00 PM – 8:00 PM
It's a three hour drive back to Connecticut, so we usually arrive at Chris's parents' house (where we stay when we go home) around 8:00-8:30 PM. I had to stop for gas on the way this time because I was a dummy and didn't get it ahead of time. Chris and I usually just keep music on in the background and chat, but if he falls asleep I'll toss on a podcast or audiobook instead. He fell asleep for about an hour so I listened to the WrestleRamble podcast.
8:00 PM – 12:00 AM
Chris's mom is one of the best cooks ever, so it's always great to stay with them and eat her food. We knew she would have something waiting for us when we got back, so we made sure to save room after our late lunch. We dropped our laundry in the room (for Chris to take care of Thursday and Friday while I'm working) and got settled in. She made wrap (spring rolls) for dinner so we enjoyed that. I forgot to take a picture, which is probably for the best because I did not do a good job wrapping them like I usually do.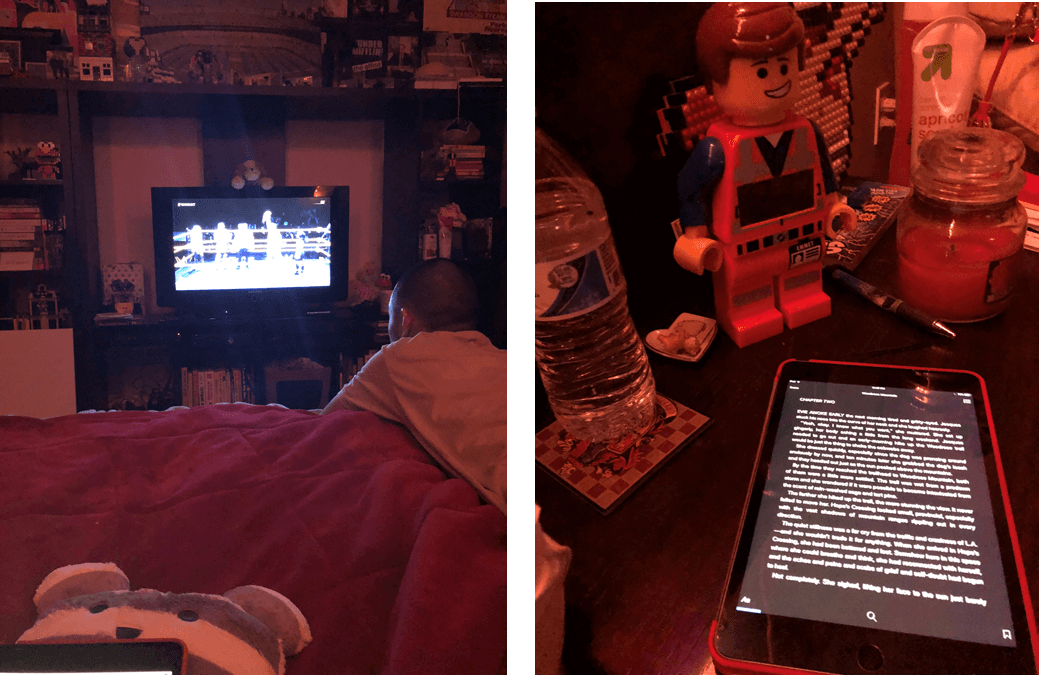 After hanging around his parents a little bit and eating, we headed upstairs to our spot. We have a lot of our belongings already in Chris's room because we didn't bring all of our stuff up to Maine. It works out really well since we come home each month. Luckily there isn't live wrestling on Wednesday nights (just NXT prerecorded), so we don't have to play catch up on anything. We did end up watching NXT and 205 Live though before bed. I thought I was going to have to finish my book for book club but luckily I managed to get it done on Tuesday! This meant I could just relax and enjoy some TV after the long drive back home. I went to bed around 1 AM as usual and regretted it in the morning, also as usual.
Glance at the next day
My plans for the next day included stopping at my favorite cafe/bakery on the way to work, since they have a new app to order and pay ahead. I would be working in the office all day with a lunch break to run some errands as needed. My book club is usually around 6-6:30 PM so I stop at my dad's house (in between work and the restaurant) for an hour or so to say hi. For book club, we decided to meet at as soul food place because chicken and waffles trump calorie counting 😉 Book club usually wraps up before 8:00PM so I head back to the house and get ready for the next day.
Related Posts