Like everyone during quarantine, we've been doing a lot of cooking and baking! It's been so fun to find new meals, work with what we have, and bake tasty (well-deserved) treats. I was inspired by Communikait and her "what I'm eating lately via my iPhone" posts. They're simple photos of meals she's had and a little description about the recipe.
---
I made a lot of Cravings recipes since my last What I'm Eating Lately, which were in a dedicated post, but we've made a lot of other things in between that will be included here. I'll also be including more Cravings recipes since that roundup! 
I bought some fresh lobster from my friend's dad's seafood shop/deli a month or two ago because Chris was craving lobster pasta. We have a favorite local spot that has a suuuuper creamy lobster pasta – it's really good but just too much sometimes. I decided to do a really simple and light one with butter, lemon juice, crushed red pepper, etc.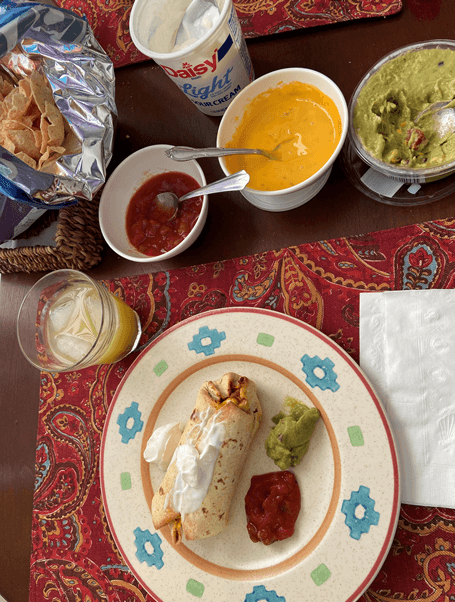 This was our Cinco de Mayo meal of chimichangas with all of the usual dips and sauces. I think I shared this back then but whatever. I also made jalapeno margaritas, which were so delicious.
We've gotten in the habit of making tasty, huge breakfasts on the weekend since we don't usually have plans right away. This was a huge, loaded breakfast sandwich that we made a month or so ago. It was so tasty.
We made our first journey out to a really tasty ice cream spot near our hometown where I got pistachio ice cream. That and black raspberry are my two favorite flavors and I made the right choice this night – totally hit the spot.
Chris and I have started to use our grill a little more, so we made grilled steaks with a baked potato and roasted broccoli for dinner outside. We're hoping to upgrade to a real one soon, since we currently have a small camping grill, but this one does the trick in the warm weather!
I took a recipe from the Cravings cookbook and made some charred fish tacos for dinner (with a lot of adjustments). We'd made some pickled radishes that we wanted to use up as well as guacamole from the weekend and a few other toppings. I also made a Mexican street corn salad that we put on top instead of on the side.
More tacos! I talked about this in a recent post but these were adapted from Jessica Braun and her husband on YouTube. They're kind of an Asian-style taco with beef and various veggies. They use this meat with traditional taco toppings but we used carrots, pickled onions, and other vegetables that matched the vibe a little better!
I'm a huuuuuge sucker for a shrimp caesar salad in the summer, guys. I will make this as often as humanly possible to use up the abundance of lettuce we always have in this house. I made homemade croutons, added parm cheese, light caesar dressing, and shrimp.
Another Cravings recipe that didn't make it in the roundup: popovers with brie and jam! We had this at Jordan Pond in Acadia National Park, which is a famous spot for them, and they were so good and fresh. I knew I wanted to try my own and Chrissy's recipe was so easy.
We made BA's Best Chicken Parm, which was reallllly delicious but SO labor-intensive. I've never really fried chicken but it took ages for the oil to get up to temperature and even then, the outside crisped up too quickly and it wasn't cooked inside. We baked it to finish it off and it just took us so long to get this made lol. Worth it? Probably, because it was the best homemade chicken parm I've ever had, but it likely won't happen again around here for a loooong time.
I make this Mississippi chicken recipe sometimes in the Crockpot and it was just as good this time around. It's basically chicken, a stick of butter, a packet of ranch mix, and a packet of au jus. You can find a few variations on Pinterest! I also made a huge Caesar side salad for this night.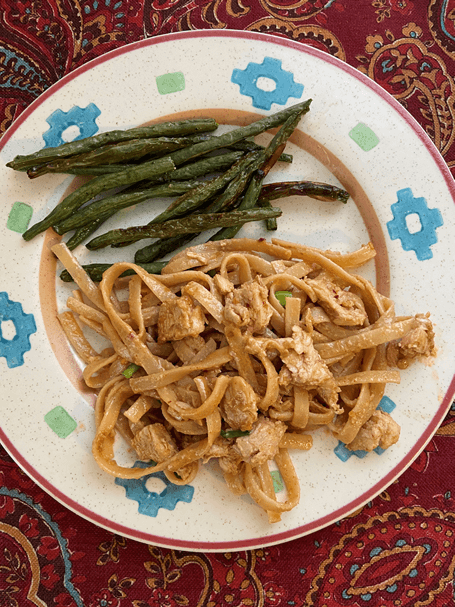 Yes, back into Cravings territory. I've heard great things about her sesame tahini noodles and they were DELICIOUS. Great leftovers too. I made a side of green beans since there's really no veggie in these except for scallions. I can't wait to make these over and over again.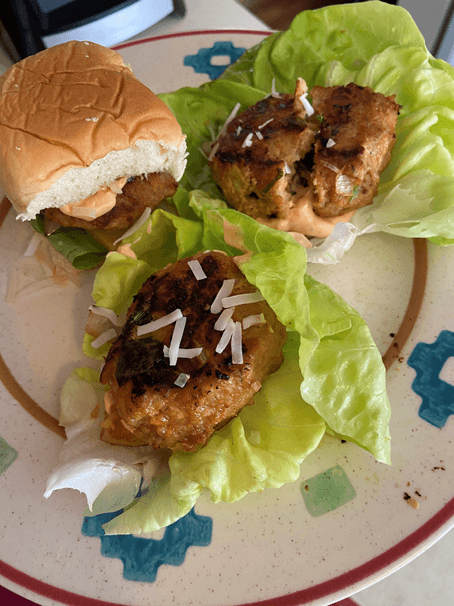 I loved this Cravings recipe too! I made a mistake and bought the small King's Hawaiian rolls a while back so I adjusted the teriyaki chicken burgers on coco buns recipe to make tiny slider-style burgers. You add butter and shredded coconut to the buns so they get all crispy and sweet. I only had one bun and ate the other two in lettuce wraps. REALLY tasty and flavorful.
In one of our first ventures out of the house, we went to our favorite brewery and set up chairs last Sunday. There was the Cousin's Maine Lobster lobster roll truck there so we grabbed a few, got a beer, and sat outside for a while in the sunshine.
Related Posts