I LOVE reading personal posts from other bloggers and seeing Jamie's "If We Were Having Coffee" feature take off is so fun. Laura and Lindsey also have some great spin-offs of this feature too. I was very tempted to also make mine margarita-related (like Lindsey) but coffee is so ingrained in my daily life that it just makes sense to keep it. If you're not familiar, it basically involves a fake little conversation about what's been happening in our lives lately. Read on to see what's been happening lately and feel free to chat back in the comments!
If we were having coffee… I'd tell you that I'm currently participating in Bout of Books and hope to make some good progress this week! I binge-read multiple books over the weekend and will start off the readathon with A TAXONOMY OF LOVE today. I'm off to a great start this year (especially because I started and finished two books yesterday!). What are you currently reading and/or listening to?
If we were having coffee… I'd say that I've felt super energized by reading again now that my 2017 ban of reading between Christmas and NYE is over. I reached my goal of 150 books on the 26th and didn't want to finish the year on an random number (I would have had to push to 155 books if I was going to keep reading), so I just stopped for the rest of the year. It felt weird to not read; I ended up binge-watching some TV shows and had friends come visit for NYE. I decided to lower my goal yet again to 120 books so that I can focus on the crazy year 2018 will be. I have too many weddings and bachelorettes, plus soaking up Maine and then moving. I don't want to get overwhelmed by reading this year when I have other things happening. Did you meet your Goodreads goal last year? What did you set it to this year?
If we were having coffee… I would share my feelings on having some post-holiday blues. It always happens this way because I LOVE the holiday season. I get so caught up in the lights, decorations, books, and movies that it's such a rude awakening when January hits. We're a few weeks past Christmas now and I'm just feeling meh about it. How do you feel about the lack of holiday cheer in January? 
If we were having coffee… I'd talk about resolutions. I don't usually make them and talk about how meaningless the whole "new year" thing really is, but I'm not sure if I feel that way anymore. Don't get me wrong, I don't care much about NYE celebrations in general, but I kind of like the fresh slate feeling lately? I make book/blog goals and a few personal ones but it's nothing crazy. What do you think about resolutions? Do you make them?
If we were having coffee… I'd say how conflicted I feel on a regular basis. Sometimes I love Portland and the fact that we're here right now; I even think about staying longer and figuring something else out. But, many other times I'm eager to be home. I'm trying not to wish away the next 6 months but it's hard to make plans without simultaneously wishing it away. Do you live in or near your hometown? 
If we were having coffee… I'd talk about the wild blizzard we got up here last week! I woke up to a lot of snow and it continued throughout the day. We had a crazy cold week leading up to it too; most days were either under 7-10* and often dipping into the negatives. I love the snow (we went skiing the night before the blizzard) but it is NOT fun to dig a car out of a super crowded parking lot with very narrow spaces the next morning. Did you get hit with this ~bomb cyclone~ thing?
If we were having coffee… I'd obviously talk your ear off about the Panthers and I know you probably don't care. I'm really frustrated by the inconsistency they had all season. Seriously no team deserves the name Cardiac Cats quite like them and it's never easy (on my blood pressure) to be a Panthers fan. I'm super proud of their season though (especially after last year's disappointment) and can't wait to see what's next! I would also complain EXCESSIVELY about the absurd officiating in yesterday's game and you would want to stop being my friend. Do you care about football? Who is your team? If its the Patriots or another NFC South team, don't bother commenting. ?❤️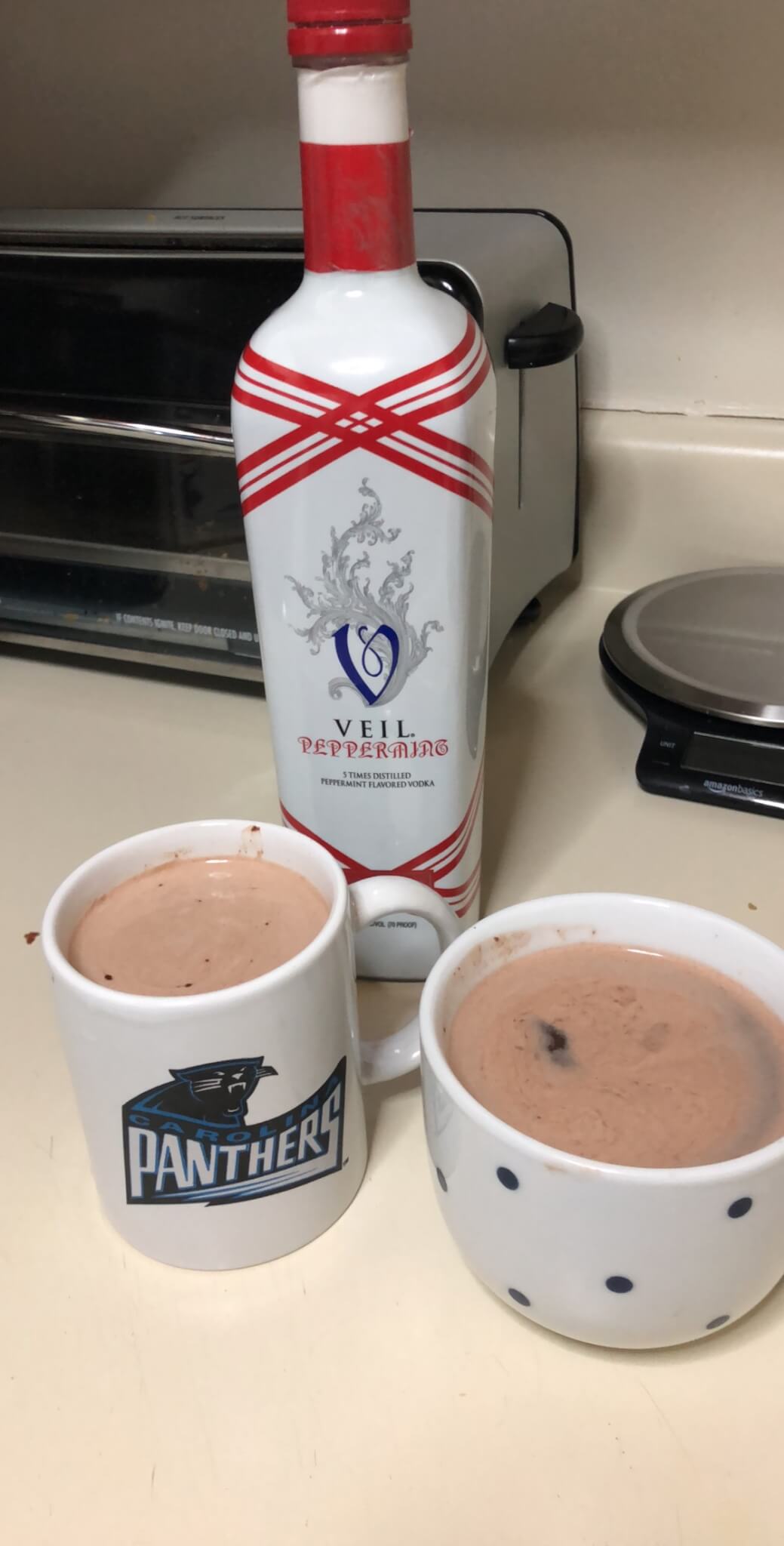 If we were having coffee… I would talk about my new planners! So far I love both my Plum Paper and Bookish planners. I carved out some space on my desk so both of them can always be open for writing in. I'm still getting the hang of what I actually want to write in the bookish one, but it's coming along! You can look for a planner post later this week. Do you use a paper planner?
If we were having coffee… I'd ask what you did on NYE! We had some friends come up to Portland for a couple of nights and it was really fun. We mostly hung around because it was too cold to walk downtown, but we're the kind of people that can just be lazy together and enjoy it. My friend brought peppermint vodka and we mixed it with hot chocolate for a midday beverage a and holy crap was it good! We still have quite a bit of alcohol left and we don't drink that much, so we'll see when that finally gets used. How was your New Years celebration?
If we were having coffee… I'd chat about my weekend plans. So we had a LOT of finagling to do with this coming weekend. My friend whose wedding I'm the Maid of Honor for (is there a better way to phrase this?!) has a couple of dress appointments and a venue tour this Saturday in the general Boston/Salem area. I wanted to prioritize coming down there for her because I just feel like I haven't been THERE for her as much as I like. Anyways, the next day we have a grad party in New Hampshire. Needless to say, I didn't want to drive from Portland to Boston and back, then drive from Portland to NH and back the next day. We decided to book a hotel for a couple of nights because I had a free hotels.com night (yay!) and stay there from Friday to Sunday. Chris will snowboard at a local mountain when I'm doing wedding things. I'm glad we figured it out and I'm looking forward to a weekend away but man did that take some time to figure out. What are your plans for this weekend?
Related Posts