I don't like to do too many weekly memes on the blog and usually stick to TTT, but I thought it would be fun to occasionally post Wednesday memes I'm interested in. It won't be weekly, but it'll be fun to recap the previous week or so and talk about what books I have on the docket. It will be a combination of WWW Wednesdays and Waiting on Wednesdays (more details below!), as well as anything else I'd like to share. 
I haven't done one of these since 2017 and thought now would be a good time, since my reading is terrible and I have no reviews coming that soon.
---

Waiting on…Wednesday is hosted by Breaking the Spine and
asks upcoming releases that we're eagerly anticipating.
I'm currently waiting impatiently for…
Majesty by Katharine McGee
Release Date: September 1st, 2020
Is America ready for its first queen?

Power is intoxicating. Like first love, it can leave you breathless. Princess Beatrice was born with it. Princess Samantha was born with less. Some, like Nina Gonzalez, are pulled into it. And a few will claw their way in. Ahem, we're looking at you Daphne Deighton.

As America adjusts to the idea of a queen on the throne, Beatrice grapples with everything she lost when she gained the ultimate crown. Samantha is busy living up to her "party princess" persona…and maybe adding a party prince by her side. Nina is trying to avoid the palace–and Prince Jefferson–at all costs. And a dangerous secret threatens to undo all of Daphne's carefully laid "marry Prince Jefferson" plans.

A new reign has begun….
I'm just such a big fan of McGee's work – I even included THE DAZZLING HEIGHTS in my last post like this back in 2017! I enjoyed AMERICAN ROYALS but not as much as I hoped, so let's see how the sequel goes… The ending totally drew me in and I am reaaaaady.
---
Release Date: August 11th, 2020
As two neighborhood shop owners battle for business, they prove opposites attract in this outrageously funny romantic comedy from the USA Today bestselling author of Meet Cute.

Blaire Calloway has planned every Instagram-worthy moment of her cupcake and cocktails shop launch down to the tiniest detail. What she didn't plan on? Ronan Knight and his old-school sports bar next door opening on the very same day. He may be super swoony, but Blaire hasn't spent years obsessing over buttercream and bourbon to have him ruin her chance at success.

From axe throwing (his place) to frosting contests (hers), Blaire and Ronan are constantly trying to one-up each other in a battle to win new customers. But with every clash, there's also an undeniable chemistry. When an even bigger threat to their business comes to town, they're forced to call a temporary time-out on their own war and work together. And the more time Blaire spends getting to know the real Ronan, the more she wonders if it's possible to have her cupcake and eat it too.
I've looooved both of Hunting's recent releases with Forever Romance, so clearly I'm pumpmed for this one! I love the cover too. This one is about rivals-turned-lovers who have to work together to save both of their businesses.
---

WWW Wednesday is hosted by Taking on a World of Words and asks the questions below.
 What are you currently reading?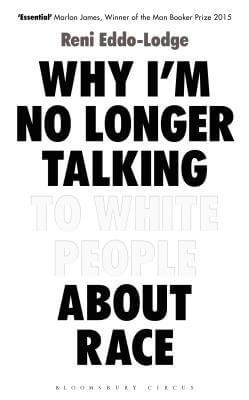 Why I'm No Longer Talking to White People about Race by Reni Eddo-Lodge (Scribd ebook)
My Calamity Jane by Cynthia Hand, Brodi Ashton, Jodi Meadows (owned ebook)
The Deck of Omens by Christine Lynn Herman (Hoopla audiobook and hardcover)
Four Days of You and Me by Miranda Kenneally (egalley and Scribd audiobook)
Can you tell reading is a struggle right now? I keep starting books and never finishing any! The good thing with this lineup right now is that I have multiple formats and genres to mix up. When I want something to help improve myself and get riled up about the current state of the world, I'll read WHY I'M NO LONGER TALKING TO WHITE PEOPLE ABOUT RACE. When I want some historical fiction and humor, I'll turn to MY CALAMITY JANE. When I want something fun and contemporary from a favorite author, I can read FOUR DAYS OF YOU AND ME (I actually have the audio option for this one too.) And finally, my book club is virtually meeting tomorrow to discuss THE DECK OF OMENS so I've been alternating between the physical copy reading and audiobook.
What did you recently finish reading?
Love at First Fight by Sandhya Menon (digital novella)
I'll Be There for You by Emma Lewis (hardcover coffee table book)
Paradise Cove by Jenny Holiday (egalley)
Again, you can see my struggles. Two out of my three most recent reads are novellas or small ass coffee table books. The third, PARADISE COVE, was a wonderful adult romance from Forever (my fave imprint for romance!). LOVE AT FIRST FIGHT is a novella in the Dimple and Rishi world, which has me super excited to read Menon's next book (already on my Kindle!). I ordered this little coffee table Friends book and mostly enjoyed it 🙂
What do you think you'll read next?
The Boyfriend Project by Farrah Rochon (egalley)
My Summer of Love and Misfortune by Lindsay Wong (egalley)
Sunshine on Silver Lake by Annie Rains (egalley)
I'm hoping to get moving on some egalleys. THE BOYFRIEND PROJECT just published yesterday and even though I was so damn pumped to read it, my current slump prevented me from ever getting to it pre-publication! Ugh. MY SUMMER OF LOVE AND MISFORTUNE is one of a few May books that didn't get pushed off, so I need to get to it. Reviews don't look great so I'm nervous… And finally, SUNSHINE ON SILVER LAKE will bring me back to my beloved Sweetwater Springs! <3
Related Posts