Skincare
My focus lately, for the most part, has been on new skincare items and routines. I have this problem where if something doesn't work immediately (or breaks me out initially), I quit using it and assume it won't work. I really need to give things a fair shake and see if they last.
Tatcha's Starter Kit
After reading Sydney's post about her experience with Tatcha, a brand I've been looking to try, I decided to buy the two week starter kit. I have oily skin but it's been very tame in the winter months this year. This is probably due to a combination of a few things, which I'll talk more about later, but it starts with skincare.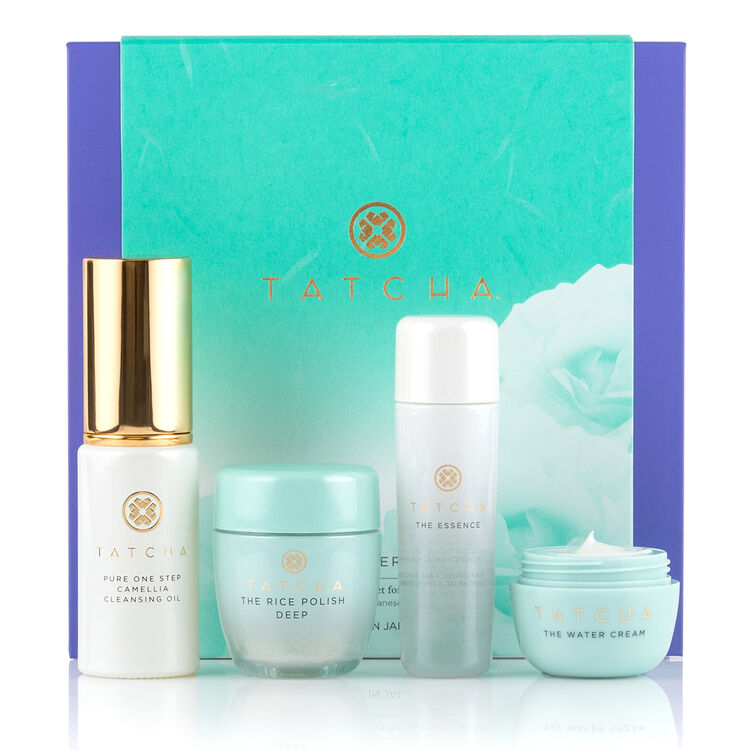 The Starter Ritual Set (Normal to Oily Skin): I think I'll talk about each item individually because I have  mixed feelings about some of them. I like the kit in general though because the small-ish sizes are big enough to definitely last more than two weeks, in my opinion.
Pure One Step Camellia Cleansing Oil: ?? So I'll admit that cleansing balms and oils are just not for me. People who wear a LOT of makeup on a regular basis – do any of these work nicely for you?! I have to use 5 pumps to get everything off, I hate using it on eye makeup, and it just feels weird on my skin. It's not the oil's fault here because it's ALL oils and balms, but I won't bother with this in the future.
The Rice Polish (Deep): ?? This is supposed to be the face wash essentially. You pour the granules in your hand, mix water into it, and create a foamy paste. It's a gentle exfoliant that removes leftover makeup and cleans your face. I like this a lot! I started by using this at nighttime because it was easier than using my stupid face brush to wash my face. However, I recently switched to using it in the shower and using other things at night, and I'm enjoying the soft canvas on my face/skin for makeup in the morning.
The Essence: ??‍♀️ I'll be honest, I have no idea if this shit works. I like the feeling on my skin and it combines well with the moisturizer, but I don't know! I've been using it with and without my toner (witch hazel in the morning and Pixi Glow Tonic in the evening) but can't see a difference really? Anyone have strong thoughts on this??
The Water Cream: ?? I adore how light this is. I usually use a super mattifying moisturizer during the day (under makeup) and a more moisturizing one at night. This one seems light enough for daytime for me and hydrating enough for night. I recently decided to keep using my Clinique Moisture Surge at night again to really hydrate, and use the Water Cream under my makeup instead.
I'll definitely do some experimenting to see how to mix in my other favorites and still achieve the same results. I like how soft my skin is. I broke out a little bit when I started using it but I think it was because of my period and getting used to it. I also definitely have a foundation that breaks me out but it's currently the only shade I can match so that's COOL.
Korean Skincare Two-Step Cleansing
After running low on my Tatcha set and continuing to mix in each item, I decided to focus in on the cleansing and makeup removal part of my nightly routine. I started using the Tatcha Rice Polish in the shower so it cleans my skin for makeup, and using a different cleansing routine at night.
I saw a Buzzfeed article about a two-step cleansing process, which I thought would be great for my oil/balm issues and clear my skin up. Because this two-step routine cleanses your skin twice, you use the oil part to remove oil-based impurities and follow with the water-based cleanser to remove dirt and sweat.
The Face Shop's Rice Water Bright Light Cleansing Oil and Cleansing Foam: Yes, I did order this immediately after reading the article. Literally… right away. I've been itching to find something that actually cleans my face to the extent that I want! I've found that applying toner after washing my face (using a cotton round) STILL shows foundation on the cotton. I've been using this since the middle of the month and so far so good! I love that the oil-based cleanser doesn't require as much as any other that I've used. It's very light and watery (for an oil, at least!) so it spreads super easily on my face and does a REALLY good job of removing makeup before cleansing with the other one. I like that too! It's so nice and this two-step process makes my skin feel flawlessly soft.
Makeup
Foundation Struggles
I've been experimenting a LOT with foundation lately, finding that every one I try out ends up having something wrong with it. I want something long-lasting, doesn't let my skin get oily too early in the day, doesn't cake or break apart on my upper lip and chin, and actually matches my skin tone. The skin tone thing has been more of an issue than I expected, to be honest. I always just bought the lightest shade of everything but I learned recently (from being skin-color-tested at Estee Lauder AND in Sephora), I need something slightly darker. It's been a frustrating saga where things look good in the bathroom but too dark or rosy in natural light… or too light or too dark in general. I've tried a bunch of foundations and shades in the past 6 months or longer, so I thought I'd do a round-up of everything, what I liked and didn't like, and where I'm at today with my foundation choices.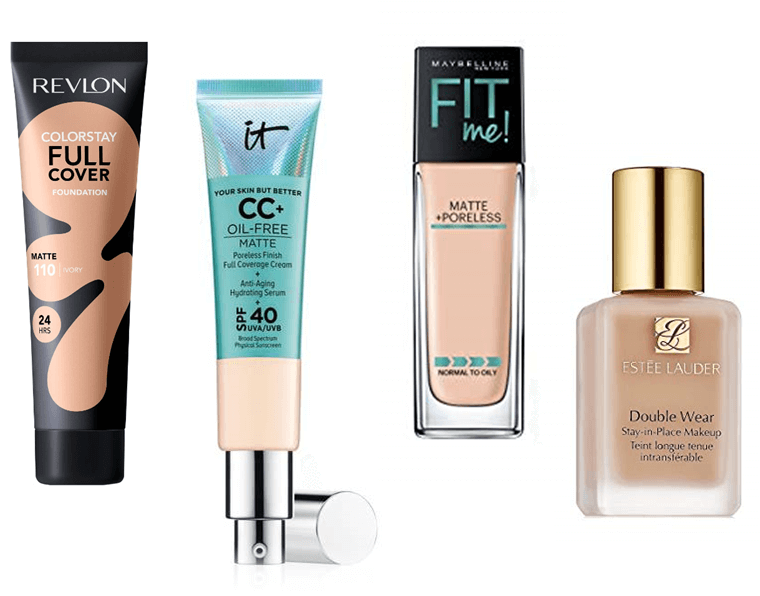 Revlon Colorstay Full Cover:
Pros
Keeps me less oily – nice and matte
Good color match for the most part
Creamy instead of liquid
Decent for filling pores
Cons

Probably responsible for my breakouts
Not the most full coverage even though it claims to be
IT Cosmetics Matte CC Cream
Pros
Keeps me less oily – nice and matte
Good color match when I mix the two lightest
Pretty finish for most of the day
Cons

Breaks up on my upper lip/chin
CC cream isn't the best for long-wear for me
Price isn't great but not terrible for non-drugstore
Estee Lauder DoubleWear
Pros
Holy grail foundation from forever
Matte, least oily skin
Full and even coverage
Cons

Hard to find the right shade – mixed information
Most expensive of all of these
Maybelline Fit Me Matte + Poreless
Pros
Super cheap/accessible
Good job with pores
Pretty good for oiliness
Cons

Hard to find the right shade/undertones
Often too rosy or too yellow
So, after many trials and tribulations and test size foundation samples… I found that my holy grail Estee Lauder is probably my best option, as expected. I still continue to mix in ALL of these (minus the Revlon breakout one) to use them up and find the right shade. I got two samples from Estee Lauder, one that matched their recommendation and one that matched the Sephora recommendation, and the Sephora match was better. I think the cool tones tend to be too rosy for my skin and make it look too pink, so the neutral Ecru shade is the best option for me as of right now. I'll mix it with drugstore colors to make it last longer too, because no shade is 100% right for me. This is definitely the closest shade though! My issue is that, oddly enough, I'm not staying as matte as I used to with DoubleWear. The Revlon one is the one that keeps me the most matte. Once I get my skincare routine finalized, I'll see if it really is the cause for my breakouts and mix some in…
Cheap Dupe for Shape Tape
GUYS, THIS IS THE BEST. I watched so many YouTube videos with people testing this and I fell in love the first day I tried it on. It's the Elf 16 Hour Camo Concealer, and it's a serious dupe for Tarte Shape Tape (one of my other favorites). So I still love and am obsessed with the Too Faced Born This Way (sculpting) concealer, but I kept thinking the shades are too dark for me in the winter. So, I find myself mixing in one swipe of this concealer with one swipe of this Elf one. It goes on so nicely, brightens my face, and stays put allllll day. No creases under my eyes, which Shape Tape and Born This Way have done to me in the past. I still set it with my favorite Peach Perfect Powder. The best part of this dupe? IT IS $5 GUYS.
New Mascara
I have a tendency to find a favorite mascara and stick with it FOREVER. I don't try new ones very often and am weirdly loyal to the ones I like. My original favorite was the classic pink and green Maybelline one, then I moved to Lash Sensational, then eventually tried something high-end, and within the last year I've landed on the L'Oreal Lash Paradise. I read a blog post recently where someone talked about this Honest Beauty Mascara and I decided to try it out! She said that it stays put (less flakes) than the Lash Paradise, so I knew I'd have to try it out! I actually LOVE this. It's annoying to do two steps (I'm not used to a lash primer) but I think the payoff is 100% worth it. I will totally buy this one again!
Evaluating Old Routines & Powders
I went through to find some images of my favorite powders I started experimenting with again, and came across the above image. It highlights all of the elements of my routine that allow for my skin to be super matte throughout the majority of the day. When I follow this routine (minus a few things, which I'll discuss), I realized that my skin really does work the best.
Removing some steps: I learned that my amount of powder was kind of absurd before. The Wayne Goss method with the NYX pressed powder AND the IT Costmetics CC Powder was overkill. I also cut out out the Urban Decay Velvetizer again until recently. My holy grail matte powder is easily the Too Faced Peach Perfect.
Mixing concealer: I mentioned the Elf concealer above. Now, for my routine, I do two swipes of the Elf concealer on each cheek and one swipe of the Too Faced Born This Way. I still think BTW is the best coverage and finish, so mixing with Elf just lowers my cost and gets the shade to lighten up.
Testing powders: While Peach Perfect is easily my favorite powder, it has a tendency of adding some pink to my skin. It has the slightest tint (for a translucent powder, ugh) so I've been trying to use less of it. I've been pouring a 50/50 mix of Peach and Velvetizer to see how that works and will continue to experiment.
Related Posts