Because my Bookmark Lit Bulletin wrap-ups got out of hand, I wanted to break up my monthly wrap-ups into two posts: one personal and one bookish/bloggy. I created Lauren Lately here to highlight all of the personal happenings in my life: events, activities, shows I'm addicted to, things I'm obsessing over, recipes I've loved, and goals for the next month. I decided to space them out so this wrap-up happens around the mid-point of the month and the bookish one happens at the end of the month.
✨ Check out my most recent bookish and bloggy wrap-up HERE ✨
---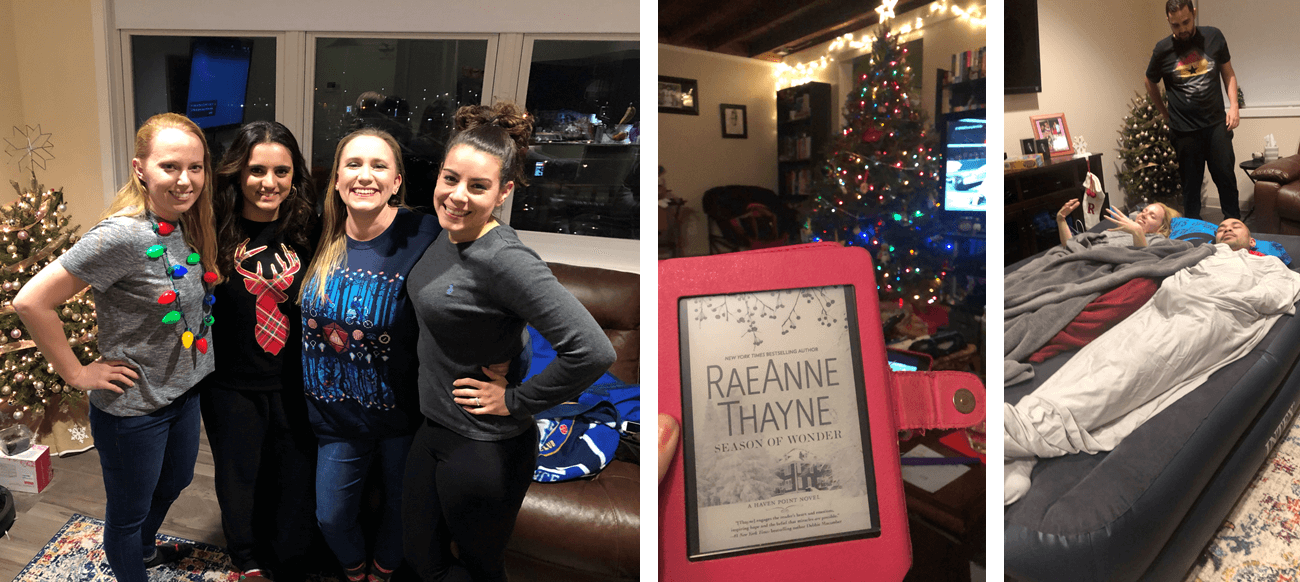 Holiday party and festivities with friends | We went down to southern Connecticut for a holiday party with my friends. We always do a secret santa (last year was awkwardly pushed to March) and hang out for the night. We had good food and played games, as usual. Alaina had me and got me bath bombs, my favorite candle, and some chocolate covered cherries.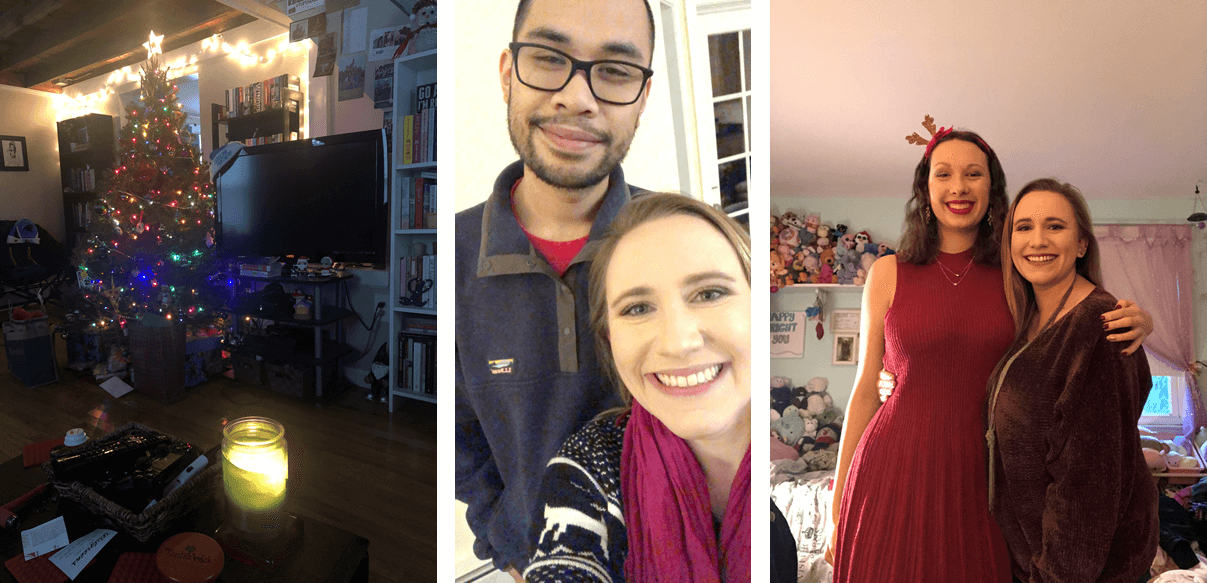 Christmas Eve and Day | We have a big run-around between the two days, since our family tends to host things on the same day unfortunately. On Christmas Eve we split up for the first time in a while. I went to my dad's to see his family while Chris went to southern Connecticut to his uncle's house. Usually the parties are hosted within 20-30 minutes of each other so we can hit both but that didn't happen this year. On Christmas Day, we bounced from my nana's house in the morning to my dad's house in the afternoon to Chris's parents' house in the evening.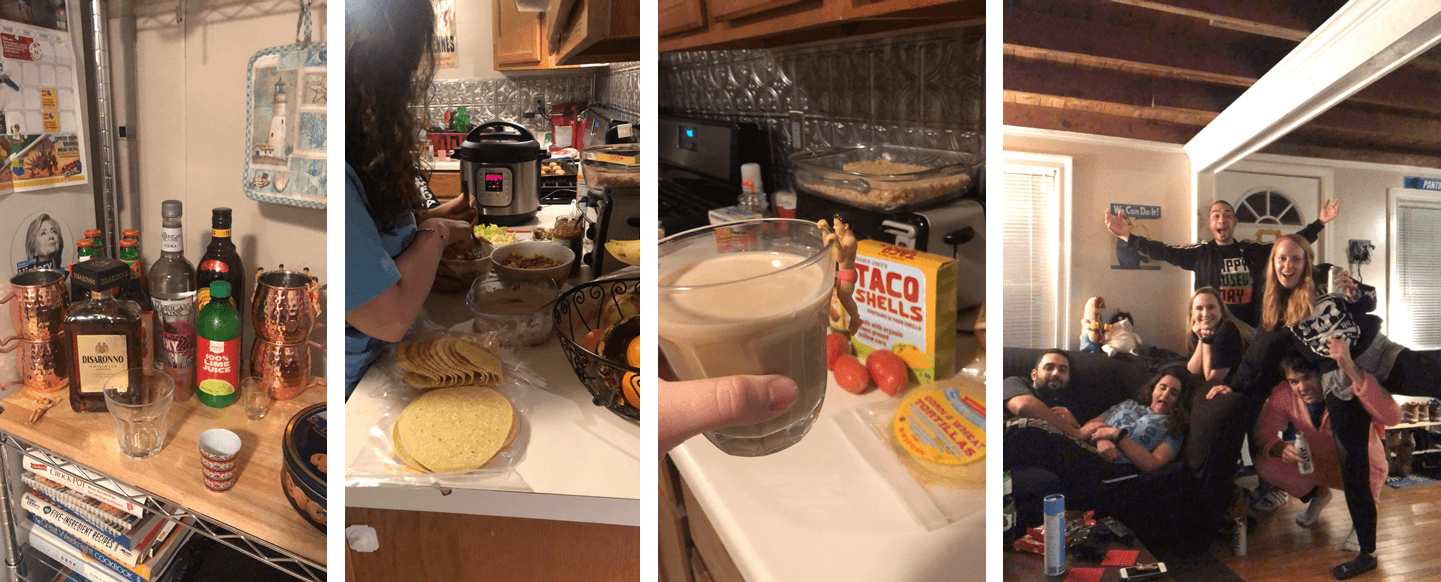 New Years Eve and beyond | We had people at our place for NYE and it was pretty fun! We made a taco bar for dinner with various meats and toppings, so that was super easy. We deemed it "wrestling shirt New Year" again so everyone came in a wrestling tee. The following weekend, I had lunch with another friend and we lazed around the house.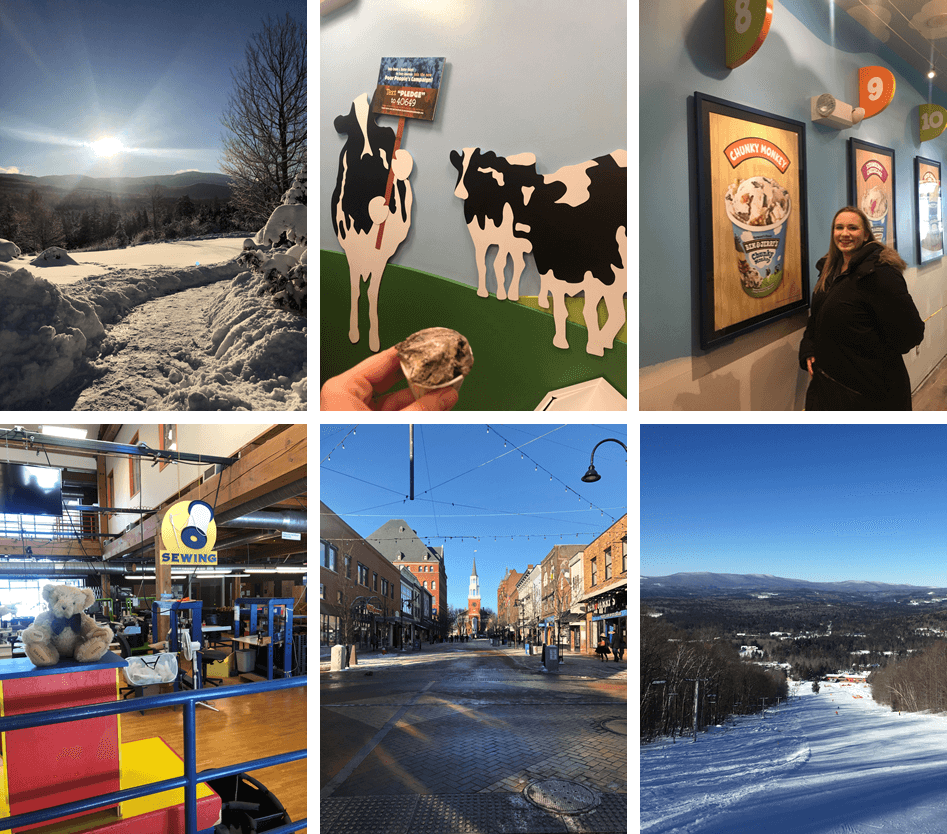 Vermont trip | I got Chris a trip to Vermont for Christmas because he's been itching to get away AND we've been meaning to explore Burlington. We got an Airbnb in Lincoln because it's slightly closer to home, near a few ski mountains, and less than an hour away from Burlington (where we planned to spend a day). The ride there was a bit scary in the dark (long story short, windy and icy/snowy roads through the actual mountains) but the rest of the weekend was great. The house was gorgeous and had INSANE mountain views! Worth it. We did the Ben & Jerry's factory tour as well as the Vermont Teddy Bear one. Then, we explored Burlington and grabbed food all around the local area. We went for our first ski day of the year on Sunday, which wasn't great but we're glad we got our legs back a little.
---

TV Shows
Black Mirror: Bandersnatch | Does this count as a show or movie? Whatever, it works here. We watched this right when it came out and took a looooot of paths. There were so many different endings and things that could happen; it was pretty fascinating. I think some parts were really lame and others were interesting, so overall this was cool I guess?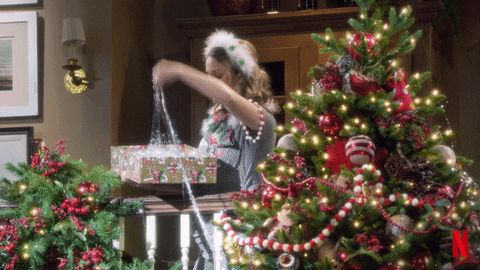 Fuller House | I finally started watching the next season of Fuller House. This show is so cheesy and often terrible but I absolutely can't resist watching all of them together again. I'm one of those annoying people who likes nostalgia and reboots. Sorry bout it.
Movies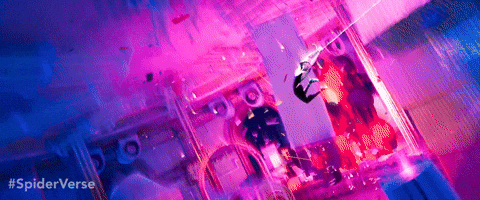 Spider-Man: Into the Spider-Verse | We FINALLY saw this movie last week and it completely met the super high expectations we had for it. We actually got to see it at the local movie theater (closest to us) for the first time. IT WAS AMAZING. Chris's favorite character is Spider-Man so he had high hopes and expectations, but they were exceeded. He thinks its his favorite Marvel movie… period!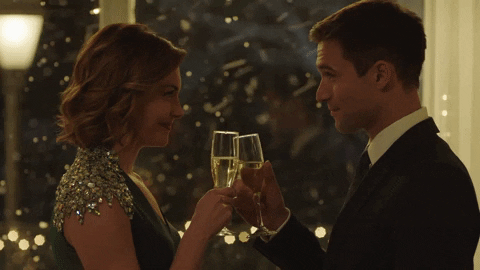 Hallmark Winterfest | I had just cancelled my Sling TV add-on that includes the Hallmark Channel, since Christmas is over, when Lindsay reminded me that Winterfest is a thing! I added it back ASAP and will probably keep it through the end of the month. I recorded a few movies, including ONE WINTER PROPOSAL (a sequel to a movie I watched last year!).
Wrestling
All Elite Wrestling | So there have been rumors for a while that Cody and the Bucks (plus other members of the BTE show) would be making their own wrestling promotion. It was announced on New Years Day and we're pumped to see what happenswith it!!
WrestleKingdom 13 | This is New Japan's version of WrestleMania and it's amazing every time. Last year's had some life-changing matches, so the bar was pretty damn high here. It started at 3 AM on a Friday morning so Chris and I avoided the internet like the plague all day at work….which was not easy. It was a wonderful show but not as good as last year's… Still, every match was easily better than any other wrestling we've watched all year!
Podcasts
All the same podcasts lately – I'm lame.
Music
Tis the season for audiobooks!
---

Food & Drink
Instant Pot recipes | As I'll talk about a little more below, I got an Instant Pot for Christmas! I was nervous to use it at first because of the pressure stuff, but let me tell you – we watched a few quick YouTube videos before doing the water test and I was fine from there! I definitely recommend it if you're nervous too. We've tried just a few recipes so far.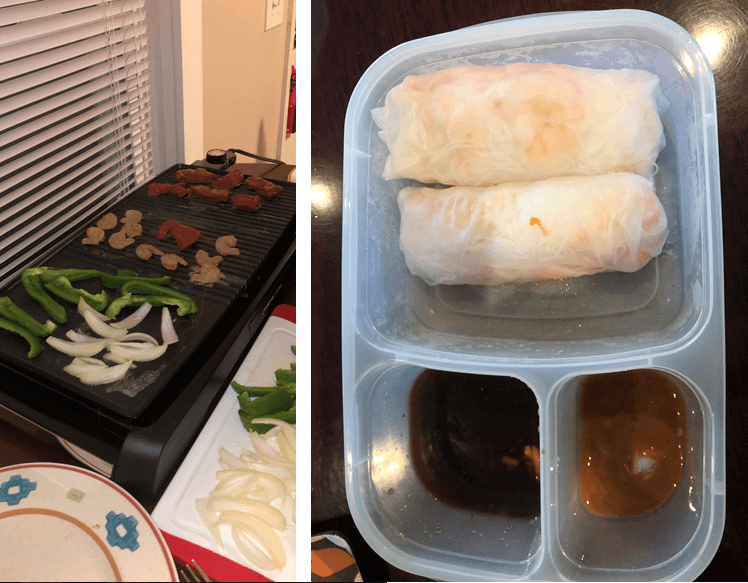 Great Grill and spring rolls | These are lumped together here because they're both "recipes" from Chris's family. They have this grill/griddle combo that they cook dinner on, everyone sitting around the table with chopsticks, cooking their meat and veggies. It's a fun and easy dinner that you can eat as you cook! We got one for Christmas (his sister calls it a Great Grill, so we do too) and put it to use ASAP. We also made spring rolls the way his mom taught us this month – it had been a while since we made them!
Purchases & Christmas Gifts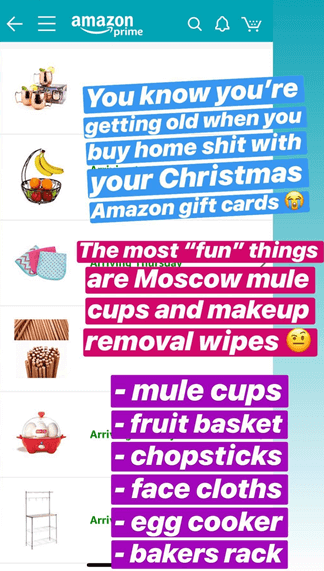 Christmas gifts | Our parents did a great job, as usual, getting us some great things we needed! My dad got me the Instant Pot, my mom got me the Crockpot, and Chris's parents' got me a grill/griddle combo. I've been using all three on repeat for cooking easy meals. Chris got some Panthers clothes and other practical items he wanted, while I got a lot of various things I was looking for! I didn't get a lot of clothing, which disappointed me at first because all of my clothes are too big right now… but it works out okay because I'm not overly ready to buy a lot in this current size. It's likely to go down sometime soon and I don't want to keep buying things and sizing myself out.
Post-Christmas buying | We got a few household items using our Amazon gift cards from Christmas. We needed another surface in the house (in general but also definitely for NYE), so we ordered a baker's rack. We also got Moscow mule cups for using that night. Other kitchen things included a fruit basket that can hang bananas from it and chopsticks for general eating or grilling. I wanted an egg cooker for a while because I hate cooking eggs and we always have so many. I need to be better about eating hard boiled eggs to fill me up in the morning so I hope to use this cooker a lot! I used it to make Eggs Benedict (it can poach them too!) and loved it. I got makeup wipes for myself too lol.
Around the Blogosphere
The Most Festive Main Streets in CT @ The Coastal Confidence | I wish I saw this in time for this holiday season, but I wanted to bookmark it for next year! I was really hoping to go somewhere festive and cute this season but just never got around to it.
Beyond the Books: Favorite Beauty Products of 2018 @ Girl in the Pages | I'm always excited to see non-bookish posts from my favorite book bloggers, but I get even more excited when they're about beauty/makeup!
Checking in on my Most Anticipated of 2018 @ Girl in the Pages | Of course Cristina appears on here twice. I copied this idea for a post as well because it was so good. I always write "anticipated" posts and never read the books on there, but I did so well from 2018!
2019 Book Spreadsheet @ All About Books | I look forward to Crini's spreadsheet every year and this was no exception. I had tried to pull together some other options to peruse but had to go with hers! It just highlights things the best and is in a familiar format for me.
The Picky Pledge @ Alexa Loves Books and So Obsessed With | I've always admired the Picky Pledge created by Alexa and Hannah! To be honest, I don't buy a lot of books at all; my bigger issues are usually (1) review copies and (2) reading backlist books I own. I decided to partake in this year's "challenge" by using their prompts to inspire me to read books from my shelves.
---

Last Month's Goals & Progress
1. Finish as many of my holiday TBW as possible ❌ Didn't do great on this one. The month really got away from me! I was hoarding a lot of specific movies for December and then didn't end up with time to watch them. I was planning on getting some holiday stuff between Christmas and NYE too but I completely didn't do that.
2. Get Christmas shopping 100% done by 12/20 ✔️ I'm pretty sure I pulled this off. I went out to another town to get a few gift cards that I needed and then was done! I might have ordered a thing or two after 12/20 but honestly this is close enough for me, okay?
3. Move under a certain goal weight ✔️ My current issue is that I'm not 100% sure what number I wanted to go below… whoops. I'm fairly positive it's one thing and if it IS that thing, I successfully made it under. There's another unrealistic number that I'm thinking it wasn't… so yeah… a win here. I'm happy.
Goals Until Next Time
1. Go to a local event with friends | We were going to do a Hartford Wolfpack game on 1/4 with friends and then I completely forgot, which means we've pushed off to 1/18. I want to DEFINITELY do something like this (a sports event or otherwise) in January. We also have a Harry Potter high tea (!!!!) the following weekend with those same friends.
2. Clean, reorganize, and declutter the kitchen | We got a bakers rack for our kitchen using some Amazon gift cards after the holidays. We got it ON New Years Eve, like two hours before friends arrived, so I relocated a bunch of things onto it and made the top into a bar for the evening. It worked out really well, but now nothing is organized. Womp. I want to reorganize all of the food into the baskets I got (we don't have a pantry) and make everything less clutter-filled.
3. Try 6 new recipes between my Instant Pot and my Crock Pot | I got a new CP and IP for Christmas, as you saw above, and I want to try some new things in both of them! My old CP was a no-name brand one and it wasn't the best. Our new one is smaller and has great settings/timers on it, finally! I hope to make 3 IP recipes and 3 CP recipes before this time next month.
What's Next
This weekend we're going to a Hartford Wolfpack game for the first time in many, many years! I'm excited to do something a little different. We are going skiing on Saturday and watching the playoffs on Sunday. A week later, we have a really fun day in Mystic planned with friends – we learned that an Alice in the Village (tea shop) has a Harry Potter-themed high tea coming to their venue, so we booked it ASAP. I've never done one before but I'm excited to see the HP-themed things and all the food!! The rest of January will be low-key, I think, and hopefully we can plan for another weekend getaway soon.
---
Talk to meeeee! What's new?
Related Posts