Because my Bookmark Lit Bulletin wrap-ups got out of hand, I wanted to break up my monthly wrap-ups into two posts: one personal and one bookish/bloggy. I created Lauren Lately here to highlight all of the personal happenings in my life: events, activities, shows I'm addicted to, things I'm obsessing over, recipes I've loved, and goals for the next month. I decided to space them out so this wrap-up happens around the mid-point of the month and the bookish one happens at the end of the month.
✨ Check out my most recent bookish and bloggy wrap-up HERE ✨
---
What I've Been Up To
Lobster rolls and local exploring | Chris and I went to a local lobster roll and ice cream shop when exploring into a new county near us. We had great food and walked through the woods to see their fairy gardens! They also sold nice plants and just had a great vibe in general. We went down to a skatepark nearby Chris was meaning to try too.
Jen's Mystic bachelorette | Chris's sister chose Mystic for her bach location because she wanted something near the ocean and relaxed. It was perfect! I've never been on a bachelorette trip with such a small amount (meaning ZERO) of drama. Everyone was a virtual stranger to everyone else and there were no cliques at all. We got along great and had a fun/relaxing time!
Book club, grad party, and the beginning of porch time | I've been going to book club at a local brewery and have been enjoying it a lot! They had my favorite local pizza truck there last time, which was wonderful. My sister had her high school grad party on that Saturday and I spent a lot of time out on my porch, reading or watching booktube videos!
July 3rd explorations | Chris had the whole holiday week off from work so I took a super long weekend, only working on Monday and Tuesday. We went out on the 3rd to try Blue Oar, a seafood shack right on the water with colorful seating and twinkly lights. It was amazing. We went over to explore Gillette Castle next (we didn't take a tour but walked the grounds and got some ice cream), then walked the downtown area of Chester, CT. It was cute but nothing was worth heading into.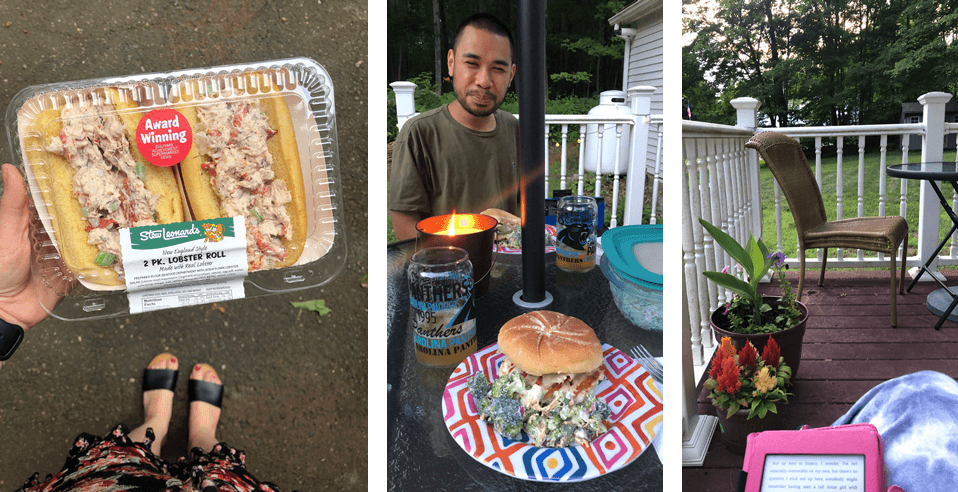 Fourth of July | Our original plans for the holiday fell through and we could have certainly made some more, but we weren't really feeling in the mood. Instead, we went down to our trusty Stew Leonard's for some random grocery/snack shopping! We got lobster rolls for lunch again and picked up more burgers, donuts, and popcorn… all of the Stew staples! We also got ice cream from there on the way out before heading home. We spent most of the day on the porch and finally bought a patio table from Big Lots this week! It's been a gamechanger.
July 5th mini golf and pizza | After the holiday was over, we enjoyed Artichoke Pizza (holy shit amazing) before Safari Mini Golf. It was a really fun and cute course! I got TWO holes in one!! We were thinking of going to Dinosaur State Park but we were cutting it close timing-wise, so just skipped it in favor of only pizza and golf.
Farmers Market | We finally made it to our farmers market this weekend! It was beer and BBQ-themed, which meant huuuuge amounts of people trying to get in. We didn't want to drive and finally figured out the cut-through/shortcut from our house. It took us 35 minutes on foot to get there, which was great because half was on a path in the woods (meaning the SHADE). We wanted to do bikes originally but our tires needed air. The beer was wonderful and we obviously got my favorite food truck pizza again. This photo of us was taken by the local newspaper and on their website!
Relaxing weekend | Chris and I spent a lot of time relaxing and hanging outside (clearly my favorite thing to do right now). I read a lot on the porch or at the skatepark this past weekend. We went to his parents' house Saturday night for dinner with some family members, after spending a lot of the day running errands. Sunday was for the skatepark, followed by crepes and bubble tea. We watched a BUNCH of wrestling too.

TV Shows
The Hills: New Beginnings | I've watched the first couple episodes of this so far and I just can't look away. These shows have always been terrible in an addicting way and I'm totally not mad about it. It's weird that Mischa Barton is involved but whatever.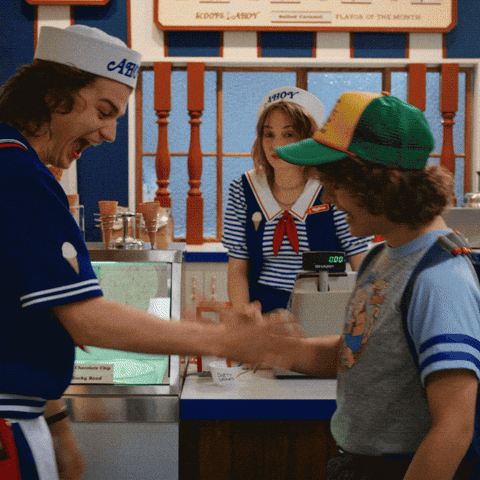 Stranger Things (S3) | Chris and I definitely did not binge this as much as I expected when it first came out, but the time is now. I love these kids so much! At the time of writing this, we have like 4 episodes left, but I expect to finish the show this week!
Movies
Toy Story 4 | Like many other people, I was not fully sold on the fact that this franchise needed a fourth movie. The third movie was literal perfection, okay? I have to say that I did end up enjoying this one a lot. I don't LOVE the ending but it made me cry and I'm not mad this movie was made, in general. I recommend it even if you weren't sure it needed to exist! I love that dummy Forky so much too.
Wrestling
WWE has been poop for a while now but luckily they've made a few changes and things look somewhat more promising?? AEW is killing it with every show so far and I love everyone so much still; it's wonderful. They had Fyter Fest a few weeks ago and this past weekend was Fight for the Fallen. New Japan just started the G1 Climax, which is the most wonderful time of the year. It's a good few months to be a wrestling fan overall!
Podcasts
Crime Junkie | Y'all, I got so addicted to this show at the end of June. I was alone in the office when my boss was on vacation and constantly had episodes of this on in the background. I became a Patreon as well so I could hear bonus episodes! I'm loving it. It's like if My Favorite Murder spent less time on the jokes and side conversations, but still had the two friends talking about crime and murders. I know that doesn't sound appealing probably if you love the format of MFM but I do think you'd love this too – I promise.
Music
Jonas Brothers | We listened to this CD on repeat during Jen's bach weekend because we're going to the concert together in November. I'm SO PUMPED. This album is mostly perfect; I can't think of any songs I really don't enjoy. I've been listening to this along with my 2019 playlist, as usual.
---

Food & Drink
Ranch dressing meals | Sooo I got a huge vat of ranch from a restaurant that we had cater Jordyn's grad party and I included it in many meals afterwards LOL. My favorite was chicken bacon ranch pizza. There is literally no comparison when it comes to restaurant ranch vs. bottled ranch!
Grilling out / BBQ meals | We have a small camping grill at the moment but we've been using it like crazy, especially over our staycation. The weather was beautiful so we grilled burgers quite a bit. I also made ribs and a few other BBQ-centered meals with cold side dishes. That's my whole summer menu plan.
Pulled pork sliders | One of my favorite lazy-chef hacks is finding articles where people discuss "easy Trader Joe's meals" because they involve 3-5 items from TJ's and are simple to put together. I love shopping there but never remember the full extent of their offering until I see these articles. I made these amazing sliders with pulled pork, coleslaw, and their aloha buns. I made homemade sweet potato fries with them as well. (FYI the linked recipe says to use two trays of pork for one set of buns and I found one tray was perfect! Save some money!)
Jackfruit | We've been trying to eat less meat and I got some canned jackfruit to test out. Most recipes say it sort of feels like meat when you eat it because it absorbs sauces and flavors really well. I made a jackfruit salad to put on toast and it was okay. My next idea is to toss it in barbecue sauce.
Bacon Apple Brie Sandwiches | THIS WAS SO GOOD. I found this on the TJ's website, as usual. It's just their ciabatta rolls, bacon, brie cheese, and apple slices. I cook the bacon in the oven first and then assemble the sandwiches to toast further in the oven (gotta melt the cheese!). We loved these.
Purchases
ELF Poreless Putty Primer | I've been waiting for months and months to try this out! When everyone learned it was a dupe for Tatcha Silk Canvas, they hopped on it and it was sold out forever. It's finally got some kind of big national release because I found it in Ulta and online through Target. I actually really like this and I'm not a fan of Silk Canvas! A cheaper dupe that works better? Sold.
Palmer's Skin Therapy Cleansing Oil | My other cleansing oil was running low and I knew I wanted to try something new. I decided to just browse Target's website reviews and came across this one. I went with it on a whim because it was available ASAP and I kind of love it. It has a lot of different, excellent oils in it. It's thicker than my last oil but I enjoy it – it does a MUCH better job of taking my eye makeup off than anything else I've tried!
Conair True Glow Silicone Facial Brush | I was creeping on the Luna face brushes for awhile because I wanted to try something silicone instead, but I found this at Ulta randomly one day for only $20! I LOVE IT SO MUCH. My skin feels incredibly soft after I use it, both in the shower and in the evening when I wash my face. Worth the money for sure. I have the pink one, just FYI 😉
Silicone Shower Brush | Another silicone replacement item! Chris and I wanted to get something more hygienic for washing our bodies in the shower and I bought this two-pack to try out. We both really like it too! It still lathers our body wash really nicely and feels like a gentle exfoliator instead of just rubbing something on yourself with a shower pouf.
Around the Internet
How We Use Amazon Subscribe & Save @ Rachel Emily | I haven't thought about using this feature. Every time it got suggested on the website I'd be like… why would I need to buy this again so soon!? But I think perhaps Amazon was just suggesting it for weird items. I should figure out how long it takes us to use certain items and subscribe so I don't have to lug things like toilet paper home all the time – I can just ship them!
Zero Based Budget Template Walk Through @ Not Entirely Perfect | I've been struggling to find a good budget system for myself and I think this may be a good approach. I bookmarked this post so I can watch the video and think about buying the spreadsheet when I get things a bit more under control.
63 Prompts to Write a Book Review @ The Quiet Pond | I always struggle with what to put in my book reviews so I wanted to be sure to save this one for later! I never thought there could be THAT many prompts for helping write a review, but they all make sense!
Pack Your Bags @ So Obsessed With | I always love Hannah's features/posts like these. She usually shares some books, bags, and accessories around summertime, and the latest installment was just as good as the rest!
ARC August Announcement @ Reed Sleep Repeat | I absolutely always do ARC August (and my own version of ARC April) each year because I'm constantly overwhelmed by review copies. I hope to get 10 ARCs read this time around; you'll see my sign-up and TBR post together in the coming week or so.
Why Are 4 Star Ratings So Common? @ Girl in the Pages | I loved reading Cristina's analysis on her book rating trends! My situation is exactly the same. My average rating is always somewhere close to 4 stars each year and it's my most common rating in general. I feel like my own discussion spin-off may be coming soon on this topic because I have more to say than is available in this space!
Try a Chapter Unhaul @ Lock & Rose | I've been meaning to do this kind of unhaul because I have so many backlist titles I really need to read or get rid of. I have a draft for this kind of post as well.
---

Last Month's Goals & Progress
1. Make a plan for my next commission payments ✔ I managed to get a general idea in my head about how I want to proceed with these. My student loan is the first priority by loading up my separate account for my car bills and loan. I won't get into further details but yes, everything is plotted.
2. Plan a weekend trip for July? ??‍♀️ I think July booked up way more than I expected it to. We could possibly go somewhere this weekend if we wanted but I think we may do a Mystic area daytrip because my journey there for the bachelorette was so good and I want to hit more spots with Chris.
3. Plot out 50 Books in 50 Days ??‍♀️ My plan was to do this in July and I HAVE done a good amount of reading this month, but I just decided I'd wait until another time for this readathon/challenge. More to come I think.
Goals Until Next Time
1. Set up auto-pay on my bills | I always want to do this but spend so much time moving money around from various accounts instead. I'm determined, as a part of my financial shit I'm attempting to deal with, to set this up for my student loan, cable bill, and possibly electricity.
2. Plan my September TBR based on leftover summery books and review copies | I plan to get ahead on my September galleys during ARC August, which means my summery/beachy TBR will probably fall by the wayside. I've done an okay job of feeling like it's summertime but those books always make a difference. Hopefully I can squeeze something in before the end of July and read leftovers ASAP in September, once ARC August is over.
3. Plan our birthday weekends | Chris and I both have birthdays during or right after a weekend, so we want to take two mini vacation weekends for each of them. That means one in early September and one in October. I've booked a spot on Cape Cod but am thinking of switching it up to somewhere else. Chris hasn't even fine-tuned any ideas yet. I hope we can get stuff booked or at least talk about planning this month!
What's Next
I have tickets to see The Lion King the minute it comes out (aka Thursday) with my friend and then I'm going to a Weird Al concert/show the next night with Chris and two other friends. We don't have many plans during weeknights, which is great, and then we have a birthday party for two friends on the 27th. Early August, Chris will be going away for his sister's fiancee's bachelor party in Boston while I'll be hanging out with his sister. We're probably going to hit a food truck festival and tool around the state.
---
Talk to meeeee! What's new?
Related Posts