You can read my monthly Bookmark Lit Bulletin wrap-ups to learn about the bookish and blog-related things I've accomplished. Lauren Lately was created to highlight all of the personal happenings in my life: events, activities, shows I'm addicted to, things I'm obsessing over, recipes I've loved, and goals.
---
What I've Been Up To
In mid-January, we continued to tour wedding venues… and ended up picking one this month! We're really excited about it – it's the one place we both genuinely loved and could see us getting married at. While out and about that day, we stopped at Hogan's Cider Mill for some cider tasting! I always find that most ciders are too wine-like for me and I hate that taste, so we really enjoyed 1-2 of them only haha.
There were some nice days of reading in the car while Chris skated for a bit! I don't know why it was so dang warm in January. I attended a surprise party for my friend's birthday, which was amazing for the most part… it was in the middle of the worst snowstorm we've had so far so I had to take Chris's Subaru and drive in smart timeframes. Woof. We got our new TV to watch the Royal Rumble on AND we hosted Chris's family for a Superbowl party the following weekend. I took on a grocery/food-related project that involved inventorying all of my food. More to come on that at the end of the month!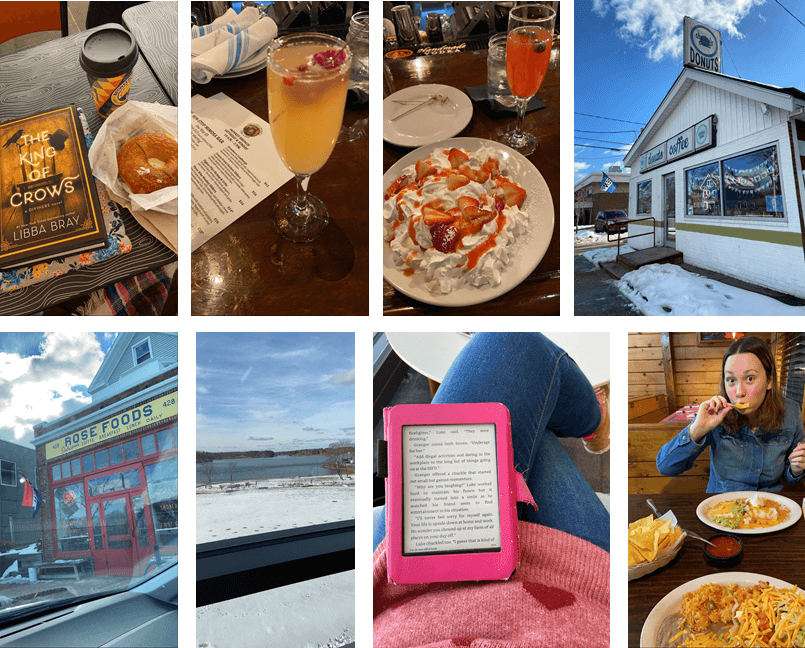 On Sunday we went to this place for brunch with Chris's sister – they had bottomless mimosas and it was lovely! This week, I headed to Maine for the day to visit my sister at college. We planned to watch the new TATBILB movie together! I drove to my friend's house in Newton, MA to spend the night the day before, in order to cut down on my trip the next day and not drive 6 hours total in one day. I spent some time with her and her husband before heading off to bed. I left in the morning, heading straight to Portland to hit up some of my favorite haunts and get food to go for everyone, primarily The Holy Donut and Rose Foods for donuts and bagels. I had lunch with my sister on campus between her classes and then we watched PS I Still Love You in her dorm room. We went up to South Portland for Mexican food for dinner and then I journeyed home.
---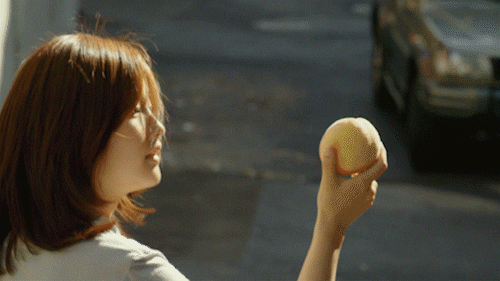 Oscars Best Picture Project
I know I've mentioned this before but our Oscars Best Picture watching project just came to a close! We ended up watching seven of the nine nominees, plus two of the animated shorts (Hair Love won!!!).  I am just so fucking excited that Parasite won so much, including Best Picture!! SO well-deserved – a seriously powerful movie with wonderful acting and messages. Here's my rank order of favorites:
Parasite
1917
Jojo Rabbit
Once Upon a Time… in Hollywood
Joker
Ford vs. Ferrari
The Irishman
True Crime Podcasts
I posted a big true crime podcast round-up where you can get all of your recs from! There are a couple newer ones though that I haven't talked about as much, just here and there. Counterclock is worth checking out for sure (linking my Five on Friday post about it). Down the Hill also just came out and that's about the Delphi murders, a popular one in the true crime world. I just started this one!
PS I Still Love You
I went up to Maine to watch this with my sister at her college! We planned this little day trip forever ago when the release date was announced and it was a great breakup of my work week… but you read all of that up there. Onto the movie! It was reallllly cute. I enjoyed it almost as much as the first one. I think I was a bit sad at the end but also happy?
---

Around the Internet
Insta Story Hacks @ Pint-Sized Beauty // Let me tell ya, I needed this! She shares a bunch of filters and things to search for on Insta to get fun gifs! I always wonder how people find certain things because my gif selections are lacking. If you search something like "hanmade" (an example she shares), you get a bunch of white and pink typography gifs. It's so cool! Definitely bookmarked this for later.
Breweries in New England @ The Coastal Confidence // Yes, I will always share posts from here because I'm constantly trying to bookmark new ideas for things to do around here! There are some I've been to and a few I haven't yet.
Wedding Planning Tips and Tricks @ Living In Yellow // I'm not saying I'm an expert at wedding planning but I have so many friends' weddings I've dealt with recently that I DO know more than the average joe. I actually thought this was pretty helpful!
Cooking With Yogurt – Sub Greek Yogurt in Recipes @ Skinnytaste // This is a super handy guide! I don't love large amounts of creamy products for various reasons, so subbing in my plain nonfat Greek yogurt is super helpful. Happy to have this chart going forward!
25 Motivational Blog Post Ideas @ It Starts with Coffee // This list had some great, easy ideas for blog posts! They all are meant to be motivational, so they're things like sharing your routines, organizational ideas and products, goals, meditation stuff, etc. Anything!
100 Romance Novels for 2020 @ The Infinite Limits of Love // I love this huge roundup from Nick! There are 100 books on there that surely will make it onto your TBR for the year.
Most Anticipated YA Books for 2020 @ The Perpetual Page-Turner // I shared Jamie's adult list last time I did a Lauren Lately, so here's her list for YA books!
Seasonal Bucket List and 2020 Goals + Focus @ Super Space Chick // I guess it's super obvious that I'm glad Kristin is blogging again! I loved these posts. The seasonal bucket list focused on some of her goals for winter and inspired me to maybe do my own for spring! The second post is about some new additions to her routine, goals for the year, and things she hopes to focus on. I just love a goals post, you guys.
Food & Drink
Out for dim sum // Brunch at our fave restaurant // Out for ramen // Homemade french onion soup //
Two-ingredient breakfast cookies // Stuffed shells and side salad // TJ's-only salad with cruciferous crunch,
almond turmeric dressing, nuts, cheese, and cranberries // Two-ingredient dough first attempt!
Homemade turkey burger with butternut squash zig zag fries //
BBQ chicken and coleslaw sandwich // Lobster roll from Jordyn's college
Purchases
Does putting a deposit on a wedding venue count?? If so, that's all we'll be purchasing for a while! WOOF. I actually got a gym membership though too – finally – so I bought a few things for my gym bag! Mostly making sure I had travel-sized toiletries and replacements.

I mentioned some other favorites in the previous Five on Friday linked, but this is my new fast-drying microfiber gym towel. I've used it twice now and am really enjoying it! It feels weird because it's not cozy and fluffy like a towel usually is, obviously, but it's perfect for the gym because it doesn't stay wet and get your bag gross.
---

Q1 Goals
I said I would keep my goals low-key and not go wild anymore, but I will say that I have these four goals I am to complete in the first quarter of the year. I'll keep them here where I can mark some progress as needed, but I hope to get all this stuff done by the end of March.
1. Organize the house from top to bottom ??
2. Rearrange the living room ??
3. Find better storage solutions (living room, bathroom, bedrooms) ??
4. Organize financials and paperwork ??
Definitely some solid progress on these goals! With our new TV, it means that we were finally motivating to get our bedroom upstairs settled. We had to buy a dresser for our bedroom so the old TV could go on top of it, and we're loving the setup. We're working on adjusting our closets and clothing organization right now, plus the Lego/storage room. We determined we can't really reorganize the living room but we're making due with what we have now that we got an extra comfy chair.
Up Next
Tonight we have our Valentine's Day dinner at Sugar Factory in the Foxwoods Casino. Over the weekend, we don't really have a lot of plans, which is good again! I do have book club for Sunday brunch though. The following weekend is AEW Revolution and we'll be going to our friends' house for that.
---
Talk to meeeee! What's new?
Related Posts