Taking some inspiration from the late great Grace at Rebel Mommy Book Blog, I've decided to participate in a fun post she used to share from time to time! I've been meaning to for AGES and she's been on my mind lately so I thought I would give it a go. My gut told me to go with Sandhya Menon because she has so many wonderful books and it'd be a real challenge 😉
---
Ranking Published Books
When Dimple Met Rishi is my favorite book still, I think – and it was her first! I just adored these characters SO much and vividly remember rushing to finish reading it at work before my boss got into the office 😉 I love the adorable cover and how it makes me crave an iced coffee every damn time. Just the cutest!
There's Something About Sweetie is clearly a close second. I honestly think depending on my mood these two could switch! I will say that it was a bit hard to read at times with how challenging and frustrating her mother was. Even though I gave this book 5 stars still, that was the one thing I didn't enjoy about it. Ashish is my FAVE.
The Grand Ishq Adventure inside the Hungry Hearts anthology is my third-favorite. There was a lot going on in this little story and I remember that it was a welcome happy tale after a few darker/heavier ones. It involved the classic "advice columnist can't take their own advice" trope and I adored that, along with the delicious food at various types of restaurants.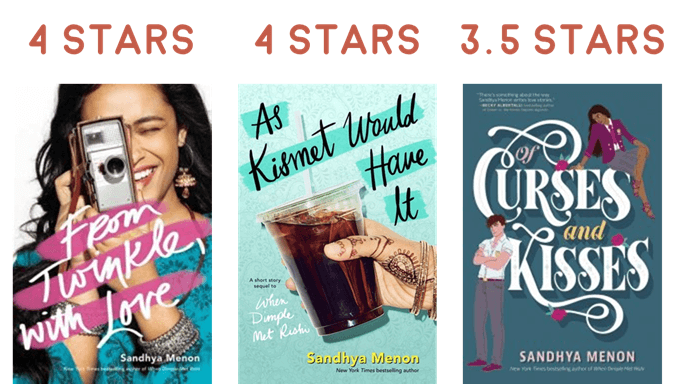 From Twinkle, With Love featured a MC that made some questionable and frustrating decisions, but I always had faith she would do the right thing in the end. I even cried a little bit when I finished! I enjoyed the format of emails, journal entries, text messages, etc. – those are always fun to read. A solid sophomore novel!
As Kismet Would Have It is a novella featuring Dimple and Rishi, some time after the first book. I enjoyed it quite a bit and thought it was an adorable addition to their universe and story together! I think it may be a bit rushed in a couple of ways, both in the story itself (it's a novella – it happens!) and in the steps Dimple and Rishi took together.
Of Curses and Kisses is a sad "least favorite" because I genuinely thought, upon its announcement, that it would take the top spot in my favorites. I still adore the setting and have an insane amount of hope for the rest of the companion series, but I could not get into this one! Jaya, the MC, was really hard to get along with and I didn't feel much for her love interest either. Womp.
---
Predictions for What's Next
Make Up Break Up is her first foray into adult contemporary romance, and I am HERE for it. This book will be about "an ambitious young Indian-American entrepreneur whose classic matchmaking business goes head to head with an up-and-coming break up app, dubbed "Uber for break ups", helmed by her irritatingly handsome, arrogant rival." Sounds right up my alley!
10 Things I Hate About Pinky comes out in June and I do already have an egalley. I haven't found the right time to get ahead and read it yet, but I'm predicting somewhere in late March or early April. I'm really excited to return to the Dimple and Rishi universe! Pinky is great.
St. Rosetta's Academy has books #2 and #3 coming out in 2021 and 2022, respectively. (How does she write all these books at once?!) I'm genuinely excited to see what she tackles next in this series and, despite not loving the first book, have really high hopes that the next MCs will connect better with me.
Related Posts