I received this book for free (hey, thanks!) in exchange for an honest review. I promise that this does NOT affect my opinion of the book or the content of my review. For real.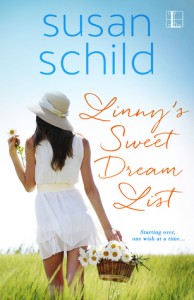 Linny's Sweet Dream List
by
Susan Schild
Series:
Willow Hill #1
Genres:
Adult
,
Contemporary
Published by
Kensington
on January 5th 2016
Also by this author:
Sweet Carolina Morning
,
Sweet Southern Hearts
Format:
eARC
(214 pages) •
Source:
Publisher
Goodreads
•
Amazon
•
Barnes & Noble

Set in the off-beat Southern town of Willow Hill, North Carolina, Susan Schild's moving and witty novel tells of one woman who loses everything—and finds more than she ever expected.

At thirty-eight, Linny Taylor is suddenly living a life she thought only happened to other, more careless people. Widowed for the second time, and broke, thanks to her cheating late husband, Linny has no house, no job, and no options except to go back home. There, in a trailer as run down as her self-esteem, Linny makes a list of things that might bring happiness. A porch swing. A job that nourishes her heart as well as her bank balance. Maybe even a date or two.

At first, every goal seems beyond reach. But it's hard for Linny to stay in the doldrums when a stray puppy is coercing her out of her shell—right into the path of the town's kind, compassionate vet. The quirky town is filled with friends and family, including Linny's mother, Dottie, who knows more about heartache than her daughters ever guessed. And as Linny contemplates each item on her list, she begins to realize that the dreams most worth holding on to can only be measured in the sweetness of a life lived to the fullest…

I generally liked this one, but the last half of the book bugged me.
Consider this a very strong 3 stars!
It was a quick, cute read about a woman trying to get her life back on track.
I loved the Southern small-town setting that had lots of fun and interesting characters. The family dynamics between Linny, her sister Kate, and her mother Dottie were so great. I loved seeing their relationship, as well as Linny's relationship with her best friend Mary Catherine.
However, Linny jumped to so many conclusions throughout the book about Jack and his marital status… no matter how much evidence was OBVIOUS otherwise. QUIT ASSUMING! View Spoiler »She assumed he had a wife, an affair, a girlfriend, etc. All without ever asking him about it! Just because she saw him out in public with a younger woman meant he was cheating on his wife? Oh wait, he didn't even have a wife. He was divorced. She just assumed EVERYTHING about him without any real reason. Even when he proved otherwise or her friends/family pointed it out, she still refused to get it. « Hide Spoiler I also think the events of the plot could have been better spaced out; it was very slow-moving overall. The writing was a bit bland at times? I felt like the same descriptors were used too often and the book just felt… bland. I don't know how else to explain it. She referred to Jack as "the vet" and his son as "the young boy" every other sentence instead of using their names, which felt impersonal.
Overall though, it was a heartwarming, quick read with solid ending that made me happy I read it.


I received this book for free (hey, thanks!) in exchange for an honest review. I promise that this does NOT affect my opinion of the book or the content of my review. For real.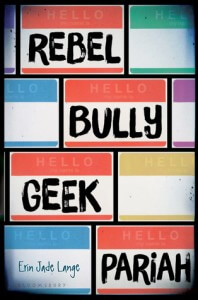 Rebel Bully Geek Pariah
by
Erin Jade Lange
Genres:
Young Adult
,
Contemporary
Published by
Bloomsbury
on February 16th 2016
Format:
eARC
(320 pages) •
Source:
Publisher
Goodreads
•
Amazon
•
Barnes & Noble

"The Breakfast Club" gets a modern, high-stakes reboot in this story of four very different teens and a night that changes them forever.

The Rebel: Once popular, Andi is now a dreadlocked, tattooed wild child.
The Bully: York torments everyone who crosses his path, especially his younger brother.
The Geek: Tired of being bullied, Boston is obsessed with getting into an Ivy League college.
The Pariah: Choosing to be invisible has always worked for Sam . . . until tonight.

When Andi, York, Boston, and Sam find themselves hiding in the woods after a party gets busted by the cops, they hop into the nearest car they see and take off—the first decision of many in a night that will change their lives forever. By the light of day, these four would never be caught dead together, but when their getaway takes a dangerously unpredictable turn, sticking together could be the only way to survive.

With cinematic storytelling and compelling emotional depth, critically acclaimed author Erin Jade Lange takes readers on literary thrill ride.

Like most readers of this book, I expected a Breakfast Club vibe with a little mystery involved based on the synopsis. I figured it would be a contemp with multiple points of view – from the rebel, the bully, the geek, and the pariah. The book ended up being a fast-paced thriller type that escalated pretty damn quickly. The good thing? As reviews started coming in, I saw that people also expected what I expected… and they were disappointed when it wasn't what they got. Because of their warning, I was able to adjust my expectations and enjoy the book a lot.
I think that four points of view would have muddied up the story a little bit. I think it's an unpopular opinion, but I actually love books that have multiple points of view. In this case though, it was nice to just have one. The mystery and thrills involved were so much better because we were only inside one person's head. I loved learning about Sam's mom's history and how it impacted her.
It was the kind of book that grabbed me hard while reading. Of course most of it felt insane and unrealistic, but I loved the calm moments in between that did make it feel Breakfast Club-like. The ending was also completely insane, and my jaw absolutely dropped. I just didn't see any of that coming. Again, it felt unrealistic for sure… but it was so shocking and entertaining that I overall have no issues with it. The biggest thing I did have an issue with? The romance. I just didn't really see it to be honest. There wasn't enough build-up of it for it to feel believable to me.
Overall, I really think if you head into this book with no preconceived expectations (based on the synopsis) and an open mind, you'll enjoy it!
Related Posts