I received this book for free (hey, thanks!) in exchange for an honest review. I promise that this does NOT affect my opinion of the book or the content of my review. For real.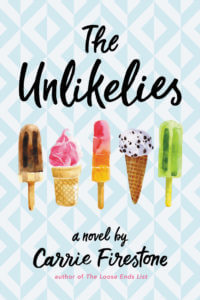 The Unlikelies
by
Carrie Firestone
Genres:
Young Adult
,
Contemporary
Published by
Hachette
on June 6th 2017
Format:
eARC
(336 pages) •
Source:
Fantastic Flying Book Club
Goodreads
•
Amazon
•
Barnes & Noble

Five teens embark on a summer of vigilante good samaritanism in a novel that's part The Breakfast Club, part The Disreputable History of Frankie Landau-Banks, and utterly captivating.

Rising high school senior Sadie is bracing herself for a long, lonely, and boring summer. But things take an unexpected turn when she steps in to help rescue a baby in distress and a video of her good deed goes viral.

Suddenly internet-famous, Sadie's summer changes for the better when she's introduced to other "hometown heroes." These five very different teens form an unlikely alliance to secretly right local wrongs, but when they try to help a heroin-using friend, they get in over their heads and discover that there might be truth in the saying "no good deed goes unpunished." Can Sadie and her new friends make it through the summer with their friendships--and anonymity--intact?

This rich and thought-provoking novel takes on timely issues and timeless experiences with a winning combination of romance, humor, and wisdom.

This book was not what I expected – in the best way possible! I was picturing a group of teens trying to be superheroes  and fight crime. While there were some elements like that, this story was more about "do-gooding" and trying to improve the troubles in their Hamptons towns. They left care packages for people, wrote positive comments and compliments on blogs and slam pages, and helped the community in other ways too. The whole premise gave me a bunch of warm fuzzies. I hope there are really great teenagers like them out there.
There were definitely some unrealistic elements to the plot, but I think that made it even more fun. I loved that each character had quirky traits and diverse backgrounds. Jean-Pierre was a Haitian immigrant who was awesome at art. Gordie was the class valedictorian and helped people with developmental issues. Val was Hispanic and had a major school supply drive to assist the less fortunate members of her community. Alice was majorly into dogs and had a best friend with a heroin addiction (which was definitely central to the plot of the novel). And finally, the main character and narrator, Sadie – she was recognized for helping a baby escape her abusive, drunk father that kidnapped her. She had a lot of issues she was suppressing and I don't think all of them got completely resolved. I didn't expect them to by the end of the book, but I can tell that the therapy angle was a good start for her. I absolutely loved the dynamic of this group. Reading their group texts and witty dialogue was a lot of fun. I would totally read this as a companion series where each book focused on one member of the group and they continue their good samaritan work around their towns. (It's not really set up that way, but just saying!)
I love the cover of the book even though it doesn't necessarily relate to the book. If anything, there should be one more ice cream to have the whole group be represented! One "complaint" I have is that I kept forgetting this was set in the Hamptons. I've never been, but I love books set in beach towns or islands like that (Cape Cod, Nantucket, etc.). I wish there were even more beachy feels because it felt like it could have taken place anywhere.
Overall, this book was really a light beach read with some important, darker elements mixed in. I won't get into the whole deeper crime-fighting premise, but the story is absolutely worth reading. I couldn't put it down.
Carrie Firestone has lived in rural, urban, and suburban places, and, while she currently lives in the suburbs, she is decidedly a CITY person. She loves parties, and all kinds of music, and books about random people doing random things in random places. She loves to travel with her husband, and two daughters, Lauren and Emily. When she isn't writing, you might find her reluctantly sharing her popcorn at the movies, trying to get people (or dogs) to do a conga line, or adding items to her loose ends list.
Related Posts