I received this book for free (hey, thanks!) in exchange for an honest review. I promise that this does NOT affect my opinion of the book or the content of my review. For real.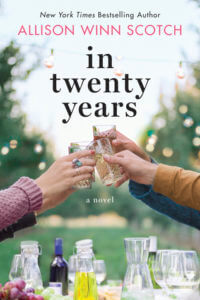 In Twenty Years
by
Allison Winn Scotch
on July 1st 2016
(322 pages) •
Goodreads
•
Amazon
•
Barnes & Noble
Twenty years ago, six Penn students shared a house, naively certain that their friendships would endure—until the death of their ringleader and dear friend Bea splintered the group for good. Now, mostly estranged from one another, the remaining five reluctantly gather at that same house on the eve of what would have been Bea's fortieth birthday.

But along with the return of the friends come old grudges, unrequited feelings, and buried secrets. Catherine, the CEO of a domestic empire, and Owen, a stay-at-home dad, were picture-perfect college sweethearts—but now teeter on the brink of disaster. Lindy, a well-known musician, is pushing middle age in an industry that's all about youth and slowly self-destructing as she grapples with her own identity. Behind his smile, handsome plastic surgeon Colin harbors the heartbreaking truth about his own history with Bea. And Annie carefully curates her life on Instagram and Facebook, keeping up appearances so she doesn't have to face the truth about her own empty reality.

Reunited in the place where so many dreams began, and bolstered by the hope of healing, each of them is forced to confront the past.
A group of ex-college roommates returns to the house they lived in together, per the will of one of their friends who passed away. The group had been estranged since her death and things get ~uncomfortable~ as they confront the past and try to move on. The book alternates between each of their points of view: Catherine, Owen, Lindy, Annie, and Colin.

The ex-friends are back near their old college campus, staying in the same house they once lived in. I love reunion stories so much, which is why this was quick to make it onto my TBR. The story itself was interesting because you get to see them all work through their issues – both personally and with each other – as they try to figure out why Bea wanted them to come back to their college home.

Catherine is the creator a popular crafty blog and is married to Owen, her college sweetheart. She works a lot while he stays home with their kids. They've had quite a few issues lately. Lindy is an aging rockstar who doesn't know how much longer she'll be relevant. Annie is married to an unfaithful husband and is obsessed with showing off how "perfect" her life is on social media. Colin is a plastic surgeon in LA and still a bachelor. You slowly learn alllll of the complicated bits of history between each person: who loved who, who slept with who, who is fighting with who. It's all really interesting because they're such different people.
Out of all the characters, Lindy was my least favorite. She was incredibly selfish and rude all the time! I at least understood and empathized with the rest of the characters, but was not a fan of her at all.

This book made me feel really nostalgic for college. I hope that all of my friends and I stay in touch still when we're 40 years old! I was getting angry along with the characters as certain secrets were revealed, and found myself quickly deciding who I was "rooting for." Obviously, I hoped for some great character development by the end. I wanted them to all be friends forever again like they used to be! Just lots of nostalgic college-related feels for me.

If you like reunion stories about friends coming back together after time apart, this book is worth the read! The characters are definitely not perfect, especially as their secrets and pasts are revealed, but it's incredibly interesting to see how they all come back together after all this time.

Author sites: Website • Facebook • Twitter • Goodreads
Purchase links: Amazon • Books-A-Million • Barnes & Noble
Allison Winn Scotch is the bestselling author of five novels, including THE THEORY OF OPPOSITES, TIME OF MY LIFE, and THE DEPARTMENT OF LOST AND FOUND. Her sixth novel, IN TWENTY YEARS, will be released in June of 2016. In addition to fiction, she pens celebrity profiles for a variety of magazines, which justifies her pop culture obsession and occasionally lends to awesome Facebook status updates. She lives in Los Angeles with her family.
Friday, July 8th: Not in Jersey
Monday, July 11th: Kahakai Kitchen
Tuesday, July 12th: Bibliotica
Wednesday, July 13th: Thoughts on This 'n That
Thursday, July 14th: All Roads Lead to the Kitchen
Friday, July 15th: Good Girl Gone Redneck
Monday, July 18th: A Bookish Way of Life
Tuesday, July 19th: No More Grumpy Bookseller
Wednesday, July 20th: Dreams, Etc.
Monday, July 25th: Bookmark Lit
Tuesday, July 26th: Kritter's Ramblings
Thursday, July 28th: Palmer's Page Turners
Comment on this blog post for a chance to win a copy of the book! Are you still in touch with the friends you had when you were in your twenties and/or from college? Why or why not?

Related Posts