I received this book for free (hey, thanks!) in exchange for an honest review. I promise that this does NOT affect my opinion of the book or the content of my review. For real.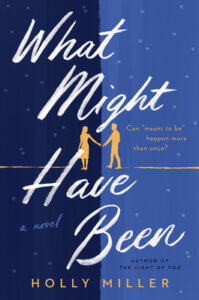 What Might Have Been
by
Holly Miller
Genres:
Adult
,
Contemporary
Published by
Penguin
on January 18, 2022
Format:
eARC
(368 pages) •
Source:
Publisher
Goodreads
•
Amazon
•
Barnes & Noble

The Two Lives of Lydia Bird meets This Time Next Year in a sliding-doors style romance and coming-to-self story about fate, chance, and the choices we make.

What if "meant to be" happened twice?

Lucy is at a crossroads. The same night she quits her thankless job she meets Caleb, a local photographer in her seaside town, and has a run-in with Max--the once love of her life. As Lucy decides the right path forward--finally pursue her dream of becoming a writer, or move to London and revive her career--her choice will change her life in unimaginable ways.

Stay. After a decade of trying to run from her dream, Lucy is finally facing her fears and putting pen to page. With her budding romance with handsome, artistic Caleb, she has more inspiration now than ever. But can Lucy and Caleb open themselves up after their past heartbreaks? And will their different paths take them to the same place?

Go. Lucy can't believe her luck when a room in her best friend's London house share opens up and she lands a job at the prestigious Supernova. It gives her the courage to face Max, who's serendipitous encounter still has her reeling, and ask what really happened almost a decade ago? But does she really want to know, when being together feels like fate?

In concurrent storylines that track what would have happened if Lucy chose to Stay or Go, What Might Have Been is a sweeping story that poses the questions: is it destiny or chance that decides who we are meant to be, and who we are meant to love? And is there such a thing as a soul mate?
I'm always, always a sucker for a "what might have been" story, where the book splits into two timelines and plays out what might happen to the MC depending on a certain decision they make. In WHAT MIGHT HAVE BEEN (appropriately named), Lucy has a decision to make once she abruptly quits her job. Should she STAY in her beachside hometown, live with her sister, save money, and pursue writing her novel full time? Or should she GO live with her friend in London in her spare room and take on the cushy advertising job she's also dreamed about?
Lucy runs into her ex Max, who she believed was her soulmate before he inexplicably broke up with her toward the end of college, and this spurs her decision-making. In the STAY timeline, she decided to put Max in the past and pursues the cute guy Caleb she also met the same night. The two have to work through some things, like Caleb's pending divorce, but she finds herself very happy pursuing her writing dream and spending more time with her sister and nephew. In GO, she reconnects with Max and the two have to try to figure out how to make their relationship work once some major secrets get revealed.
These books usually go one of two ways: the two timelines result in the MC ending up in the same place and/or with the same guy regardless of their decision, OR they end up in two very different places but equally happy. How big of a role does fate or destiny have in our lives? I won't spoil this one but I will say the ending surprised me. I had a clear favorite timeline (STAY) throughout the entire book and I didn't end up enjoying GO very much at all, which is why this book is not rated as highly as it could've been.
All in all, this was a pretty unique take on the parallel lives story and I would recommend it to readers like me who enjoy this kind of thing.
---
I received this book for free (hey, thanks!) in exchange for an honest review. I promise that this does NOT affect my opinion of the book or the content of my review. For real.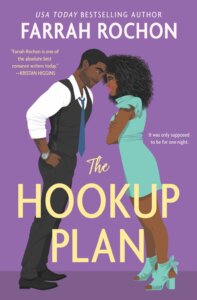 The Hookup Plan
by
Farrah Rochon
Series:
The Boyfriend Project #3
Genres:
Adult
,
Contemporary
Published by
Hachette
on August 2, 2022
Also by this author:
The Boyfriend Project
,
The Dating Playbook
Format:
eARC
(368 pages) •
Source:
Publisher
Goodreads
•
Amazon
•
Barnes & Noble

Strong female friendships and a snappy enemies-to-lovers theme take center stage in this highly anticipated romantic comedy from the USA Today bestselling author of The Dating Playbook.

Successful pediatric surgeon London Kelley just needs to find some balance and de-stress. According to her friends Samiah and Taylor, what London really needs is a casual hookup. A night of fun with no strings. But no one—least of all London—expected it to go down at her high school reunion with Drew Sullivan, millionaire, owner of delicious abs, and oh yes, her archnemesis.

Now London is certain the road to hell is paved with good sex. Because she's found out the real reason Drew's back in Austin: to decide whether her beloved hospital remains open. Worse, Drew is doing everything he can to show her that he's a decent guy who actually cares. But London's not falling for it. Because while sleeping with the enemy is one thing, falling for him is definitely not part of the plan.
I remember a few years ago when THE BOYFRIEND PROJECT was announced and I was sooo ready to dive into this series. I loved the concept (three girls get wronged by the same guy and find out by going viral on social media, then they become BFFs) and was excited to see where each companion novel went. I really enjoyed book one, mostly enjoyed book two, and am happy to say I loved book three. This was genuinely a delightful end to this companion series!
I'm going to miss these characters, especially the gals from the first two books. In this story, I really loved London and Drew. High school enemies to lovers with a badass surgeon and rich guy with a heart… can't go wrong. They meet again at their high school reunion and decide to have a quick hookup, despite the fact that they were enemies and constantly competing in high school. Come to find out, Drew is actually going to be consulting at London's hospital in Austin, and she is not pleased to find this out post-hookup. Naturally there's some chemistry as they work together and keep up a friends with benefits arrangement.
Overall, I really loved that there was no major drama between the couple in this one either. They had things to work through, including London's work situation and next steps in her career, but there wasn't a real black moment. This is a really enjoyable companion contemporary romance series and I would highly recommend it!
Related Posts